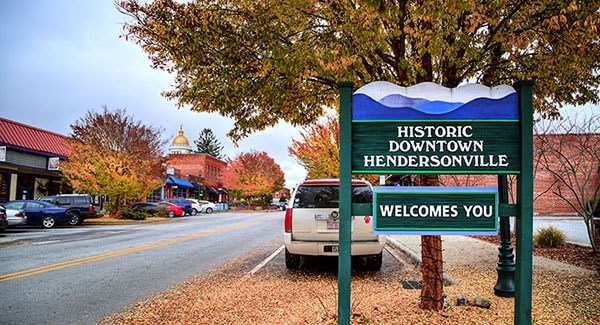 Last Updated on August 29, 2023
Hendersonville, long known for its historic charms, is blooming into the future. In recent years, Hendersonville has revitalized its local business scene and advanced its reputation as a place that offers something for just about everyone. From fresh pressed cider to world-class stage performances to some of the best outdoor attractions around, there is much to see and do in Hendersonville!
Ready to get to know this mountain town a little better? Here are more than 25 of the best things to do in Hendersonville, NC.
The best things to do in Hendersonville, NC
Main Street
Main Street, Hendersonville offers a unique blend of the past and the present. The street is welcoming to pedestrians, bikers, and cars at the same time. And the surrounding downtown area is home to several dozen coffee shops, delis, tap houses, and fine dining restaurants. Whether you're looking for an old fashioned ice cream parlor or a high-end dining experience, there is something for every palate.
National Register of Historic Places
Listed on the National Register of Historic Places, Hendersonville's Main Street Historic District encompasses 65 contributing commercial and governmental buildings in the central business district of town. Many of these buildings include notable examples of Classical Revival, Neoclassical, and late Art Moderne architecture.
Appalachian Pinball Museum
No quarters are necessary to visit this Hendersonville museum. Formerly a ballroom and a theater, this picturesque building is now home to dozens upon dozens of machines. For a flat fee, you can spend all day trying their collection of both vintage and contemporary pinball machines, as well as video games. Walking around the extensive game rooms, you'll be captivated by all the lights, noises, and nostalgic characters.
Apple Valley Historic Railroad Depot & Museum
The Southern Railway first reached Hendersonville as a broad gauge line in June 1879. At its peak, six passenger trains stopped in Hendersonville each day, collecting and discharging passengers from as far away as Cincinnati and Charleston. Passenger service ended in 1968, but freight trains traveled through the Hendersonville station until 2002. Today, the historic depot station houses the Apple Valley Model Railroad Club and its large HO Model train layout, an outdoor G Scale layout, and numerous railroad artifacts on the walls and in display cases.
Henderson County Heritage Museum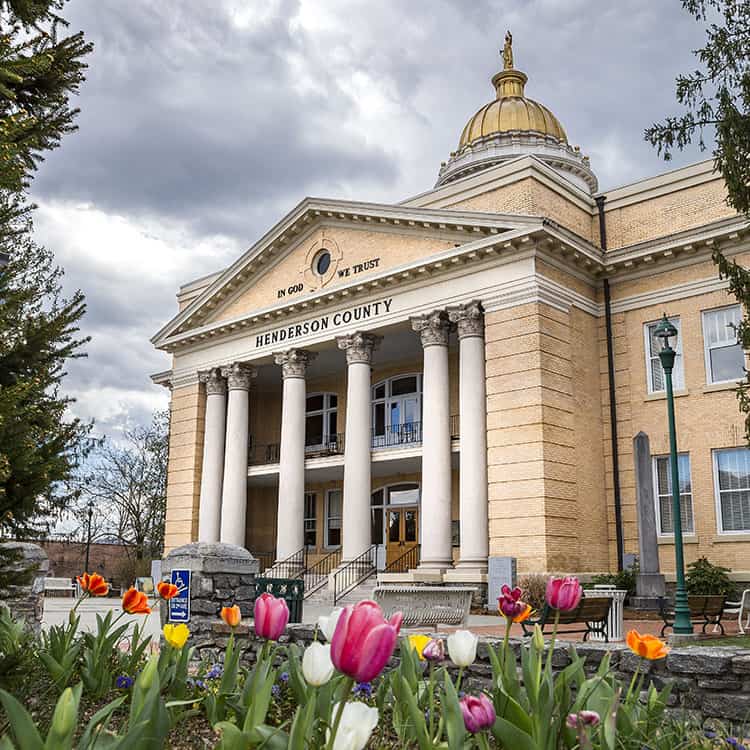 Embark on a journey to yesterday to visit with the area's pioneers, learn of their contributions, and reflect on milestone events that helped shape Henderson County. This museum, located within the Henderson County Historic Courthouse, seeks to preserve history and a sense of place. Consisting of six rooms, the museum features colorful exhibits, dioramas, educational programs, research, and collections that reflect how local people responded to their cultural, educational, political, and natural environments. Virtual tours are also available.
Mineral and Lapidary Museum of Henderson County
Descend into this below-street-level museum to discover the beautiful world beneath your feet. The Mineral and Lapidary Museum of Henderson County was founded to be a primary resource for education and information on the earth sciences related to geology and paleontology. Popular highlights include the Hendersonville meteorite, the fluorescent mineral display, and a variety of fossils—highlighted by a casting of a Tyrannosaurus rex skull, a mastodon tusk and teeth, and a wooly mammoth leg bone.
Western North Carolina Air Museum
Bring your kids, your camera, and your leather jacket—and rediscover the excitement of early airflight at the Western North Carolina Air Museum. Located beside an active airport, the museum's mission is to preserve the Carolinas' rich flying heritage and promote general aviation. You can view the airplanes on display in about an hour. Or you can spend the afternoon hanger-flying with the museum's friendly, informative staff, some of whom own the planes on display. The hangar doors are open rain and shine, and some days you can watch them take the planes for a spin.
Local farms
Historic Johnson Farm
Henderson County Schools owns Historic Johnson Farm, a heritage education center, making it one of only three school systems in the United States to own a farm. The school system uses it to teach students about farm life on its 15 acres of farmland, forest, fields, and streams. The site offers school field trips, historic home tours, nature trails, picnic tables, animals, and ten historic structures. Visitors are welcome to walk the grounds, visit the animals, and take the audio tour on their own. The farm is listed on the National Register of Historic Places and has been designated a North Carolina Cultural Treasure.
Apple orchards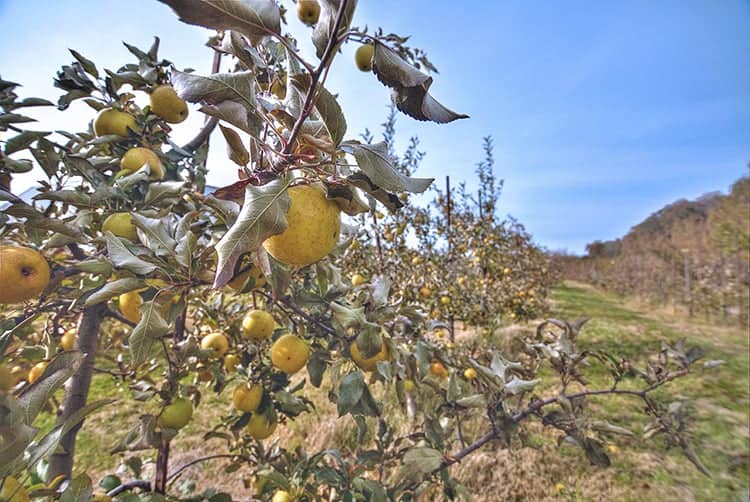 The terrain and climate of Henderson County are a haven for apples, the traditional agricultural crop in the county, especially since World War II. Today, Henderson County is one of the top 10 apple-growing counties in the entire country. Local apple orchards often diversify their offerings, as well. Some offer other produce, from melons in the summer to pumpkins in the fall. Others offer preserves and fresh-baked goods.
Apple picking
In Western North Carolina, a favorite annual tradition among families and friends is apple picking at a local farm. It's easy to make an entire fun, family-friendly day out of the excursion and leave with bushels of fresh, locally grown apples. Roam the orchards, enjoy the fresh mountain air, and pick your own popular and heirloom varieties. Oh, and don't forget to enjoy a cup of fresh apple cider or a nice, warm apple cider doughnut while you're there! Some farms have fresh baked snacks and food trucks with hot dogs, making it easy to spend a whole day onsite.
Justus Orchard
The Justus family has been growing delicious North Carolina apples for more than four generations. At their orchard, you can join in the family fun! Find U-Pick or We-Pick apples, along with pears, blackberries, and pumpkins. Tour the orchard and enjoy all the fun farm activities, including the duck pond, farm animals, and Cow Train for the kids. Their Apple House and bakery offers an assortment of preserves and homemade goodies, including fried apple pies, apple cider donuts, cider slushies, and more!
Goat farm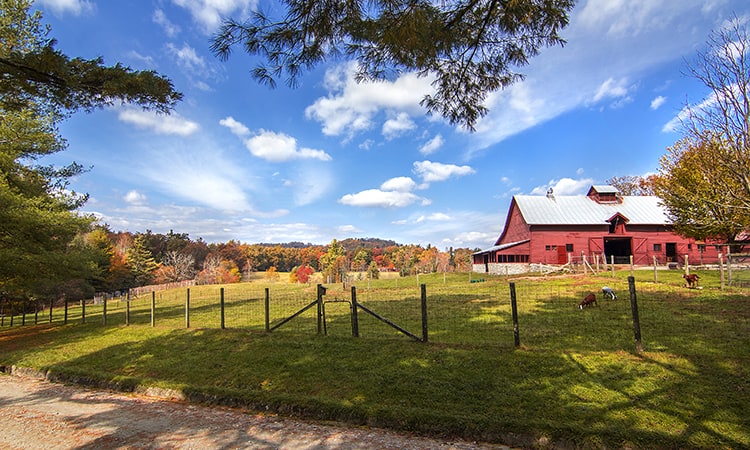 Built in 1838, the Carl Sandburg Home National Historic Site is a 264-acre working farm and the former estate of poet and author Carl Sandburg and his wife, Lilian "Paula" Sandburg. Carl spent the last 22 years of his life on the estate, known as Connemara, and wrote more than a third of his works here. A collection of Sandburg's 10,000 books, papers, and notes are on display, and five miles of hiking trails meander through the estate. Descendants of Paula's prize-winning goats still live on the farm, and baby goat season is one of the most popular times to visit.
Saint Paul Mountain Farms
In addition to great wine bars, breweries, cideries, and tasting rooms in town, the greater Hendersonville area is home to a number of vineyards and wineries. Most notable is perhaps Biltmore Estate's label. But many smaller wineries are beginning to age nicely in the region. Saint Paul Farms is a working vineyard and orchard that grows the fruit for their award-winning wines, ciders, and spirits. Visitors are welcome to learn about the farms and enjoy tasting a variety of locally grown French vinifera and Normandy-style hard cider at any of their three regional tasting rooms.
Blue Ridge Mountains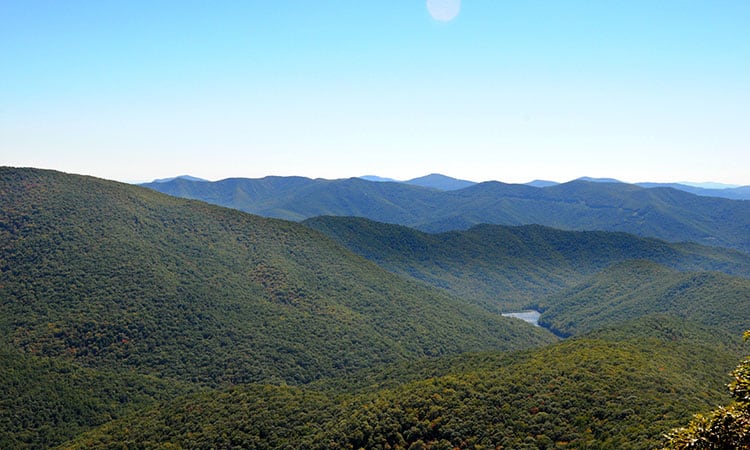 Outdoor adventures around Hendersonville offer new adventures every day of the year! The Blue Ridge Mountains are the major range running through Western North Carolina, bringing snow in the winter and cooler temperatures in the summer—qualities that have attracted tourists and residents for generations. Hendersonville is nestled atop a scenic mountain plateau high between the Great Smokies and Blue Ridge Mountains. From anywhere in town, you're just a short drive from the Blue Ridge Parkway, called America's Favorite Drive!
Pisgah National Forest
Spanning more than 500,000 acres, Pisgah National Forest is home to two of the first designated wilderness areas in the eastern U.S. It is also where the first school of forestry in the country was built, now preserved at the Cradle of Forestry historic site. Today, hundreds of miles of trails wind through Pisgah's high peaks, cascading waterfalls, and heavily forested slopes. Popular outdoor activities include hiking, bicycling, climbing, fishing, and even OHV riding.
DuPont State Forest
From hiking to mountain biking on 86 miles of multi-use trails, DuPont State Recreational Forest lives up to its name, with enough to keep any outdoor enthusiast active. And waterfall lovers always have something new to discover. As you explore, certain coves and sights may look familiar to you. DuPont has been a filming location for a number of movies, including "The Hunger Games", "The Last of the Mohicans", and "Don't Let Me Go".
Bridal Veil Falls
Located in DuPont State Forest, Bridal Veil Falls is a 120-foot waterfall that visitors come from miles around to experience. An observation deck makes it easy to safely enjoy the waterfall's cascade. And flat rocks at the base of the waterfall make a great spot for picnics and photos. The hike to Bridal Veil Falls is 4.4 miles round-trip from the designated parking area and visitor center.
French Broad River
One of the five oldest rivers in the world, the French Broad River is accessible year round from many points along its 218 miles. Portions of the river are today protected by the states of North Carolina and Tennessee. The French Broad River State Trail is a 67-mile blueway and paddle trail in North Carolina, with launch points available along the trail. Much of the French Broad is appropriate for wading and swimming, but swimmers should be cautious of fast-moving currents and eddies. The fast-flowing tributaries of the French Broad are also ideal for several species of trout, bass, bluegill, and crappie.
Chimney Rock State Park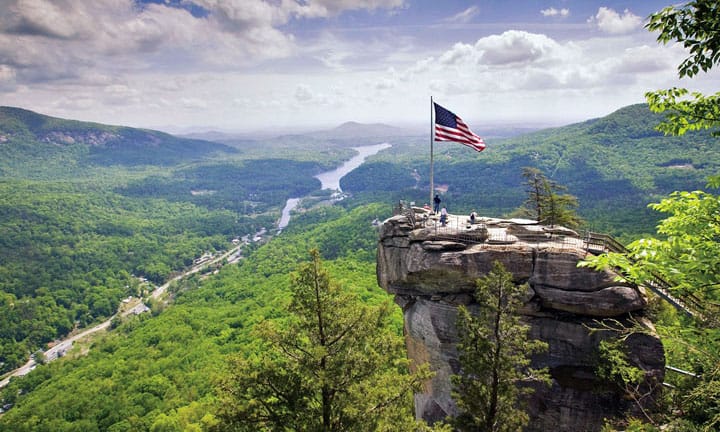 Create a postcard perfect day at the 6,892-acre Chimney Rock State Park, which features several hikes with unparalleled views. A climb up the stairs to the top of 315-foot-tall Chimney Rock (or a quick elevator ride) is rewarded with panoramic views as far as 75 miles across Hickory Nut Gorge and Lake Lure. No wonder this is one of the most iconic sites in North Carolina. Or take the popular Hickory Nut Falls trail to the bottom of one of the tallest waterfalls east of the Mississippi River. At journey's end, you'll be awed by the 404-foot falls featured in "The Last of the Mohicans."
Public botanical garden
There's no need to venture too far into the forests and mountains surrounding Hendersonville to see beautiful flora. No matter the time of year, it's easy to enjoy native and non-native plant species at local botanical gardens. The North Carolina Arboretum is located in nearby Buncombe County and is immediately accessible from the Blue Ridge Parkway. Their 65 acres of cultivated gardens and groomed trails feature some of the most beautiful, botanically-diverse plants in the region.
Bullington Gardens
Henderson County's public botanical garden is called Bullington Gardens. They feature a variety of sections, including the whimsical fairy trail, accessible therapy garden, and functional hoop house. An artistic amphitheater is a great spot to put on a show or come across one in progress. Bullington Gardens hosts a variety of events and programs throughout the year for students and adults, as well as social events with a garden flair.
Nature trails
Hendersonville locals have many opportunities in and around town for casual outdoor recreation—nature trails snake through much of the area! But no trail is more anticipated than the upcoming Ecusta Trail. When complete, the Ecusta Trail will be a 19.4-mile, 12-to-14-foot-wide, multi-use greenway along an unused railway corridor. The "rail-trail" is designed to connect Hendersonville and Brevard, as well as all the communities between them, for use by walking, running, biking, and wheelchairs.
Jump Off Rock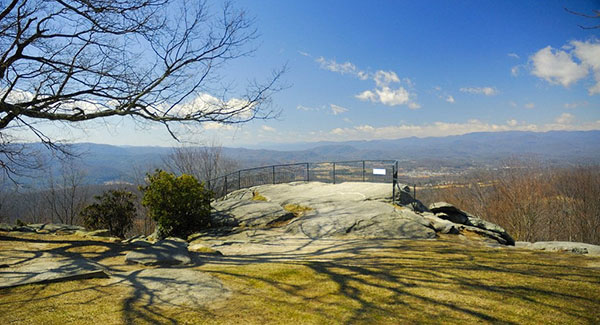 Laurel Park is a premier residential, retirement, and vacation area featuring spectacular views of the mountains above and valleys below. One of the most popular attractions in Laurel Park is Jump Off Rock, and for good reason! This scenic overlook offers a panoramic view of the Blue Ridge Mountains and Pisgah National Forest. Several short hiking trails are also accessible from the 3,100-foot summit. Jump Off Rock is named for a 300-year-old Cherokee legend. Whether you visit for nature, romance, or intrigue, you're sure to enjoy the views!
State theatre of North Carolina
The Flat Rock Playhouse, North Carolina's state theater, traces its history back to 1937. The Playhouse's current location, built on the rock for which the Historic Village of Flat Rock is named, was established in 1952 by a troupe of performers known as The Vagabond Players. Located in the heart of town, the community touchstone stages Broadway-quality musicals, comedies, dramas, and theater for young audiences.
Flat Rock Playhouse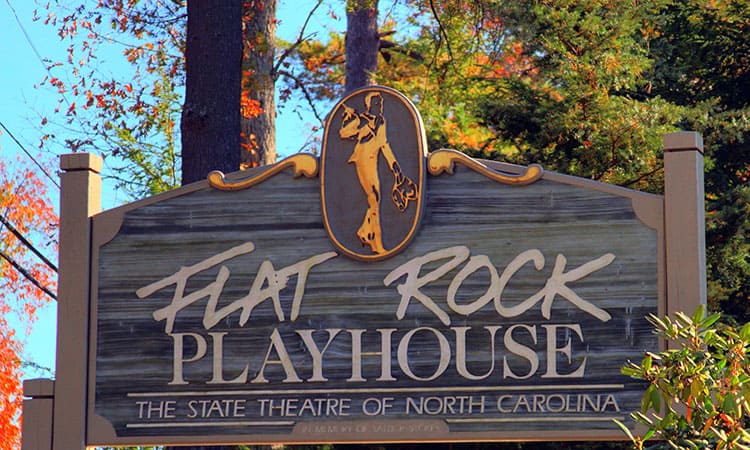 The Flat Rock Playhouse has gained national recognition for its professional performing company and theater training programs. Their season runs year round, with more than 100,000 patrons attending shows each year. The Playhouse showcases professional actors from across the country. Recent performances include "Catch Me If You Can," "West Side Story," and "Guess Who's Coming to Dinner."
Gem mining
A great way to get to know our mountains is from the ground up. Or from the ground down, in this case. Try your hand at gem mining in Hendersonville. Kids will love sifting through the dirt to find minerals and precious stones. And the shops attached to many mines have great selections of stones and fossils that are sure to inspire the imagination.
Elijah Mountain Gem Mine
It doesn't get much better than this! Hendersonville's own Elijah Mountain Gem Mine has been voted by travelers as the best gem mine and best mining experience in North Carolina for years. The mine has also been voted the #22 "Thing to Do in the USA" and the #4 "Family-Friendly Fun" activity in the world on TripAdvisor (2021). In addition to their world-class indoor and covered mining experiences, the site features a goat farm, peacock habitat, creek to play in, family obstacle course, and a shady picnic area where you can enjoy lunch from a food truck on weekends.
Team ECCO Aquarium & Shark Lab
Since 2001, Team ECCO has focused on education, enrichment, and exploration of the ocean world. Recognized as the first inland aquarium in the state, this grassroots ocean learning program is home to over 275 fish, invertebrates, reptiles, and salamanders in more than two dozen exhibits. Some exhibits represent species local to WNC, while animals like the axolotl (Mexican walking fish) represent aquatic environments from around the world. A 2,000-gallon shark study tank offers additional innovative training opportunities for young marine scientists in the area.
Southern Appalachian Brewery
Beer lovers needn't drive to Asheville to quench their thirst. Henderson County is home to a growing number of breweries, several of which are located in downtown Hendersonville. From classic choices to unique small batch recipes to pints that give back to the community, you're certain to find a great brew for you. Southern Appalachian Brewery is one local favorite microbrewery with a family-friendly and friendly-dog-friendly tasting room. Craft brew giant Sierra Nevada has their East Coast production facility and taphouse nearby in Mills River.
Art galleries
WNC's many local art galleries have created exciting downtown destinations for artists and art lovers alike. But more importantly, art spaces add new life and a sense of identity to our neighborhoods. In particular, the arts have often led the way in the revitalization of main streets and town centers. Hendersonville, and downtown in particular, is home to its own burgeoning art scene. There are at least a dozen galleries devoted to showcasing local and regional artists in a variety of mediums.
Find what feels like home in Hendersonville, NC!
Distinguished by an almost perfect climate, beautiful surroundings, great drinks and dining, and recreational variety, Hendersonville, NC is known as the City of Four Seasons. The town's many tranquil neighborhoods and housing developments all surround a sturdy core. It's a place where you can be as active or idle as you wish. No wonder Hendersonville has attracted hundreds of residents looking for ample recreation and a friendly atmosphere.
Does that sound like the perfect lifestyle for you? Find homes in Hendersonville now!
Visited 334 times, 1 visit(s) today