Last Updated on March 22, 2023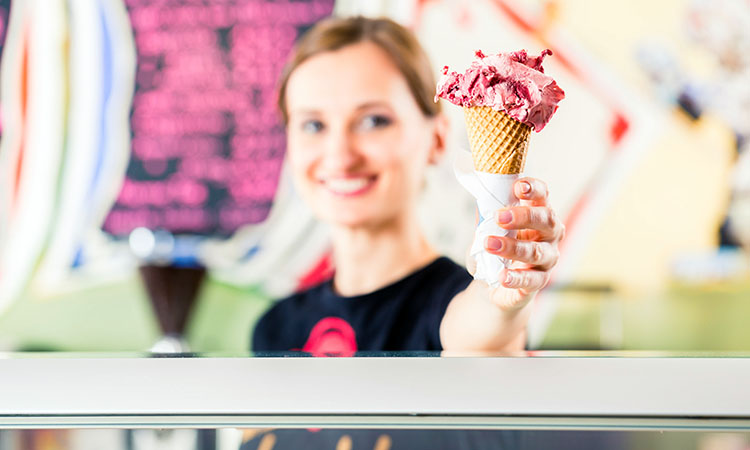 I scream, you scream, we all scream for delicious, farm-to-cone ice cream!
There are so many places to indulge your sweet tooth in Henderson County! From Jack the Dipper in Fletcher to Mills River Creamery, it's easy to find any flavor you want if you're willing to drive for it. But Hendersonville residents don't have to go far to find some of the best ice cream around!
Here are just a handful of sweet spots to find delicious ice cream within the town limits of Hendersonville, NC.
Celtic Creamery
Born on the west coast of Ireland, now Celtic Creamery is based in the lush pastures of North Carolina, where they combine the freshest ingredients and just a little bit of Irish magic to make truly scrumptious, rich and velvety ice cream. Each of their 58 flavors is made, churned, and frozen daily on the premises. The scoop ice cream is undeniably the star of the show. But Celtic also specializes in old fashioned signature sundaes, creating memories through Knickerbocker Glories, Banana Boats, and more.
227 7th Avenue E, Hendersonville | (828) 595-9250 | celticcreamery.com
Harry's Grill & Piggy's Ice
What started as an ice cream parlor in 1979 expanded to include a BBQ and grill joint in 1993. Since then, Harry's Grill & BBQ has served large portions for low prices and become a destination for diners of all ages. Piggy's offers 30+ regular flavors, along with an assortment of sugar-free ice creams and frozen yogurt. You can also enjoy your scoop as a shake, freeze (sherbert and soda), malt, or sundae. You haven't had such a good time since you were a kid!
102 Duncan Hill Road, Hendersonville | (828) 692-1995 | harrysandpiggys.com
Kilwins Chocolates
Walk into Kilwins and delight in the sweet aroma! For 18 years, this locally-owned location has been serving up small-town charm, friendly service, and exceptional ice cream and confections. You'll feel like you're in an old-fashioned confectionery, with a wide selection of fudge, caramel apples, fresh candies, and chocolate treats of all kinds. Plus, their Original Recipe Ice Cream selection encompasses dozens of premium, original flavors with a creamy consistency and a delicious, rich texture. Stay and watch the cooks hand paddle the fudge right in the store!
506 N Main Street, Hendersonville | (828) 698-9794 | kilwins.com
Mike's on Main
Looking for a '50s-style soda fountain experience in the heart of Historic Downtown Hendersonville? Mike's on Main is one of the most interesting and iconic restaurants in town! Pair your burger with an egg cream or malted shake for an experience that takes you back in time. In fact, they guarantee you the best milkshake in Western North Carolina! While you enjoy your treat, make free selections of your favorite oldies from the jukebox.
303 North Main Street, Hendersonville | (828) 698-1616 | facebook.com/MikesOnMainStreet
Paleteria El Rio
Five minutes off the highway, tucked into a strip mall, may be one of the most interesting and delicious ice cream shops in town. You could order a standard flavor, shake, or sundae. But why would you when you could choose flavors like horchata, avocado, passion fruit, queso, and more? (Yes: queso ice cream!) In addition to ice cream and homemade popsicles with chunks of fresh fruit, Paleteria El Rio offers chamoyada, a sweet and spicy type of shaved ice. Don't miss your chance to experience the best Mexican ice cream around.
2000 Spartanburg Highway, Suite 200, Hendersonville | (828) 575-6496 | facebook.com/Elrioicecream
Live a sweet life in Hendersonville, NC!
Distinguished by an almost perfect climate, beautiful surroundings, great eateries, and recreational variety, Hendersonville, NC is known as the City of Four Seasons. The town's many tranquil neighborhoods and housing developments all surround a sturdy core. It's a place where you can be as active or idle as you wish. No wonder Hendersonville has attracted hundreds of residents looking for a sweet life topped with ample recreation and a friendly atmosphere. 
Does that sound like the perfect lifestyle for you? Find homes in Hendersonville now!
Visited 216 times, 1 visit(s) today