Last Updated on May 9, 2023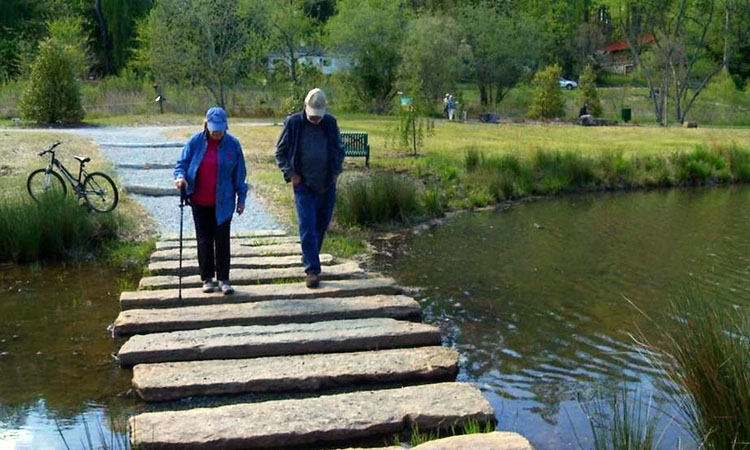 What three words would you use to define the mountain town of Laurel Park, NC?

Located just west of Hendersonville, Laurel Park is a premier residential, retirement, and vacation destination. It's location has long made it a great spot for mountain views, mountain adventures, and mountain living.

There are many words you could use to define Laurel Park, NC. Here are three terms that we immediately thought fit the town well. Do any surprise you?

Laurel Park, NC is Historic
The Town of Laurel Park started in the late 1800s as a summer resort. The area was quickly dotted with cottages, inns, camps, and recreation areas surrounding the lakes on the lower slopes of Echo Mountain. Around the turn of the 20th century, it continued to grow and was bolstered by new rail lines. The Singletary-Reese-Robinson House, also known as Woodlawn, survives from this era. Built in 1912, this two-story Rustic Revival-style log dwelling is now on the National Register of Historic Places.

The growth of the town can be traced, in part, through a visit to Oakdale Cemetery, established in 1885. Among the shady trees and weathered (but still readable) headstones, there is a marble angel standing tall above the resting place of Mrs. Margaret Bates Johnson. The statue is widely believed to be the very one that inspired Thomas Wolfe's first novel, Look Homeward Angel.

Laurel Park, NC is Scenic
Rising to an elevation of over 3,000 feet, Laurel Park offers residents and visitors alike spectacular views of the mountains and valleys below. An abundance of parks and natural features make it easy to enjoy nature any day of the year. The town-maintained Rhododendron Lake Nature Park features almost a mile of walking paths, a picnic area, and a catch-and-release fishing pond. Take a connecting sidewalk to Laurel Green Park, which is enclosed by a perimeter of planted berms and a stream on its south side. Enjoy meandering walking paths, a pond, and a centrally located gazebo for gatherings.

One of the most popular attractions in Laurel Park is Jump Off Rock, and for good reason! This scenic overlook offers a panoramic view of the Blue Ridge Mountains and Pisgah National Forest. Several short hiking trails are also accessible from the 3,100-foot summit. Jump Off Rock is named for a 300-year-old Cherokee legend. Legend has it, when a young maiden heard that her lover had been killed in battle, she jumped off that very cliff. On moonlit nights, her ghost can sometimes still be seen at that spot looking for her lover.

Laurel Park, NC is Growing
Over the years, many celebrities and wealthy vacationers have been drawn to Laurel Park. Even the professional boxer Jack Dempsey visited the area for a month in 1926. He stayed at the Kentucky Home Hotel in Downtown Hendersonville and trained in Laurel Park for his upcoming title fight against Gene Tunney.

Laurel Park was incorporated as one of Henderson County's five towns in 1925, when it had just over 100 residents. After the stock market crash of 1929, Laurel Park transitioned from a summer resort to a town noted for its year-round beauty, lovely homes, and abundant small lakes and pocket parks. Today, the town continues to grow and attract new residents and visitors. With a population of over 2,300 within its 2.8-square-mile limits, the number of people living in Laurel Park has increased by more than 50% since 1990.

BONUS: Laurel Park, NC is Homey
Laurel Park is steeped in history, but is also looking to the future. The town's vision is to preserve and enhance its unique quality of life, making it the residential and small business community of choice in Western North Carolina.

Does that sound like the perfect lifestyle for you? Find your dream home in Laurel Park now!

Visited 75 times, 1 visit(s) today