Last Updated on May 9, 2023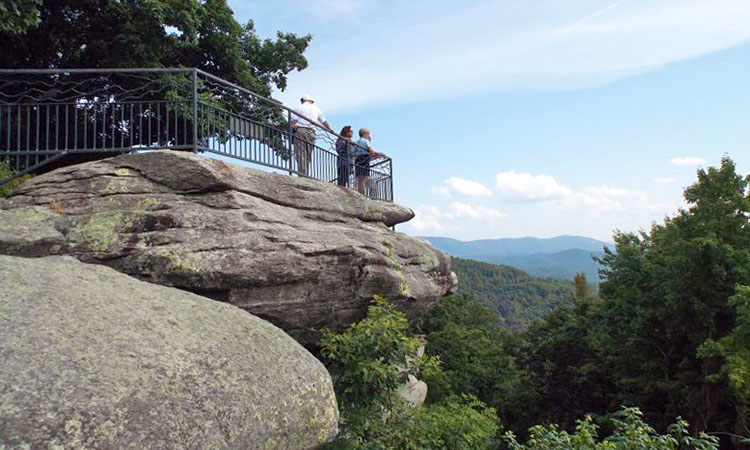 Located just west of Hendersonville is the incorporated town of Laurel Park. Since the late 1800s, Laurel Park has been a prime spot for spectacular views of the mountains and valleys below.

The Town of Laurel Park started as a summer resort featuring cottages, inns, camps, and recreation areas around the lakes on the lower slopes of Echo Mountain. Its growth was bolstered for several decades by new rail lines. Then, after the stock market crash of 1929, Laurel Park transitioned from a summer resort to a town. It was noted for its year-round beauty, lovely residences, and areas dotted with small lakes and pocket parks.

Today with a population of over 2,300, the vision of the town is to preserve and enhance its unique quality of life, including its connection to the nature that surrounds it. Are you looking for an outdoor getaway? Here are five Laurel Park locales where you can enjoy nature any day of the year.
Rhododendron Lake Nature Park
Take Laurel Park Highway to Lake Drive and Primrose Lane, and you'll find a 10-acre park nestled among the neighborhood homes. Rhododendron Lake Nature Park features almost a mile of walking paths, fitness stations, and a picnic area with a charcoal grill. The town-maintained park also has a catch-and-release fishing pond.
In the early 1900s, Rhododendron Lake connected to Rainbow Lake via a canal. It was a summer hot spot for locals and visitors alike well into the 1960s. In the 1980s, however, the earthen dam protecting the surrounding residents from the lake was found to be unsound. The lake size reduced from nine acres to one acre, and the site became overgrown and forgotten for many years. Today, Rhododendron Lake Nature Park seeks to remind residents of that history while creating new memories that bring the community together.
Laurel Green Park
Rhododendron Lake Nature Park is connected to Laurel Green Park via the sidewalk on Primrose Lane to Laurel Park Highway. This 4-acre parcel of level land is enclosed by a perimeter of planted berms and a stream on its south side. Enjoy meandering walking paths, a pond, and a centrally located gazebo for gatherings.
Located within the park, Little Laurel Green is a popular, fenced playground area. The large gazebo is available via reservation for birthday parties and other events. And a port-a-jon is available for use during park hours in summer months.
Jump Off Rock
One of the most popular attractions in Laurel Park is Jump Off Rock, and for good reason! This scenic overlook offers a panoramic view of the Blue Ridge Mountains and Pisgah National Forest that are perfect for nature lovers and romantic moments alike. Through the year, Jump Off Rock is utilized for concerts, weddings, funerals, and family picnics. Several short hiking trails are also accessible from the 3,100-foot summit.
Jump Off Rock is named for a 300-year-old Cherokee legend. Legend has it, when a young maiden heard that her lover had been killed in battle, she jumped off that very cliff. On moonlit nights, her ghost can sometimes be seen looking for her lover on Jump Off Rock.
Oakdale Cemetery
Not a typical spot for nature junkies, Oakdale Cemetery, just northeast of town on Highway 64, is nevertheless a peaceful spot to enjoy a moment of repose. This historic city cemetery was established in 1885, and many early headstones are still quite readable today.
Among the shady trees and weathered headstones, you will be able to spot an angel standing tall above the resting place of Mrs. Margaret Bates Johnson. A historic marker identifies the location from the road. The statue, carved from Italian marble, is widely believed to be the very one that served as inspiration for Thomas Wolfe's first novel, Look Homeward Angel. The angel was sold from Wolfe's father's monument store in downtown Asheville, where the Jackson Building now stands.
Hendersonville Golf and Country Club
South of Laurel Park sits the member-owned Hendersonville Golf and Country Club. Nestled in the heart of the Blue Ridge Mountains, the Hendersonville Country Club markets itself as one of the best private clubs in the entire Southeast. Go to enjoy regular and exciting events, top-notch dining options, or spend the day on an historic green.

The par 70, 18-hole Hendersonville Country Club Golf Course is one of Donald Ross' signature jewels. True to Ross' form, the course is easy to walk, with rolling hills, mature pines, and hardwoods. It features six sets of tees for all skill levels, as well as a driving range and three putting/chipping greens.
Live close to nature in Laurel Park, NC
Laurel Park is steeped in history, but is also looking to the future. Since the late 1800s, Laurel Park has been a premier residential, retirement, and vacation area. Its popularity is in large part because of its spectacular views of the mountains and valleys below. Looking ahead, the town's vision is to preserve and enhance its unique quality of life, making it the residential and small business community of choice in Western North Carolina.
Does that sound like the perfect lifestyle for you? Find your dream home in Laurel Park now!
Where is your favorite spot to enjoy nature in Laurel Park? Share it with us in the comments!
Visited 88 times, 1 visit(s) today