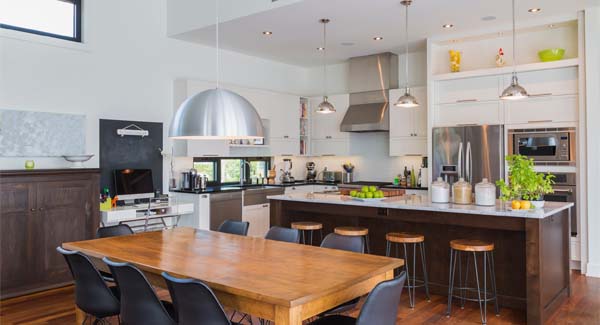 Last Updated on September 8, 2022
Last updated April 3, 2020
As you find yourself with more time on your hands than usual, bust the boredom by taking some time to deep clean your kitchen. But more than just wiping down the counters, here's how to really make your kitchen shine!
Vent hood
Go ahead find the vent hood in your kitchen. Chances are you've never even seen this thing, let alone attempted to clean it. This one's easy: Just grab some borax and treat the vent hood to a nice relaxing soak in hot water. It'll be as good as clean in an hour or so.
Oven
Clean your oven by using non-toxic ingredients like baking soda, water and dish liquid to wash away the dirt and grime that's currently taking up residence in your oven.
Refrigerator
First things first, get rid of the leftovers you've been staring at since February. Take an inventory of everything else— if it's past the expiration date, toss it. Next, move on to wiping down all shelves. If you've neglected your fridge for quite some time, you'll probably be best served to take the shelves out of the fridge completely and wash them with hot soapy water. If your fridge is still sporting a funky odor try activated charcoal to get the stench out (this works even better than baking soda)!
Sink
Want in on a little sink-cleaning secret? One word: Flour. After you use hot soapy water and a sponge to clean your sink, thoroughly dry the area and coat your sink in flour. Just as you would polish a car with wax, use circular motions to buff your sink with the flour. You'll be amazed at the sparkle and shine! Oh, and don't forget to clean your splash guard. If you've got unwanted odors coming from your kitchen, chances are your dirty splash guard is partly to blame.
Cabinets
A product that shines and sanitizes? Is it even possible? Clean double time with coconut oil to restore shine and kill germs.
Coffee maker
Coffee makers are notorious for hosting a myriad of germs and microbes. Get rid of these nasty particles by mixing a solution of equal parts vinegar and water. Run your machine with the solution (sans coffee) at least once, and then run the machine twice more with just water to ensure the vinegar is gone.
Floors
Don't neglect the high traffic area during your deep cleaning binge. Dealing with tile? Use resolve carpet cleaner on the grout and scrub thoroughly before using a mop solution. What about dull hardwoods? Use a tried and true classic like Murphy's Oil Soap or make your own solution with 1 part vinegar to 10 parts warm water. Be sure your mop is damp and not soaking when you clean the floor, as too much water can damage real hardwoods.
Finishing touches
We wish we had stock in Bar Keeper's Friend because this cleaning product pulls not double, but triple duty. Use it to clean literally every surface in your house. What about those old pots and pans you thought were headed for the trash can? Use Bar Keeper's Friend polish mixed with a little elbow grease, and you're looking at a new pot. Can't stand the way your china looks from all of the utensil marks that have built up over the years? Bar Keeper's Friend is the way to go.
Visited 318 times, 1 visit(s) today