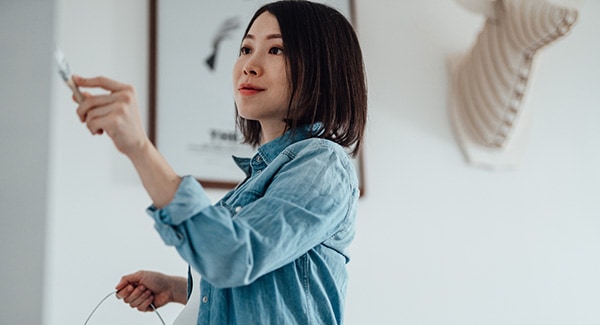 Last Updated on December 22, 2022
Have some free time over the next week or so? Make the most of it when you tackle some fun (and necessary) DIY projects.
Give your doors a makeover
Old doors that are in dire need of repair can quickly show your home's age. Take this time to apply a fresh coat of paint to interior doors and then replace the hardware to something modern. Matte black or polished gold handles are currently in style and look great on interior doors.
Paint your walls
The most inexpensive way to update your home will always be solved with a gallon of paint. Choose a modern, neutral color to apply to your walls and make sure to touch up your baseboards, too.
For wall color, try some neutral favorites like Agreeable Gray, Silver Song or even Alabaster. If you're updating the paint color on your baseboards too, make sure the undertones of the wall color complement the undertones of the baseboard color.
Keep reading: The 2023 paint colors of the year
Paint your vanity
Give your bathroom a quick refresh by painting your vanity. This simple DIY project is even doable for the novice do-it-yourselfer and you'll be amazed at how quickly paint can transform an old vanity. Add some new hardware for a completed look.
Insulate your attic
For under $500 you can insulate your attic and save hundreds on your electric bill over the years. Insulating your attic properly can help you cut 5-10% off your energy bill and even proves to be a good return on investment when it comes time to sell.
Add crown moulding or interesting trim work
Nothing elevates the look of an otherwise boring space quite like interesting trim work. Spend some time adding crown moulding to your dining or living room or even have a little fun with trim.
Highlight a wall to make it visually appealing by adding a board and batten accent wall or even consider adding some shiplap to a boring space.
Update your laundry room
Once a boring and rather dull space, refreshed laundry rooms are becoming more and more popular. You'll be amazed at how new light fixtures, paint and simple decor change the space.
Clean your grout
Unless you're a neat freak, cleaning your grout is likely not at the top of your to-do list. But if your white grout is now closer to brown, it's time to roll up your sleeves. To clean grout, all you need is a little hydrogen peroxide and baking soda.
Combine the two items to make a paste and allow it to sit on dirty grout for a few minutes after you've worked it in with a nylon brush. Clean off with a damp white cloth. Don't forget to seal the grout once it's completely dry!
Visited 3,454 times, 1 visit(s) today