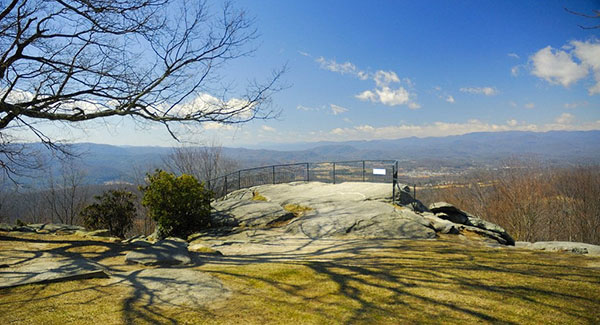 Last Updated on May 18, 2023
There are a lot of amazing things to do close to home in Hendersonville, NC. One of the most popular attractions to visit on a weekend in Hendersonville is Jump Off Rock—and for good reason! This overlook offers spectacular scenic mountain views and photographic opportunities during all four seasons of the year.

If you live in Henderson County, it's also a great destination to check out this weekend. Here are three things you should know before visiting Jump Off Rock.

Where does Jump Off Rock get its name?
From Skinny Dip Falls to Boogerman Trail, there are a lot of interesting place names scattered throughout the Western North Carolina mountains, each with its own story. The tale behind Jump Off Rock goes back several centuries.

Legend has it, more than 300 years ago, a young Cherokee tribal chief fell in love with a fair maiden. They often met at the top of the rock ledge overlooking the valley. When the young chief was called to war, the young woman promised she would wait at their favorite rock ledge for his return. But when she received word that her love had been killed in battle, she climbed to the edge of the rock and jumped off. Tribal hunters found her broken body below.

Some say that on moonlit nights, you can still see the maiden's ghost at the summit of Jump Off Rock, waiting for her love to return.

What can I do at Jump Off Rock?
Geographically, Jump Off Rock isn't a huge destination. However, there are still several things you can do when you visit.
Enjoy the views!
Jump Off Rock offers a panoramic view of the Blue Ridge Mountains and Pisgah National Forest. Whether you enjoy nature, or you're trying to create a romantic moment, the views will take your breath away! It's the main reason why Jump Off Rock is utilized for concerts, weddings, funerals, and family picnics throughout the year. A sign at the summit helps you identify mountain peaks on the horizon, including Mt. Pisgah and Cold Mountain.
Take a hike!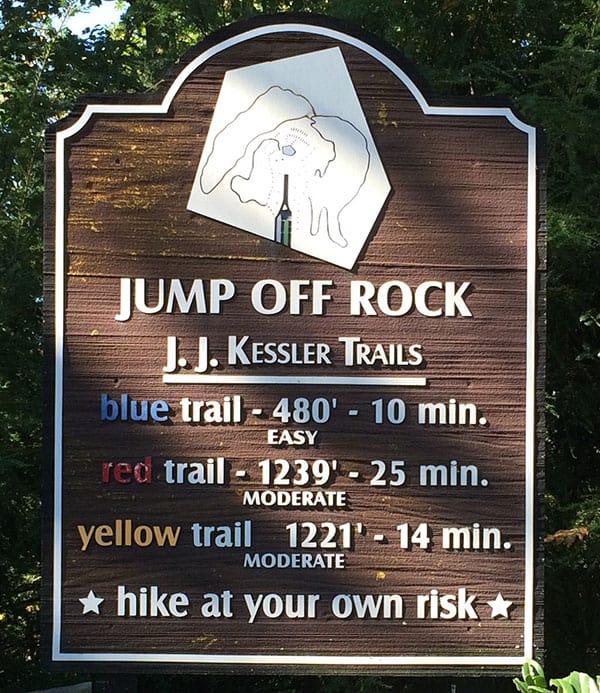 There are three short hiking trails that are accessible from the 3,100-foot summit of Jump Off Rock. Whatever your interests and skill level, you're sure to find one for you. The trails vary in length and difficulty.
Blue Trail: This easy trail takes about 10 minutes to complete.
Yellow Trail: This moderate trail takes around 15 minutes to hike.
Red Trail: This is the longest and most difficult trail. Plan at least 30 minutes for your adventure.
Bring a picnic
It's just a short and level walk from a parking area to the views at the summit of Jump Off Rock. So why not bring a few things with you to enjoy your visit? We recommend a blanket and a fully loaded picnic basket. Especially if you're visiting to view the sunset, you'll want to stay a while and enjoy the views.

How do I get to Jump Off Rock?
Jump Off is located about 5 miles from Downtown Hendersonville at the end of Laurel Park Highway in the Town of Laurel Park. From the Allen Tate/Beverly-Hanks office on Main Street, take 5th Avenue west. The road becomes Laurel Park Highway and dead ends at Jump Off Rock.

The park is open daily, sunrise to sunset. There is no admission charge to visit Jump Off Rock. No restroom facilities are available.

Make the jump and live in Henderson County!
Laurel Park is steeped in history, but is also looking to the future. Since the late 1800s, Laurel Park has been a premier residential, retirement, and vacation area, in large part because of its spectacular views of the mountains and valleys below. Looking ahead, the town's vision is to preserve and enhance its unique quality of life, making it the residential and small business community of choice in Western North Carolina.

Does that sound like the perfect lifestyle for you? Find your dream home in Laurel Park now!

Visited 1,164 times, 1 visit(s) today