Last Updated on June 7, 2023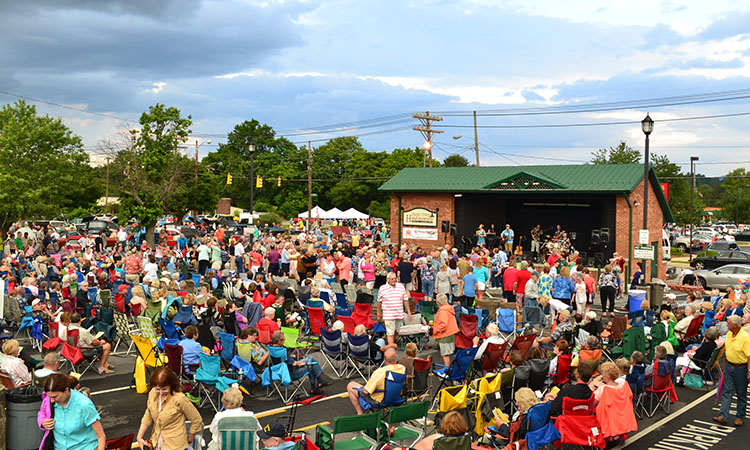 Mountain folk are known for a lot of things, but one of the first to come to mind is probably our tradition of live music. From the area's first settlers to today, Western North Carolina residents have loved to gather and listen to local musicians and storytellers sing local folk songs, pick the banjo, play the fiddle, or (just as likely today) play the electric guitar.

If live music is a big part of your life and your recreation, you're not alone. Blue Ridge Music Trails of North Carolina celebrates the old time music and dancing of our ancestors. The trails gather together the traditions of the Cherokee, European settlers, and early African Americans. Together with other organizations within the Blue Ridge National Heritage Area, the music trails seek to preserve and perpetuate the traditions that helped compose the cultural medley of our region.

But if you're looking for something a little more contemporary, that's easy to find, too. There are nationally recognized music venues and artists dotted across our region. In Hendersonville alone, it's easy to find live music of nearly every genre somewhere every night of the week.

Ready to break out your dancing shoes and enjoy a great show? Here are seven noteworthy venues for live music in Hendersonville, NC.

Burntshirt Vineyards
In a family-run tradition spanning 80 years, Burntshirt Vineyards produces high-quality wines of unique character. And they are available to you from their winery in Hendersonville and tasting room in Chimney Rock. Become a Silver or Gold Wine Club member to keep their award-winning wines in your cellar and receive limited production wines and pre-release wines. Or drop in to one of their tasting rooms for live music and more every weekend.

2695 Sugarloaf Road, Hendersonville | (828) 685-2402
438 Main Street, Chimney Rock | (828) 436-2490
Hendersonville Symphony Orchestra
Since 1971, the Hendersonville Symphony Orchestra has offered live symphonic performances and instrumental music education for youth and adults. Enjoy a professional experience with the feel of a community orchestra at Blue Ridge Community College during their five-performance season. Their all-professional ensemble of 60–70 musicians reside in Henderson County, as well as surrounding communities in Western North Carolina and Upstate South Carolina.

317 N Washington Street, Suite 2 Hendersonville | (828) 697-5884 | hendersonvillesymphony.org

Mike's on Main Street
Step back in time to the 1950s at one of the most interesting and iconic restaurants in town! Grab a diner-style breakfast or lunch seven days a week, and don't forget to save room for an old fashioned egg cream or banana split from their soda fountain. While you enjoy your meal, make free selections of your favorite oldies from the jukebox. Or come out on an afternoon when live musicians are on hand to help set the mood.

303 N Main Street, Hendersonville | (828) 698-1616 | mikesonmain.com

Olive or Twist
Olive or Twist is a locally owned restaurant and bar known for their great food, good drinks, and live music. They are located in the 100-year-old Minico Dry Cleaners Building, which provides a comfortable upscale atmosphere. Their fresh and flavorful menu features popular culinary styles from around the globe using the finest local ingredients available. Visit them for dinner throughout the week for amazing entertainment and a dining experience you will never forget.

121 W Barnwell Street, Hendersonville | (828) 513-5130 | facebook.com/pg/oliveortwists

The Poe House
You may lose your mind over the craft cocktails, rare drafts, and fine wines at the Poe House. Their food menu also includes light bites, charcuteries, sandwiches, and desserts. On weekends (and sometimes throughout the week), they also play host to local musicians spanning rock and blues and more.

105 1st Avenue W, Hendersonville | (828) 696-1838 | thepoehousehvl.com

Sanctuary Brewing Company
Sanctuary Brewing Company is a brewery and tap room located in the heart of Hendersonville. The brewery is committed to enriching the lives of both humans and animals through craft beer, kindness, and philanthropy. The business is an extension of their mission, built by craft beer enthusiasts and animal lovers with a strong sense of community and environmental responsibility. Visit them every week for rotating beers and a rotating live music calendar!

147 First Avenue East, Hendersonville | (828) 595-9956 | sanctuarybrewco.com

The streets of Hendersonville!
During the warmer months, the streets of Downtown Hendersonville overflow with pedestrians! From great local storefronts to local craft brews and a bevy of museums, there is always something to catch your attention. And events like Hendersonville's annual Music on Main give you one more reason to come out. Every Friday night during the summer, the city sponsors concerts from the region's best bands, right in the road along Main Street. So, bring a chair, bring the family, and enjoy an evening of free live music!

Learn more: visithendersonvillenc.org/music-on-main-street

Could you see yourself making beautiful music in Hendersonville, NC?
Distinguished by an almost perfect climate, beautiful surroundings, and recreational variety, Hendersonville is known as the City of Four Seasons. The town's many tranquil neighborhoods and housing developments all surround a sturdy core—a downtown with a vibrant and active live music scene. No wonder Hendersonville has attracted hundreds of residents looking for ample recreation and a friendly atmosphere.

Does that sound like the perfect lifestyle for you? Find homes in Hendersonville now!

Visited 144 times, 1 visit(s) today