Last Updated on June 7, 2023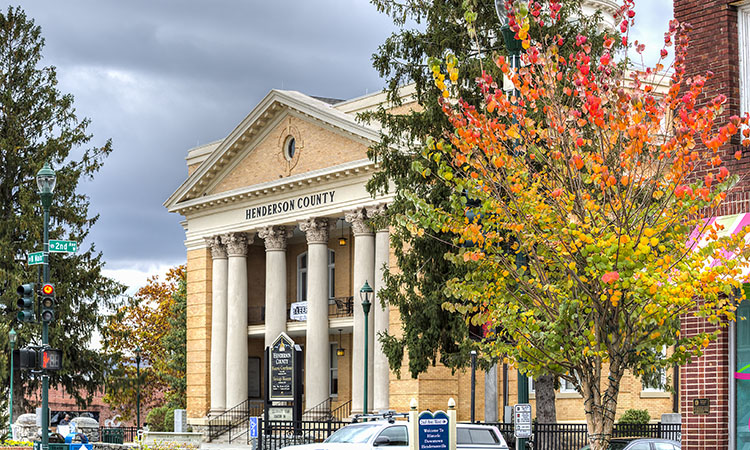 Henderson County is located in North Carolina's western mountain region. But the area is characterized by an extensive plateau along the French Broad and Mills River valleys. The terrain and climate have historically been a haven for apples, the traditional agricultural crop in the county. The tradition of honoring the local apple industry persists through the county's annual Apple Festival. The festival is held each year Labor Day weekend and culminates in the "King Apple Parade" attended by thousands of spectators.
Henderson County currently has five incorporated towns/cities: Flat Rock, Fletcher, Hendersonville, Laurel Park, and Mills River. Of these, only Hendersonville, the county seat, possesses the typical characteristics of a dense urban center with a significant population.
Learn about each of these communities below, and find your perfect home in Henderson County today!
Hendersonville
Hendersonville, long known for its historic charms, is blooming into the future. The town (population 14,000) is the largest in Henderson County and is the county seat. In recent years, it has revitalized its local business and arts scenes and advanced its reputation as a place that offers something for just about everyone. Distinguished by an almost perfect climate, beautiful surroundings, recreational variety, and a sturdy core, Hendersonville is a place where you can be as active or idle as you wish.
Read more about Hendersonville.
Flat Rock
Flat Rock is sometimes called "The Little Charleston of the Mountains." The area was a 19th century oasis frequented by affluent land owners from the South Carolina Lowcountry. Today, Flat Rock remains as charming as ever, with art studios and unique specialty shops. The Carl Sandburg Home and Flat Rock Playhouse continue to attract culturally minded individuals. The entire district is on the National Register of Historic Places.
Fletcher
Located between Asheville and Hendersonville, Fletcher is a small town that enjoys close proximity to some of WNC's biggest attractions, businesses, breweries, and natural wonders. Fletcher is growing at a steady and smooth pace. In fact, its current population of 8,200 is more than double what it was 20 years ago. In addition to ready access to nearby Interstate 26, residents are just minutes away from Asheville Regional Airport.
Laurel Park
Laurel Park is a premier residential, retirement, and vacation area featuring spectacular views of the mountains above and valleys below. One of the most popular attractions is Jump Off Rock. This scenic overlook offers a panoramic view of the Blue Ridge Mountains and Pisgah National Forest. With a population of over 2,300, Laurel Park's vision is to preserve and enhance its unique quality of life to make it your residential and small business community of choice.
Mills River
The town of Mills River is located in western Henderson County near Etowah and Fletcher. Dating back to the late 18th century, many of the town's current residents are direct descendants of original landowners. Now home to about 7,500 people, Mills River is the third largest town in the county. Locals enjoy the Mills River Recreational Area, a popular destination for hikers, fishermen, and mountain bikers.
Live Abundantly in Henderson County, NC!
Henderson County offers myriad ways to Live Abundantly. With a diverse population of people of all ages and from all walks of life, Henderson County is the perfect location for enjoying life. Find the best home to match your chosen lifestyle.
Does that sound like the perfect lifestyle for you? Find your dream home in Henderson County now!
Visited 156 times, 1 visit(s) today