Last Updated on June 7, 2023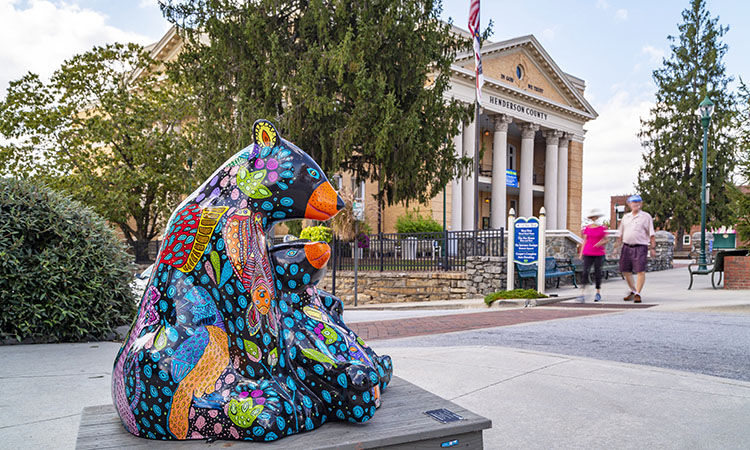 Distinguished by an almost perfect climate, recreational variety, and surrounding majestic mountains, Hendersonville is known as the City of Four Seasons. The town's many tranquil neighborhoods and housing developments all surround a sturdy core—a downtown that's a unique blend of the past and the present.

Hendersonville is centered around Main Street
Downtown Hendersonville's Main Street is the heart of the community. "Main Street, Hendersonville really contributes to Henderson County's quality of life, which is something that our community prides itself on," said Lew Holloway, Downtown Hendersonville Economic Development Director. "It's been an element that has continued to draw people to our community over time."

Main Street, Hendersonville is full of pubs, restaurants, museums, general and specialty stores, and other independent businesses. Because of its unique planning, it is also welcoming to pedestrians, bikers, and cars, all at the same time.

Businesses thrive in Hendersonville
Hendersonville, long known for its historic charms, is blooming into the future. In recent years, Hendersonville revitalized its local business scene and advanced its reputation as a place that offers something for just about everyone.

"Even though we're a small city, the downtown district actually has a lot to it," said Holloway. There are "seven solid blocks of downtown retail and merchants and things that keep your interest when you're out there walking."
Downtown Hendersonville and area museums
Few downtowns in the area can boast such a concentration of attractions, especially museums. That may be due in part to the town's extensive Main Street Historic District, which encompasses 65 contributing commercial and governmental buildings in the central business district. Local architecture reflects the prosperity of the community during the height of the town's development from roughly the late 19th to early 20th centuries. 

The Henderson County Heritage Museum is housed in the historic old courthouse, built in 1905. The Mineral and Lapidary Museum, on Main Street, offers geologic highlights from near and far. Also downtown are Hands On! Children's Museum, a free educational museum for children, and the Historic Hendersonville Train Depot, home of the Apple Valley Model Railroad Club. The club has installed a remarkable scale model railroad that has over 600 feet of track. Just outside of town is the Western North Carolina Air Museum, the first air museum in the state, which features restored and replica antique and vintage airplanes.
Fine arts and crafts in Hendersonville
Hendersonville, and downtown in particular, is home to a burgeoning art scene. In addition to offering local art by artists in different media, Art MoB Studios and Marketplace also offers art classes. Among the dozen or so additional downtown galleries are Carolina Mountain Artists Guild, McCarter Gallery, and Silver Fox Gallery.

Nearby Flat Rock, NC also has a strong community of visual and performing artists. The Flat Rock Playhouse is the State Theatre of North Carolina. Enjoy Broadway-quality musicals, comedies, dramas, and theatre for young audiences at this community touchstone.
Dining and drink in Hendersonville
Downtown Hendersonville is home to several dozen coffee shops, delis, tap houses, and fine dining restaurants. Whether you're looking for an old fashioned ice cream parlor or a high-end dining experience, there is something for every palate.

The town is also located in the heart of one of the most fruitful apple-producing regions in the U.S. Hendersonville and surrounding areas are home to Flat Rock Cider Company and Bold Rock Hard Cider, the largest craft cidery in the Carolinas. Burntshirt Vineyards and Saint Paul Mountain Vineyards are located just outside of town.

Beer lovers needn't drive to Asheville to quench their thirst. Henderson County is home to a number of breweries, several of which are located in downtown's burgeoning brewery district. Sanctuary Brewing Company is a local favorite, and Bearwallow Brewing Company, Guidon Brewing Company, and Southern Appalachian Brewery are all within a few blocks of each other. Craft brew giant Sierra Nevada has their east coast production facility and taphouse nearby in Mills River. 
Hendersonville community festivals
Apples have been the traditional agricultural crop in Henderson County, especially since World War II. Today, the area retains its regional and national agricultural footprint. The tradition of honoring the local apple industry persists through the county's annual Apple Festival, held each year around Labor Day. The festival culminates in the "King Apple Parade" attended by nearly 50,000 spectators. Additional annual festivals include Garden Jubilee in the spring and the Bearfootin' Public Art Walk.

Living in Hendersonville is all about location
"We think that downtown's a really key component of [what draws people to the area], but it's not the only component," said Holloway. "There are so many wonderful, beautiful places to get out and spend your time."

Hendersonville is nestled atop a scenic mountain plateau high between the Great Smokies and Blue Ridge Mountains. From anywhere in town, you're just a short drive from the Blue Ridge Parkway, a sightseer's and cyclist's haven, or Pisgah National Forest. With 469 miles of scenic roadways, the Parkway provides the perfect venue for enjoying the Blue Ridge Mountains by bicycle, vehicle, or on foot. It's no wonder it's called America's Favorite Drive!
One of the most popular attractions in nearby Laurel Park is Jump Off Rock—and for good reason! This scenic overlook offers a panoramic view of the Blue Ridge Mountains and Pisgah National Forest that are perfect for nature lovers and romantic moments alike. Several short hiking trails are also accessible from the 3,100-foot summit.
Hendersonville is located about half an hour south of Asheville, NC at the intersection of Interstate 26 and Highway 64. Major metropolitan areas within a few minutes of Hendersonville include Asheville, Greenville, SC, and Spartanburg, SC.

Word is getting out about Hendersonville
Hendersonville has been recognized locally, regionally, and nationally as a great place to live and learn. In recent years, publications from Tripadvisor to USA Today have applauded the city for its superlatives in education, the outdoors, and lifestyle.

Here are just a few of Hendersonville's recent accolades:
Best Cities in Western North Carolina (RealEstateScoreCard.com)
Best Place to Retire in NC, #1 (SmartAsset)
Top 100 Best Small Towns, #63 (Livability.com)
Best City to Live in North Carolina, #2 (CreditDonkey.com)
One of the Top 23 Destinations for Leaf Peeping (Trip Advisor)
Make Hendersonville, NC your home!
As a place where you can be as active or idle as you wish, Hendersonville has attracted hundreds of families looking for a gentle climate, beautiful scenery, ample recreational facilities, and friendly people.

Does that sound like the perfect lifestyle for you? Find homes in Hendersonville now!

Visited 95 times, 1 visit(s) today