Last Updated on June 7, 2023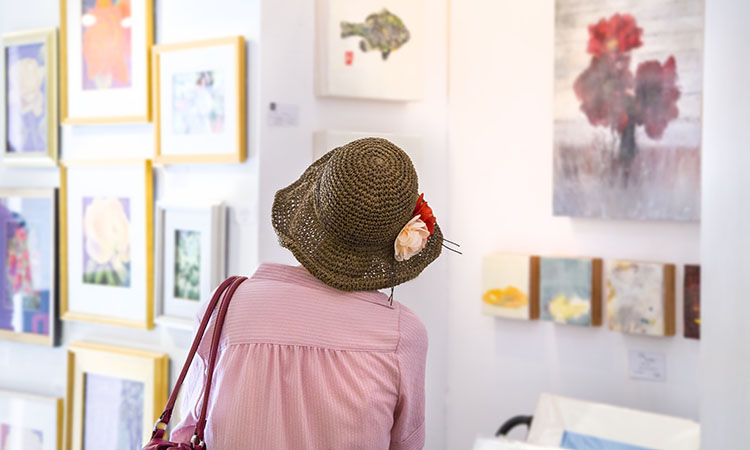 Western North Carolina's many local art galleries have created exciting downtown destinations for artists and art lovers alike. But more importantly, art spaces add new life and a sense of identity to our neighborhoods.

Across the state of North Carolina, $2 billion in new investment has been made to our state's main streets over the past 35 years. For many of our mountain communities, the arts have led the way in that revitalization. Downtown Hendersonville in particular is home to an ever-growing list of art galleries.

If you love local art as much as we do, you should check out the many local artists in our area. Here are a dozen local art galleries that showcase the best artists in Downtown Hendersonville. 

Art MoB Studios and Marketplace
Art MoB is a creative space for 90+ local and regional artists and fine craftsmen. Their space features over 5,000 square feet of inspiration within their marketplace, including four studios with working artists in residence. View the art and chat with the artists.

124 4th Avenue E, Hendersonville | (828) 693-4545 | artmobstudios.com

Carolina Mountain Artists Guild
This nonprofit artist guild represents 35 talented local artists and artisans. These juried artists provide wonderfully handcrafted items, filling the store with a delightful array of beautiful merchandise. There is always an artist on duty operating the store.

444 N Main Street, Hendersonville | (828) 696-0707 | facebook.com/carolinaartists

Kelly G. Chelena Fine Art
Kelly G. Chelena's large watercolors and oils on canvas have been described as expressive, chunky, abstract, and gestural. Her technique of layering and scraping helps her build elegant or aggressive landscapes, natural elements, or introspective works with a nod to frescoes of the past.

413 N Wall Street, Hendersonville | (828) 388-1311 | kellygchelena.com

Framing Arts
Though primarily a framing service, Framing Arts has an intimate gallery of their own. Come in to see a variety of artwork for sale, from local photography of the beautiful Blue Ridge Mountains to delicate hand-colored etchings, and from original watercolors to beautiful giclées.

119 3rd Avenue W, Hendersonville | (828) 696-3818 | framingarts.net

Joan Lesikin Gallery
Joan Lesikin focuses her work on fabric as a metaphoric landscape and simultaneously as a literal blanket of colorful stripes. Her artistic decisions are aesthetic, even ornamental. Joan's oil painting, from small to large, and works on paper, from serigraphs to color pencils, is a reminder that we continue to enjoy metaphor in our adult lives.
415 N Wall Street, Hendersonville | (828) 384-6579 | lesikin.com
McCarter Gallery
McCarter Gallery specializes in fine art of the beauty of nature. Find paintings, giclées, and prints, as well as antique and vintage paintings depicting inspirational beauty in soft realism and impressionism. It is also the working studio-gallery of well-known regional artist Alan McCarter.

451 N Main Street, Hendersonville | (828) 698-7117 | mccartergallery.com

Mountain Song Gallery
This family-operated gallery is proud to display the finest country-style artwork at the most reasonable prices this side of the Mason Dixon Line. They offer traditional country paintings by artist Phyletus Wright, as well as quality original artwork, giclées, and photo printing with
framing completed in-house.

442 N Main Street, Hendersonville | (828) 693-1640

Narnia Studios
As Hendersonville's oldest florist, Narnia Studios helps you deliver the perfect message or make any occasion extra special with beautiful flowers. Narnia Studios also carries a variety of American-made products, including local art, pottery, and jewelry.

408 N Main Street, Hendersonville | (828) 697-6393 | narniastudios.com

Silver Fox Gallery
Since 2000, Silver Fox has specialized in unique handmade pieces, American-made furniture, and interior design services. Their art and craft gallery represents American artists from all over the country, including local artists, focusing on quality and style.

508 N Main Street, Hendersonville | (828) 698-0601 | silverfoxgallery.net

SPERO ART Gallery & Studio
SPERO ART is a collection of vibrant, meditative paintings, sculpture, wearable, and functional art. These unique statement pieces are hand-carved and use recycled and reclaimed materials. They overflow with color and vibrational energy rooted in nature and inspired by visionary spirit consciousness.

121 3rd Avenue W, Hendersonville | (919) 618-1900 | facebook.com/SPEROART

A Walk in the Woods
A Walk in the Woods sells nature-inspired art, unique gifts, and eclectic design pieces crafted by local artists and artisans. Step inside and visit 60+ booths displaying various artists' works that tell a story about the beauty of both the forest and hand-crafted goods.

423 N Main Street, Hendersonville | (828) 577-6277 | facebook.com/awalkinthewoodsnc

Woodlands Gallery
Woodlands Gallery is committed to offering regionally made, high-quality, nature-inspired art. Their business cards, shopping bags, jewelry boxes, and other packaging products are made of recycled materials and sourced locally, eliminating natural resources used to transport items.

419 N Main Street #4903, Hendersonville | (828) 230-9080 | woodlandsgallerync.com

Have these art galleries inspired you to live in Hendersonville, NC?
Distinguished by an almost perfect climate, beautiful surroundings, and recreational variety, Hendersonville is known as the City of Four Seasons. The town's many tranquil neighborhoods and housing developments all surround a sturdy core—a downtown with a very active art scene. As a place where you can be as active or idle as you wish, Hendersonville has attracted hundreds of residents looking for a gentle climate, beautiful scenery, ample recreation, and friendly people.

Does that sound like the perfect lifestyle for you? Find homes in Hendersonville now!

Visited 269 times, 1 visit(s) today