Last Updated on June 7, 2023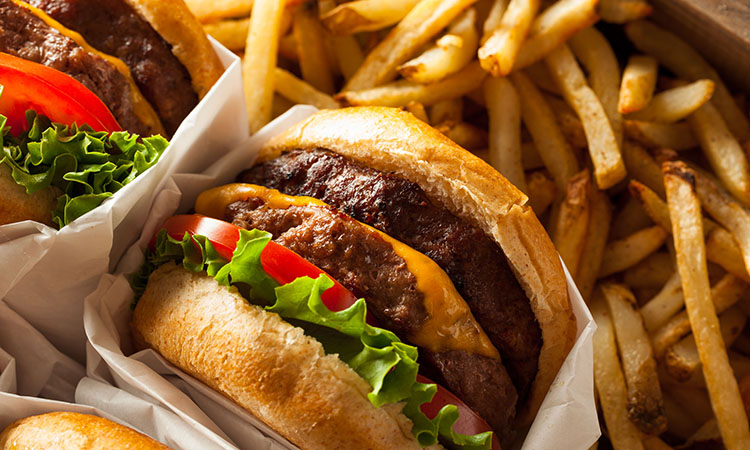 There are few menu choices as ubiquitous as the hamburger. And yet, there are few dishes as excitingly versatile and universally beloved. Topping options are nearly endless, from the classic lettuce and tomato to pepper jelly and bone marrow. You can get several stacked high. Or even choose a meatless patty. And paired with a salty side (fries, chips, or onion rings—yum!) and a sugary soda or crisp beer, there are few meals more satisfying to each and every one of your taste buds.

Are you drooling yet?

Even this season, as we've navigated ever-changing social distancing measures, Hendersonville, NC has continued to offer some of the best burgers in the region. Now, outside dining and to-go orders are how burger lovers get their fix.

Craving a juicy burger of your own? Here are five of the best burgers you can get in Hendersonville right now.

Flat Rock Wood Room
It's not every restaurant that specializes in award-winning barbecue and wood-fired brick oven pizza. But locals know that Flat Rock Wood Room also offers one of the best burgers in town! Their famous wagyu burger is a seven-ounce patty of super marbled American Kobe beef that's been chargrilled. Then, it's topped with yowza bacon, competition sauce, melted cheddar cheese and crispy onion straws, all on a grilled garlic mayo pretzel roll. Place your carry-out order today!

1501 Greenville Highway, Hendersonville | (828) 435-1391 | flatrockwoodroom.com

Harry's Grill & Piggy's Ice
What started as an ice cream parlor in 1979 expanded to include a BBQ and grill joint in 1993. Since then, Harry's Grill & BBQ has served large portions for low prices. Try a deluxe Angus beef burger, or get it all the way. Veggie burgers, patty melts, and classic hamburger steaks (not a sandwich) are also available. Pair your order with one of Piggy's shakes, sodas, floats, freezes, or sundaes. You haven't had such a good time since you were a kid!

102 Duncan Hill Road, Hendersonville | (828) 692-1995 | harrysandpiggys.com

Hot Dog World
Since 1986, Hot Dog World has been one of the community's favorite locations for great food and outstanding service at a great value. But don't let the name fool you. In addition to a wide selection of hot dog options, the diner offers fresh salads, specialty sandwiches, and great burgers. From traditional hamburgers to the Carolina burger, fiesta burger, and Philly burger, everyone is sure to find something they like. Call-in and online orders are welcome.

226 Kanuga Road, Hendersonville | (828) 697-0374 | hotdogworld.net

Mike's on Main
Looking for a 50s-style soda fountain experience in the heart of Historic Downtown Hendersonville? Mike's on Main is one of the most interesting and iconic restaurants in town! Pair your Angus beef or buffalo burger with fresh squeezed lemonade or a malted shake for an experience that takes you back in time. While you enjoy your meal, make free selections of your favorite oldies from the jukebox. Come back any time for all-day breakfast specials.

303 North Main Street, Hendersonville | (828) 698-1616 | mikesonmain.com

Never Blue
The local and global tastes of Never Blue are always fresh and fun. The restaurant and food truck each offer a variety of cuisines from around the world, and both take pride in their great food, unique cocktails, amazing desserts, and locally-sourced ingredients. Pair your house-ground beef ribeye burger with one of their rotating tapas options. Their food truck is currently running Thursdays–Saturdays, and the restaurant will reopen in Phase III or later.

119 S Main Street, Hendersonville | (828) 693-4646
Food Truck: Johnson Family Farm Stand, Kanuga & Erkwood Roads, Hendersonville
Fill Your Plate in Hendersonville, NC!
Distinguished by an almost perfect climate, beautiful surroundings, and recreational variety, Hendersonville is known as the City of Four Seasons. The town's many tranquil neighborhoods and housing developments all surround a sturdy core—a downtown with vibrant and active restaurant and art scenes. No wonder Hendersonville has attracted hundreds of residents looking for ample recreation and a friendly atmosphere. 

Does that sound like the perfect lifestyle for you? Find homes in Hendersonville now!
What's your favorite burger in Hendersonville? Share it with us in the comments!
Visited 154 times, 1 visit(s) today