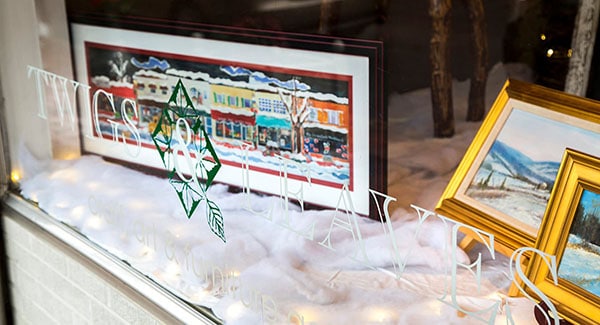 Last Updated on June 1, 2023
Western North Carolina's many galleries have created exciting downtown destinations for artists and art lovers alike. But more importantly, art spaces add new life and a sense of identity to our neighborhoods. From Asheville's River Arts District to Main Street Weaverville to Marshall High Studios in Downtown Marshall, burgeoning art scenes have rejuvenated local mountain towns.

Below are just three of the many ways in which art galleries make a difference in the community.

The arts have led to Main Street revitalization
For many of our mountain communities, the arts have led the way in the revitalization of main streets and town centers. Between 1981–2013, the State of North Carolina invested more than $2 billion to revitalize main streets across the state. During that time, 4,700 new businesses opened and created 18,000 local jobs. Today, art galleries and related retail outlets are some of the most common businesses found along our thriving main streets.

"One of the things that really helps a lot in communities to get people to start coming is a lot of different kinds of arts, whether it be visual arts or performing arts. We, here, feel like the influx of the galleries has brought vitality to Downtown Hendersonville. It has really brought a great new feeling to the area," says Michelle Sparks, owner of Art MoB Studios & Marketplace in Downtown Hendersonville.

Art impacts how we perceive and interpret culture
WNC has a storied history of handmade crafts, ranging from weaving and woodworking to pottery and jewelry. Promoting the skills of local artists and artisans helps perpetuate traditional skill sets. Just as importantly, art acts as a language for sharing traditional and individual stories with visitors and locals alike.

"Sometimes it makes you want to cry because you see so much love exhibited in [an artist's] work. Our souls are absolutely in our work," said Cherokee silversmith General Grant. "[Buyers are] not just 'taking it home with them,' they're coming in to get what they were looking for. People are looking for something to feel real. They're drawn to certain pieces and can't put them down."

Art galleries support a community of artists
Local artisans are building on a history of craft making to create futures for themselves in WNC communities. Art galleries and collective studios serve as hubs of inspiration and networking. Add to that the benefit of being able to make a living off your craft, and art galleries generate both livelihood and community in spaces that were once solitary.

"All the galleries of Downtown Waynesville bring a tremendous amount to the community. We have all this terrific talent that people are attracted to. So, they come to this area to see all the artwork," says Carrie Keith, owner of Twigs & Leaves Gallery in Downtown Waynesville. "Waynesville has a large community of artists. I find that they feed off each other, and so it makes a great place for artists to come and stay."

Learn more about the impact of local art galleries
Unfortunately, the arts are often the first item to be cut from many community budgets. However, the growth of successful arts districts and communities proves that investing in creative and artistic ventures does revitalize communities. Art galleries are a central piece of this trend. And as WNC continues to grow, the arts will play a vital role in creating and expanding the many ways to Live Abundantly in WNC.

The video below gives you a great sense of the breadth of art studios and galleries in the area. For more information on the arts and galleries in WNC, contact your Allen Tate/Beverly-Hanks agent today.

---
---
How have local art galleries made a difference in your life? Share your experiences with us in the comments!
Visited 106 times, 1 visit(s) today