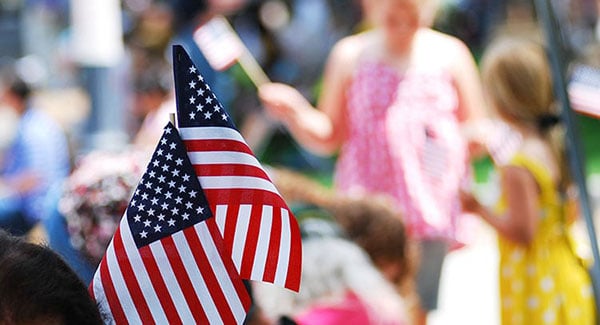 Last Updated on June 27, 2023
Independence Day is coming up, and we're ready to celebrate our country and enjoy all the highlights of the occasion: Face paint, flags, and fried food!
This year, celebrate in style at a variety of fireworks shows and other events across the region. But don't sit around all day waiting for the light show!
Whether you want to make freedom ring by learning about our local heritage, celebrating our veterans, or chilling by the lake, there are July 4th events across Western North Carolina that will entertain the whole family. Find the best one (or two, or three) for you below.
Know of other local July 4th events? Let us know and we'll keep this list up to date!
4th of July Powwow
June 30–July 2, 2023 | Cherokee
Kicking off the holiday weekend is an event that features fireworks of another kind—a three-day explosion of authentic Native American music, dancing, food, and festivities. Come join the fun as the ground erupts in a sea of twirling color. This action-packed weekend includes colorful regalia, jaw-dropping dances, and music made to move you. Experience authentic tribal foods, browse traditional crafts, and get an insider's look at a rich, ancient culture. Spectators travel cross-country to see a powwow as spectacular as this!
Learn more: visitcherokeenc.com
4th of July Weekend Celebration
July 1–4, 2023 | Rumbling Bald on Lake Lure, Lake Lure
Enjoy the peak of summer vacation in the Blue Ridge Mountains during Rumbling Bald on Lake Lure's annual 4th of July Independence Day Celebration. Events begin on Saturday with a beachside cookout and marshmallow roast. But Monday is the big day, with events ranging from fire truck rides and a golf cart parade to live music at the Pavilion from The New Primitive Band. At 9:30 PM that evening, the national anthem will play before the fireworks show. Only members and registered guests will be allowed on the Rumbling Bald property. And only those with a wristband will be allowed on the beach.
Learn more: rumblingbald.com
Lake Junaluska Independence Day Celebrations
July 1–4, 2023 | Lake Junaluska
Lake Junaluska's Independence Day Celebration weekend will be full of family-friendly fun with fireworks, floating wish lanterns, a parade, family square dance, and concerts. Many events are free, and lodging is still available at Lake Junaluska's hotels for guests who want to spend the entire holiday weekend at the lake relaxing and enjoying the festivities. The fireworks display will be on July 3rd. Stay through July 4th for a family-friendly parade, picnic, and square-dancing.
Learn more: downtownwaynesville.com
Orchard Lake Fireworks Fundraiser
July 2, 2023 @ 7:00 PM | Orchard Lake Campground, Saluda
Come experience fireworks and support the Saluda Volunteer Fire Department! Visitors are welcome to arrive before 7:00 PM and register for $8 day passes at the campground office. Day passes allow guests access to all campground activities, including boating, fishing, swimming, zip-line, soccer, volleyball, shuffleboard, badminton, basketball, skate ramps, horseshoes, pool, carpet ball, foosball, ping-ping, and disc golf. Visitors arriving after 7:00 PM are not required to pay for a day pass, but are encouraged to make a donation to the Saluda Volunteer Fire Department in support of the event.
Learn more: firstpeaknc.com
2023 Fourth of July Celebration
July 4, 2023 @ 7:00 AM–10:00 PM | Montreat Conference Center, Montreat
Montreat Conference Center welcomes you to their annual July 4th Celebration! Traditionally a homecoming holiday that brings extended Montreat families together from all over the country, the Fourth of July celebration at Montreat captures the essence of American life and has become a popular celebration for everyone in the area. Come out for a parade and a variety of fun events for the whole family, including a flag raising, silent auction, old timers' softball game, and free boats on Lake Susan. A Fourth of July Big Circle Mountain Dance wraps up the evening. This year's theme is "Shining Stars of Public Service".
Learn more: montreat.org
North Carolina's Freedom Fest
July 4, 2023 @ 8:00 AM–10:30 PM | Bryson City
Have a big vacation in a small town! The fun begins at 8:00 AM with the 31st Annual Bryson City Rotary Club Firecracker 5K. The festival opens at 10:00 AM, when visitors can enjoy all the arts, crafts, food, and music along Everett Street. Visit restaurants or food trucks for great local dining. Or find food vendors with all your holiday favorites: funnel cakes, shaved ice, Philly cheesesteaks, BBQ, kettle corn, and more. Live music runs from 4–10:00 PM. At 10:00 PM, experience the best fireworks show in the Smokies!
Learn more: greatsmokies.com
The Fabulous 4th of July Celebration
July 4, 2023 @ 10:00 AM–10:00 PM | Downtown Columbus
The Town of Columbus is celebrating its 60th Fourth of July Celebration this year! Come join the crowd for this family-oriented event and add to the tradition of honoring those who fought and continue to fight for our freedom and independence. The day is filled with family fun, food, and entertainment, ending with spectacular fireworks.
Learn more: firstpeaknc.com
July 4th Celebration with Concert & Fireworks Display
July 4, 2023 @ 10:30 AM–9:30 PM | Main Street, Hendersonville
Come out to Hendersonville on July 4th to celebrate our nation's birthday! The day begins with a parade at 10:30 AM, which runs north along Main Street in the morning. Come downtown at 5:00 PM for a family-friendly festival with inflatables, kid's games and activities, food trucks, and two stages of live music. The evening will be capped-off with a fireworks display at 9:00 PM that can be seen from either concert area (sponsored by the Henderson County Tourism Development Authority). Festivities organized by the Arts Council of Henderson County, Downtown Merchants & Business Association, and Henderson County Parks and Recreation.
Learn more: visithendersonvillenc.org
July 4th Stars & Stripes Celebration
July 4, 2023 @ 11:00 AM–3:00 PM | Haywood County Historic Court House, Waynesville
Downtown Waynesville will host their traditional Kids Parade at 11:00 AM and conclude with a patriotic concert by the Haywood Community Band at 2:00 PM. Registration for the parade begins at 10:00 AM; kids are invited to the courthouse lawn to decorate bicycles, roller skates, scooters, skateboards, wagons, and strollers for the patriotic parade along Main Street that ends with an ice cream social at the First Baptist Church. After the parade, enjoy face painting, special characters, kids activities, live music, and entertainment.
Learn more: downtownwaynesville.com
Fourth of July Celebration @ Lake Julian Park
July 4, 2023 @ 12–10:00 PM | Lake Julian Park, Arden
Enjoy the day in the park! View fireworks after dark. Cars are not allowed in the park; parking will be available at Estes Elementary School and a shuttle will take people over.
Learn more: buncombecounty.org
Ingles Independence Day Celebration
July 4, 2023 @ 1:00 PM | Pack Square Park, Asheville
The Ingles Independence Day Celebration returns to Downtown Asheville's Pack Square Park on Tuesday, July 4. The free event features The Ultimate Air Dogs, live music, local food and craft beverages, and a fireworks extravaganza. Live music will be performed by Phantom Panton, Hit Dogs, Red Clay Revival. Food and beverage sales open at 5:00 PM. The evening concludes with a fireworks display.
Learn more: ashevilledowntown.org 
Independence Day Community Celebration
July 4, 2023 @ 2:00–10:00 PM | Brevard College, Brevard
Heart of Brevard and the City of Brevard are sponsoring this year's July 4th Celebration, a community event held at Brevard College. While there is no downtown street festival this year, there will be a diverse range of events and activities, including the Transylvania Community Arts Council Duck Race, the reading of the Declaration of Independence, live music, and NC Year of the Trail tie-ins. The Fireworks Extravaganza begins at around 9:30 PM.
Learn more: brevardnc.org/july4th 
Pendergrast Family Patriotic Pops!
July 4, 2023 @ 2:00 PM | Brevard Music Center, Brevard
Celebrate Independence Day with Patriotic Pops at Brevard Music Center. Hear the Brevard Symphonic Winds joined by the Seraph Brass as they perform inspirational American music, traditional Sousa marches, and Tchaikovsky's "1812 Overture", complete with the sounds of live cannon! Auditorium seating is reserved; lawn seating is general admission.
Learn more: brevardmusic.org
Backyard 4th in Maggie Valley
July 4, 2023 @ 6:00 PM | Maggie Valley Festival Grounds, Maggie Valley
Celebrate Independence Day at Maggie Valley Festival Grounds! Gates open at 6:00 PM. Bring your blanket, chairs, picnic basket, bubbles, hula hoops, balls, and yard games! This is an alcohol-free event. Enjoy great fireworks at dark!
Learn more: downtownwaynesville.com
Independence Day Celebration and Parade
July 4, 2023 @ 6:00–9:45 PM | Marion
Head to Downtown Marion for their Independence Day Celebration! The parade starts at 6:00 PM, led by McDowell County Veterans. All veterans are encouraged to participate. At 6:30 PM, the Fox & Company band will take the stage on Main Street, playing all the classics you know and love, including classic rock and blues. Along with live music and street dancing, you can enjoy a variety of fun foods, beverages, and free inflatables for the kiddos. Festivities will conclude with fireworks at 9:30 PM.
Learn more: marionnc.org 
9th Annual July 4th Fireworks Festivities
July 4, 2023 @ 6:30 PM | Bridge Park, Sylva
The Jackson County Chamber of Commerce is proud to welcome the Carolina Soul Band to the stage for a performance from 6:30–9:30 PM. They are one of the Southeast's finest bands, known for classic hits, pop favorites, R&B, Motown, soul, and beach music. Children's activities run from 5:30–8:30 PM, and food trucks will be on site, as well. Fireworks should begin at dark immediately after the concert, approximately 9:30 PM. The fireworks are visible from various locations throughout downtown Sylva and the immediate surrounding areas.
Learn more: mountainlovers.com
Independence Day Sunset Fireworks Hike
July 4, 2023 @ 7:00–11:00 PM | Black Mountain
Celebrate the 4th of July with a moderate, 1.5-mile hike to the peak of Sunset Mountain. Enjoy an old-fashioned watermelon cutting. Then, sit back to watch the sunset and Black Mountain's fireworks display. Hike leaders will share the history and vintage photographs of this most historic place over dinner. The Swannanoa Valley Museum will provide watermelon and transport cargo to the summit. Ages 10+. $50 for members, $65 for nonmembers, $35 under 18.
Learn more: history.swannanoavalleymuseum.org
July 4th Plus One
July 5, 2023 @ 6:00PM | Sorrells Street Park, Canton
The Town of Canton, in partnership with Champion Credit Union, presents "July 4th Plus One" on July 5 in Sorrells Street Park. The event starts at 6:00 PM with food trucks, a splash pad for the kids to enjoy, free inflatables, and watermelon. A spectacular fireworks display sponsored by Champion Credit Union begins at dusk. Bring a chair or blanket and come enjoy this family-friendly community event.
Learn more: cantonnc.com
Which July 4th events will you be attending this year? Let us know in the comments.
Visited 2,219 times, 1 visit(s) today