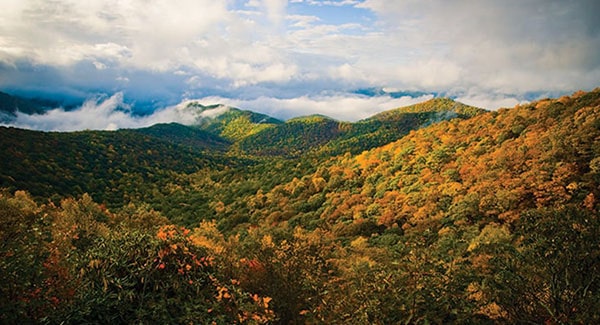 Last Updated on June 21, 2023
Western North Carolina is a mosaic of warm, welcoming communities. That's one of the reasons why the region has soared in popularity in recent years! It is just as easy to discover a private rural community in Waynesville as it is an urban condominium building overlooking bustling Asheville, an artfully-designed master planned golf community in Henderson County, a home just off the upcoming Ecusta Trail in Brevard, or an historic neighborhood like Biltmore Forest.
With so many great communities across the region, it can feel overwhelming to begin your home search. That's why we broke them down to help you find the best WNC lifestyle for you. Whether you've called the region home for a lifetime or you are just learning about us, now's the time to discover how you can Live Abundantly in WNC.
---
Skip ahead! Find great communities near you:
---
Asheville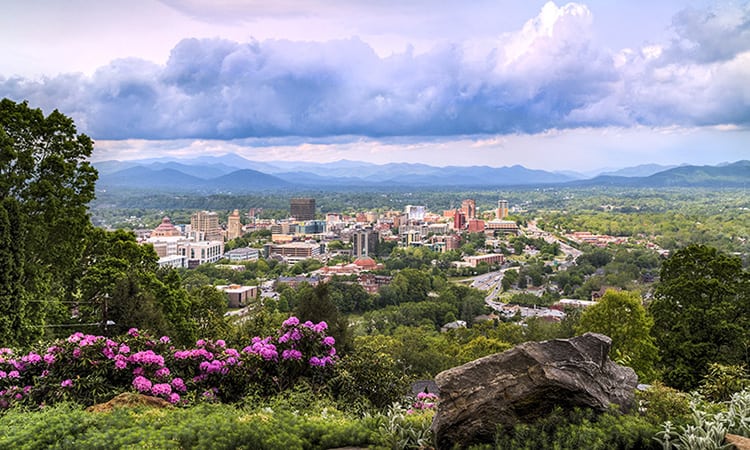 With a population of 94,000+, Asheville is the largest city in both Buncombe County and Western North Carolina. Asheville serves as the area's economic and cultural nerve center in many ways, including as a hub for education, healthcare, local arts and crafts, entertainment, and innovative food and drink. The four-season temperate climate with average snowfall of only 13 inches makes year-round living easy, and the broad range of elevations and corresponding climates and plant growth (both in town and around the area) make it one of the most biodiverse in the United States and the world.
Find homes in Asheville | Read more on the blog
Biltmore Lake
With 62 acres of shimmering mountain lake right in the neighborhood, it's easy to see why so many Biltmore Lake residents are content to stay home on the weekends. From enjoying the outdoors to social events, there truly is something for everyone within easy reach. And a short walk along a nearby trail can instantly transport you into all sorts of natural wonders, according to the season, and a chance to share those discoveries with friends.
Find homes in Biltmore Lake | Read more on the blog
Biltmore Park
Biltmore Park is a master planned community in South Asheville, designed with a new urban concept to meet today's standards of smart growth, green living, and reduced driving. The 750 acres of mixed-use commercial and residential real estate mix the charm of neighborhoods of years past with the amenities of a modern community. At the center of the town are numerous restaurants, cafes, spas, health clubs, boutiques, and gathering spots.
Find homes in Biltmore Park | Read more on the blog
The Cliffs at Walnut Cove
The Cliffs at Walnut Cove offers some of the best luxury homes in the Asheville area. Protected by the natural boundaries of the Blue Ridge Parkway and Pisgah National Forest, the Cliffs offers mountain vistas alongside an award-winning Jack Nicklaus Signature Golf Course. Membership grants you access to wide-ranging amenities, including seven golf courses, state-of-the-art wellness centers, and endless ways to explore the surrounding outdoors.
Find homes in The Cliffs at Walnut Cove | Read more on the blog
Montford
Right next door to downtown Asheville is the beautiful neighborhood of Montford. Within easy walking distance to all of downtown's amenities, this neighborhood has long been known for its charming Victorian bed and breakfasts and tours of its unique and painstakingly restored historic district. But Montford is so much more than beautiful old homes. It also boasts a tight-knit community with beautiful public spaces and a thriving community.
Find homes in Historic Montford | Read more on the blog
The Ramble Biltmore Forest
The Ramble Biltmore Forest is a gated community in the heart of South Asheville, sculpted into 1,000 acres of woodlands and bordered by the Blue Ridge Parkway. The Ramble has been carefully planned to provide an active and welcoming environment, complete with a wellness center and community activities. The abundant preserved open spaces are connected by an extensive network of trails that invite residents to themselves ramble in the mountains.
Find homes in The Ramble Biltmore Forest | Read more on the blog
West Asheville
Just across the French Broad River from Downtown is Asheville's hippest neighborhood: West Asheville. At its heart is Haywood Road, lined with locally-owned businesses like funky vintage shops, eclectic boutiques, an independent record shop, and unusual eateries. In the past two decades, the community has seen unprecedented rejuvenation. There's so much to do in West Asheville, and—best of all—everything you could want is just a short walk or bike ride away.
Find homes in West Asheville | Read more on the blog
Buncombe County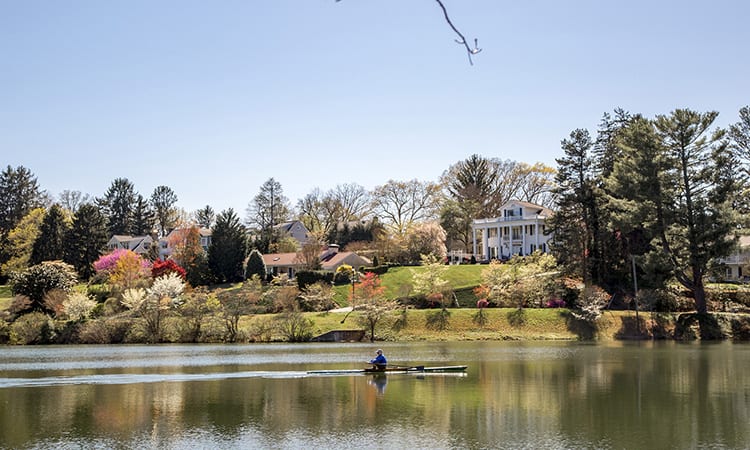 Asheville is the largest city in Western North Carolina, but surrounding towns in Buncombe County offer small-town flair and varied amenities. The population is approximately 270,000 in the county. The four-season temperate climate with average snowfall of only 13 inches makes year-round living easy. Because of the broad range of elevations and corresponding climates and plant growth, the area is one of the most biodiverse in the United States and the world.
Find homes in Buncombe County | Read more on the blog
Arden
In Arden and Mills River, there's lots of room to roam—and you don't have to go far to experience some of the finest facets of mountain life. Whether you are looking for an established neighborhood or new construction, Arden offers a variety of real estate choices. It's just a few miles from the Asheville Regional Airport and right next door to some of the best spots on the Blue Ridge Parkway.
Find homes in Arden | Read more on the blog
Biltmore Forest
In addition to being one of the wealthiest towns in the country, Biltmore Forest is one of south Asheville's oldest and finest golf course communities. The town of Biltmore Forest was first incorporated in 1923, and became a historic preservation district in 1990. Today, with its swan-necked streetlights and thickly wooded lots, Biltmore Forest is home to some of the largest estates and is one of the most desirable areas in which to live.
Find homes in Biltmore Forest | Read more on the blog
Black Mountain
Black Mountain is often referred to as "the front porch of Western North Carolina." The town of almost 8,000 residents has a vibrant but quaint commercial center and is noted for its cultural and recreational offerings. It's a community that breathes with a particular kind of mountain energy, embracing both its natural surroundings and its tastefully configured, small-town urban core. Black Mountain prides itself on its sense of community and friendly atmosphere.
Find homes in Black Mountain | Read more on the blog
Fairview
The community of Fairview is located halfway between Asheville and Chimney Rock, NC. An estimated 3,000 people live within Fairview's boundaries. The community is the site of plenty of new development, offering large lots and community amenities. Cane Creek Pool in Fairview includes a pool, soccer fields, picnic sheds, and concessions. Settled in the late 18th century, Fairview was called Cane Creek until the early 1800s.
Find homes in Fairview | Read more on the blog
Leicester
Originally called Turkey Creek, the Leicester community northwest of Asheville was founded in 1829 by frontiersman Leicester Chapman, who renamed the area for his own namesake, the Earl of Leicester. Today, the bucolic community is filled with local farms, artisans, and nature lovers who enjoy the quiet mountain views. Leicester has seen a 16% growth in population since 2000, making it a great place to discover and live for those in the know.
Find homes in Leicester | Read more on the blog
Weaverville
Away from the hustle and bustle of urban life, Weaverville is attracting newcomers because of its small town, friendly atmosphere. With a population of 4,600, Weaverville has had a mini growth spurt in recent years. The town is situated in the Reems Creek Valley, adjacent to Interstate 26 and just five miles north of Asheville, where many Weaverville residents work. Weaverville has earned a national reputation for keeping its neighborhoods clean and green.
Find homes in Weaverville | Read more on the blog
Haywood County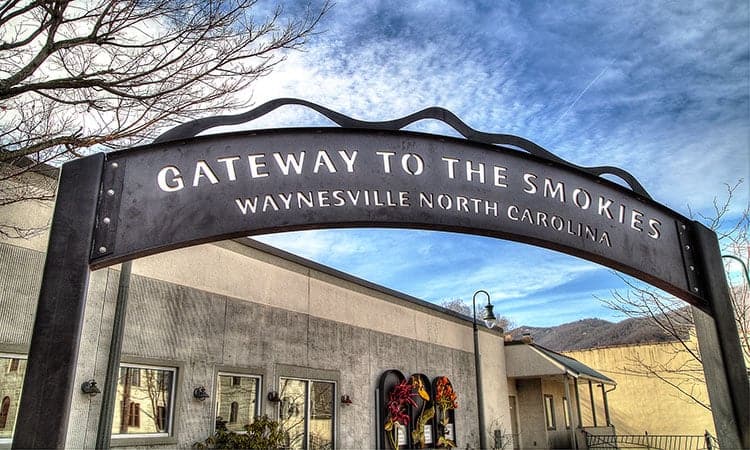 Haywood County consists of four unique mountain towns: Canton, Clyde, Maggie Valley, and Waynesville, as well as an assortment of unique mountain communities. Throughout the county, you will find an array of places and events that are of great significance. From musical events to art exhibits, Haywood County has active arts organizations that bring a variety of events to the area. Whatever your interests, there is something to look forward to every month of the year.
Find homes in Haywood County | Read more on the blog
Canton
Canton is a snapshot of a classic mill town, with many of the unique bungalows and beautiful buildings once built for mill workers and managers still intact. Historic murals also dot the downtown district, which is listed on the National Register of Historic Places. Enjoy interesting views on your stroll down Main Street, or stop into one of the street's barber shops or cafes for a chance to rub elbows with the locals.
Find homes in Canton | Read more on the blog
Clyde
Clyde, a hamlet that lies between Canton and Waynesville, can boast as its own the oldest structure in Haywood County. The Shook-Smathers House, home to the Shook Museum, was built around 1820, with additions and renovations made for decades, producing the finished product we see today. The home's attic chapel played host to many storied circuit preachers over the years, many of whom have left their mark in the collection of signatures that decorate the chapel's walls.
Find homes in Clyde | Read more on the blog
Lake Junaluska
The Lake Junaluska community is centered around a beautiful 200-acre namesake lake and surrounded by 1,200 acres of rolling hills and valleys. A path encircles the lake with more than 2.5 miles of public walking and biking trails, as well as a 1.5-mile extension, rose walk, and butterfly garden. The high peaks, fresh air, and stunning natural beauty of the area first attracted people seeking refuge from hot summers. About half of the community's 3,300 residents live there year round.
Find homes in Lake Junaluska | Read more on the blog
Maggie Valley
Just 10 miles outside of Waynesville is Maggie Valley, a quaint mountain delight that sprang up to cater to visitors and still rolls out the welcome mat to traveling tourists. The town is an epicenter of old-time mountain fun—with family restaurants and fine dining, foot-stomping Appalachian song and dance, putt-putt, elk-spotting, and some of the best snow skiing in the South.
Find homes in Maggie Valley | Read more on the blog
Waynesville
High peaks surround the town of Waynesville, once billed as the Gateway to the Smokies and now the seat of Haywood County. Where to Retire magazine named Waynesville one of its "100 Best Places to Retire," calling it the best mountain town with also the best main street. The recently restored train district in Frog Level has gained recognition as a National Historic District and is now home to a collection of small galleries, a coffee roastery, and a microbrewery.
Find homes in Waynesville | Read more on the blog
Henderson County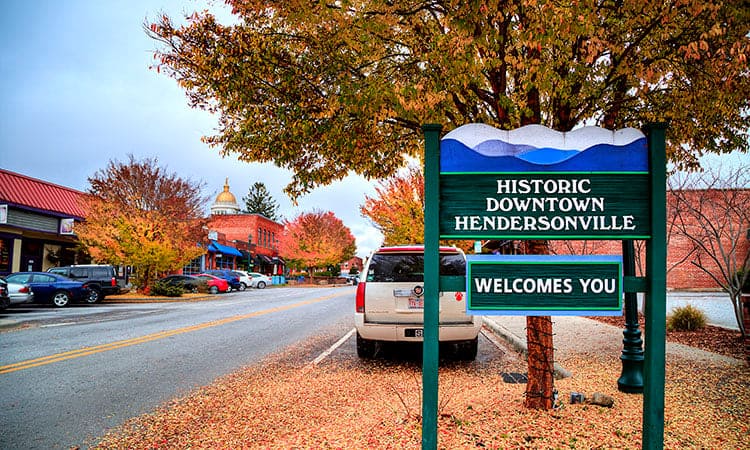 With a diverse population of people of all ages and from all walks of life, Henderson County is the perfect location for enjoying life. Though located in North Carolina's mountain region, Henderson County is characterized by an extensive plateau along the French Broad and Mills River valleys. Of the five incorporated towns/cities, only Hendersonville, the county seat, possesses the typical characteristics of a dense urban center with significant population.
Find homes in Henderson County | Read more on the blog
Champion Hills
Gently carved from the Blue Ridge Mountains, Champion Hills is a private, member-owned, debt-free golf community. Champion Hills is located just five miles from Hendersonville, NC, voted a Top 10 "Best Small Town" in the 2008 Southern Living Readers Choice Awards. Close to major retail and grocery chains, distinctive restaurants, and first-rate medical facilities, Champion Hills offers privacy without seclusion.
Find homes in Champion Hills | Read more on the blog
Flat Rock
Flat Rock is sometimes called "The Little Charleston of the Mountains." The area was a 19th century oasis frequented by affluent plantation owners from the South Carolina Lowcountry. Today, Flat Rock remains as charming as ever, with art studios and unique specialty shops. The Carl Sandburg Home and Flat Rock Playhouse continue to attract culturally minded individuals. The entire district is on the National Register of Historic Places.
Find homes in Flat Rock | Read more on the blog
Fletcher
Located in Henderson County between Asheville and Hendersonville, Fletcher is a small town that enjoys close proximity to some of Western North Carolina's biggest attractions, businesses, and natural wonders. Fletcher is growing at a steady and smooth pace, with its current population of 8,100 more than double what it was 20 years ago. In addition to ready access to nearby Interstate 26, residents are just minutes away from Asheville Regional Airport.
Find homes in Fletcher | Read more on the blog
Grand Highlands at Bearwallow
The community of Grand Highlands is just that: a community that comes together in celebration, yet can also enjoy peace and solitude. Residents enjoy full access to a welcoming clubhouse with expansive verandas. They also enjoy events (big and small) at the community barn. And, as the community grows with more residents, Grand Highlands is committed to evolving together, as a community.
Find homes in Grand Highlands at Bearwallow | Read more on the blog
Hendersonville
Hendersonville, long known for its historic charms, is blooming into the future. The town (population 15,000) is the largest in Henderson County and is the county seat. In recent years, it has revitalized its local business scene and advanced its reputation as a place that offers something for just about everyone. Distinguished by an almost perfect climate, beautiful surroundings, and recreational variety, Hendersonville has attracted hundreds of families.
Find homes in Hendersonville | Read more on the blog
Laurel Park
Laurel Park is a premier residential, retirement, and vacation area featuring spectacular views of the mountains above and valleys below. One of the most popular attractions is Jump Off Rock, a scenic overlook that offers a panoramic view of the Blue Ridge Mountains and Pisgah National Forest. With a population of over 2,300, Laurel Park's vision is to preserve and enhance its unique quality of life to make it your residential and small business community of choice.
Find homes in Laurel Park | Read more on the blog
Mills River
The town of Mills River is located in western Henderson County near Etowah and Fletcher. Dating back to the late 18th century, many of the town's current residents are direct descendants of the original landowners. Now home to about 6,000 people, Mills River is the second largest town in the county. Locals enjoy the Mills River Recreational Area, a popular destination for hikers, fishermen, and mountain bikers.
Find homes in Mills River | Read more on the blog
Jackson County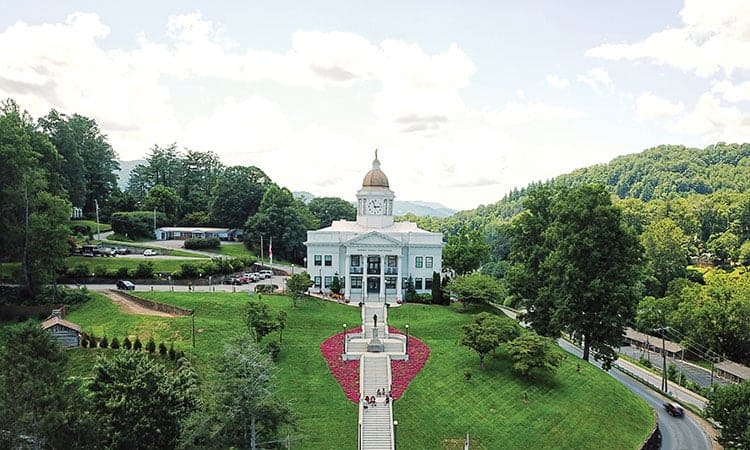 Jackson County has some of Western North Carolina's most spectacular scenery, including portions of the Great Smoky Mountains National Park and the highest point of the Blue Ridge Parkway. Jackson County, which includes the county seat town of Sylva and high-altitude village of Cashiers, was established in 1851 and named after President Andrew Jackson. The Tuckasegee River winds through the county, boasting some of the best trout fishing in the region.
Find homes in Jackson County | Read more on the blog
Sylva
With about 2,600 residents, the town of Sylva serves as the county seat of Jackson County. Covering 1,100 acres, the area's Pinnacle Park provides plenty of opportunities for outdoor recreation. Visitors can hike to the pinnacle, which sits at an elevation of 5,000 feet, and view the town below. Southwestern Community College in Sylva offers more than 50 degree, certificate, and diploma programs.
Find homes in Sylva | Read more on the blog
Madison County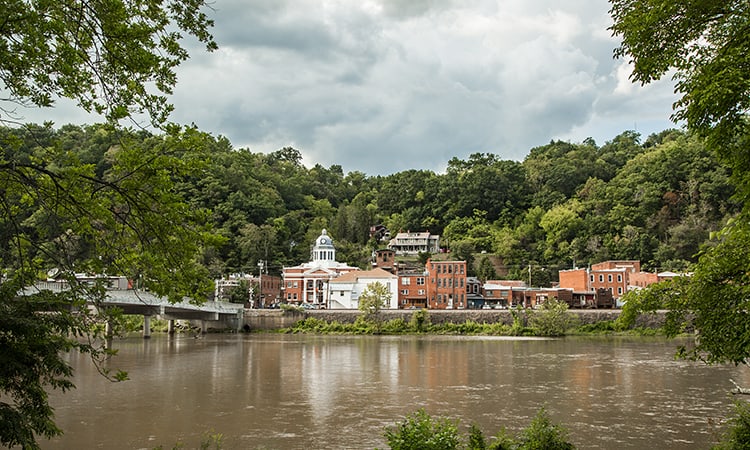 Madison County offers visitors and residents a taste of small-town heritage, outdoor exploration, and a timeless tradition of musical history recognized around the world. The entire county offers outdoor sports for all enthusiasts, whether you want a rafting trip, a cycling adventure along country roads, or an invigorating horseback ride. Wolf Ridge Ski Resort opens each winter in northern Madison County, with 82 acres of terrain for skiers and snowboarders.
Find homes in Madison County | Read more on the blog
Hot Springs
Nestled along the French Broad River, the mountain resort town of Hot Springs is home to about 600 people. However, like the ebb and flow of the river, the town's numbers swell with visitors seeking relaxation and recreation. For centuries, the area has been a popular spot for people hoping to reconnect with nature or rejuvenate their spirits. The town is named for the extraordinary natural mineral springs constantly heated above 100 degrees Fahrenheit.
Find homes in Hot Springs | Read more on the blog
Marshall
Marshall, population 800, is the seat of Madison County and sits on the banks of the French Broad River some 20 miles north of Asheville. The area is rich with local history, as it was a key way station on the Buncombe Turnpike, an early trading route that ran from Tennessee though WNC to South Carolina. Today, Marshall is an enclave of artists that's in the midst of a renaissance. Marshall's Main Street offers a unique blend of old and the new, including dozens of local galleries and studios.
Find homes in Marshall | Read more on the blog
Mars Hill
Located in a mostly rural, exceedingly picturesque part of Madison County, Mars Hill is a small town that's big on mountain traditions. The area around Mars Hill is rich with other outdoor opportunities, including nearby stretches of the Appalachian Trail, numerous other trails in the Pisgah National Forest, and the fishing- and paddling-friendly French Broad River. The largest local institution, Mars Hill College, also contributes much to the character of the town.
Find homes in Mars Hill | Read more on the blog
Polk County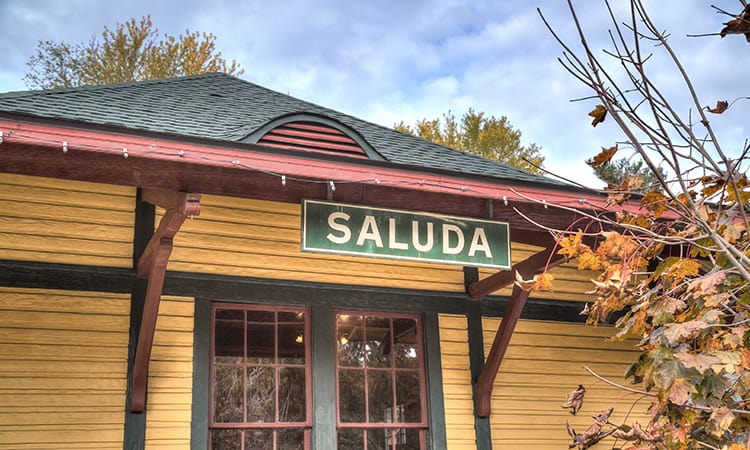 Polk County, the "First Peak of the Blue Ridge," welcomes flatlanders to a higher altitude, with elevations ranging from just under 800 feet at the Green and Broad Rivers to over 3,200 feet on Tryon Peak and Wildcat Spur. Most of Polk's 20,000 residents cluster near the county's three main towns of Saluda, Tryon, and Columbus. Tryon International Equestrian Center, a sprawling, $100-million equestrian center and luxury resort, operates nearby in Mill Spring.
Find homes in Polk County | Read more on the blog
Saluda
Since the 1960s, Saluda has experienced a steady growth of people seeking simpler, more peaceful lives. Saluda is now home to many artists and craftspeople. The town is famous for sitting at the top of the Norfolk Southern Railway's Saluda Grade, the steepest mainline standard gauge railroad line in the country. Today, downtown Saluda is recognized as a National Historic District. A museum is now housed in the 1903 train depot.
Find homes in Saluda | Read more on the blog
Tryon
The town of Tryon is located about 40 miles south of Asheville near the state line at the base of the Saluda Grade, the steepest standard-gauge railway grade in the country. Calling itself "The Friendliest Town in the South," Tryon is probably best known for its Foothills Equestrian Nature Center, a 390-acre educational and recreational center that provides programs in nature study, outdoor recreation, and equestrian competition.
Find homes in Tryon | Read more on the blog
Rutherford County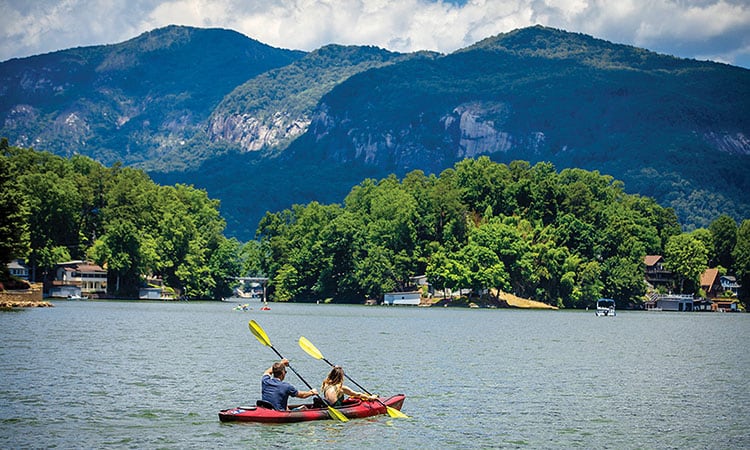 At the base of the Blue Ridge Mountains, Rutherford County is a mostly rural county of about 65,000 residents that is fast becoming a popular spot for those looking to retire or invest in a second home. Many of the county's small towns, such as Lake Lure and Chimney Rock, are seeing increased development as luxury communities and resorts are built, contributing to the area's economy.
Find homes in Rutherford County | Read more on the blog
Chimney Rock Village
In Chimney Rock Village, Bubba O'Leary's General Store offers a trip back in time to an era before chain stores and strip malls. The crown jewel of the community is the 6,892-acre Chimney Rock State Park. A climb up the stairs to the top of 315-foot-tall Chimney Rock (or a quick elevator ride) is rewarded with panoramic views as far as 75 miles. The park has a network of trails and ample opportunities for bouldering and rock climbing.
Find homes in Chimney Rock Village | Read more on the blog
Lake Lure
If parts of Lake Lure look familiar to first-time visitors, it's no surprise. The lake and much of the local waterfront property were prime shooting grounds for the 1987 romance "Dirty Dancing." At Lake Lure, outdoor activities await at pretty much every door. With slightly more than 1,300 permanent residents, Lake Lure's population surges in summer and fall with small waves of tourists and water-sports enthusiasts.
Find homes in Lake Lure | Read more on the blog
Transylvania County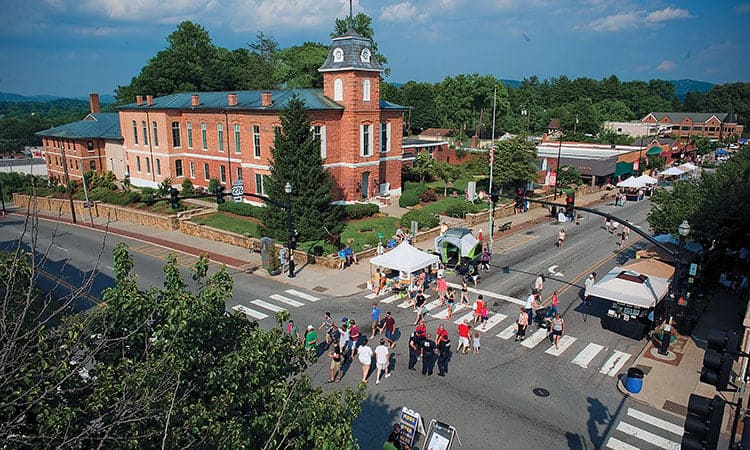 Framed by the beautiful Blue Ridge Mountains, outdoor activities such as hiking, hunting, and fishing make Transylvania County the perfect place to call "home." The area is known as the "Land of Waterfalls" due to the 250 waterfalls located throughout the county. The Blue Ridge Parkway traverses parts of Transylvania County, affording spectacular views of the Appalachian Mountains, which reach an elevation topping 6,000 feet (1,800 m) in the county. Transylvania County is also the wettest county in North Carolina, receiving more than 90 inches of rain annually.
Find homes in Transylvania County | Read more on the blog
Brevard
Being a small town doesn't mean you can't offer some of the finest charms Western North Carolina has to offer. Tucked along the edge of the Pisgah National Forest, Brevard is a hotspot for eclectic in-town living and big mountain views. Downtown is a vibrant and walkable hub of independent shops, boutiques, galleries, pubs, and eateries. The town has distinguished itself as an epicenter for outdoor adventures, education, art, and music. And Brevard is rich in year-round events and festivals.
Find homes in Brevard | Read more on the blog
Lake Toxaway
Located 20 minutes west of Brevard in an area historically known as the "Switzerland of America," Lake Toxaway was originally a resort community for wealthy travelers. Lake Toxaway is still a well-known outdoors and wellness destination more than a century later. The lake itself covers over 600 acres, making it the largest privately held lake in North Carolina. Roughly 5,000 forested acres surround the area, enclosing the lake and community in a private sanctuary.
Find homes in Lake Toxaway | Read more on the blog
Rosman
Imagine combining the small-town charm of any holiday romance movie with the hearty mountain lifestyle of greater Appalachia. The modest town of Rosman covers precisely 0.55 square miles within its official limits. Rosman's population has been growing steadily since a low in 1990. But compared to many WNC communities, that growth has been modest. From a population of 527 in the 1920 census, the population of Rosman stood at 708 as of 2021.
Find homes in Rosman | Read more on the blog
Yancey County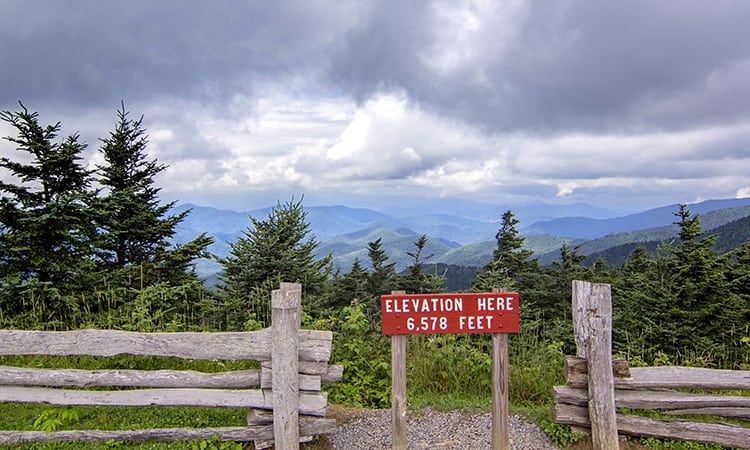 Yancey is an elevated county that offers living situations and outdoor experiences that go above and beyond the norm. Burnsville, the county seat, has just over 1,600 residents. Just a few miles away looms Mount Mitchell, the tallest peak east of the Mississippi (6,684 feet above sea level). The mountain is surrounded by the 2,000-acre Mount Mitchell State Park, which is full of choice spots for hiking, camping, picnicking, and outdoor education.
Find homes in Yancey County | Read more on the blog
Burnsville
Burnsville is located among some of the highest mountains to be found in the eastern U.S. The town offers living situations and outdoor experiences that go above and beyond the norm, presenting you with many opportunities to Live Abundantly. Burnsville is also known for its extraordinarily rich artistic output. Yancey County is home to more than 400 full-time and 200 part-time working artists, including basket makers, glassblowers, metalsmiths, and more.
Find homes in Burnsville | Read more on the blog
Live Abundantly in Western North Carolina!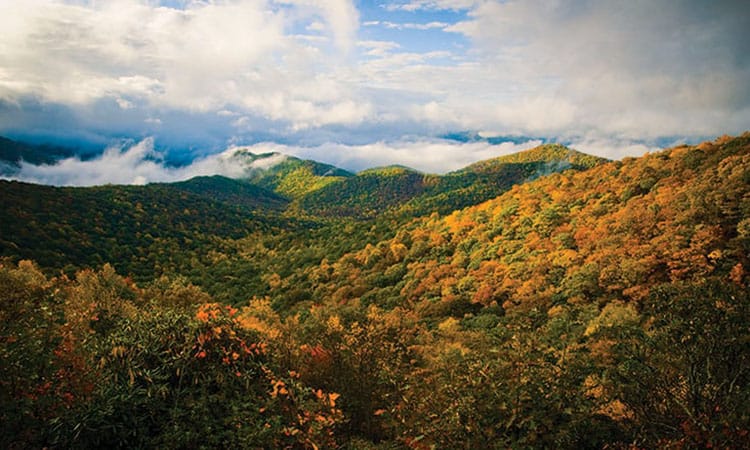 The Asheville area has achieved an international reputation for its sublime quality of life. Indeed, Asheville has some of the most elegant and exclusive neighborhoods in the country. But the greater WNC region hosts even more mountain homes of surprising quality. From secluded tree-covered acreage near mountain peaks to cozy lofts in bustling urban centers or acres of pasture dotted with horses, we help you find the homes that match your ideal moments so you can harness them for a lifetime. Why wait?
Contact your Allen Tate/Beverly-Hanks agent today!
Visited 9,941 times, 1 visit(s) today