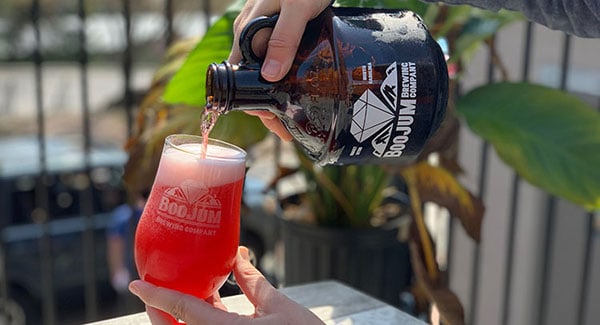 Last Updated on November 1, 2023
Why fight the traffic, parking, and lines of Asheville's crowded brewery scene? Just a short drive to the west, the vibrant small town of Waynesville has discovered the best way to keep up with Asheville's craft beer frenzy. They have placed two breweries, a taproom, and a bottle shop right off Main Street!
If you're looking for things to do in Waynesville, why not enjoy a relaxing day of enjoying fine local beer? Here's how to craft your perfect beer day in downtown Waynesville, NC.
Wet your whistle @ Frog Level Brewing
Head to Frog Level Brewing for some of the smoothest craft beer to touch your tongue. From the bite of their IPA to the smokiness of the Scotch Ale, you can enjoy their menu in the tasting room or get it packaged to take home. If you are hungry again, stay inside and take advantage of the full kitchen. Or venture out onto the back deck overlooking the flowing creek and enjoy the sounds of nature.
56 Commerce Street, Waynesville | (828) 454-5664 | froglevelbrewing.com
Find a legendary ale @ Boojum Brewing Company
It's time to mosey up the hill to Main Street! Located in the middle of Main Street, Boojum Brewing takes its name from a local mountain legend. You could spend all day in the taproom sampling their delicious beer and pub grub, including tasty burgers, shareables, and daily specials. Downstairs, the Gem Bar features Boojum beer, wine, and a full liquor bar. It's the perfect hangout space, with bar games including pool, darts, shuffleboard, and foosball.
50 N Main Street, Waynesville | (828) 246-0350 | boojumbrewing.com
Fill your belly @ Mad Anthony's Taproom & Restaurant
At Mad Anthony's Taproom & Restaurant, they have a passion for great beer, delicious food, and good company. You'll find 50 craft beers and ciders on tap here at any one time. Plus, this casual bar serves a full menu of fries, wings, and specialty 'zas from Dough Boys Pizza, located in house. Whatever your tastes, you're sure to find something at Mad Anthony's to satisfy your appetite. Stop in for dinner, take a load off, and relax among new and old friends in this fun, friendly, and relaxing atmosphere.
180 Legion Drive, Waynesville | (828) 246-9249 | madanthonys.bar
Take some beer to go @ Blue Ridge Beer Hub
Before you end your day, double back and visit Blue Ridge Beer Hub. The locally-owned shop carries homebrew supplies, offers a large selection of craft beer to go, and serves regional and exclusive beers in their taproom. But they don't just sell beer. They carry all of "the four major food groups," as they say: beer, wine, cider, and mead. The business also supports the local community by leasing and purchasing from local businesses, contracting with local service providers, and donating to local nonprofits whose missions improve living conditions in WNC. Meet old and new friends over a pint in the taproom, or find a gift for the brewer or beer geek in your life.
21 East Street, Waynesville | (828) 246-9320 | blueridgebeerhub.com
If after a great day exploring Waynesville's best breweries you're ready for more adventure, check out these breweries west of Asheville.
Have a perfect day every day in Waynesville!
In Western North Carolina, it's easy to spend all day enjoying the local breweries and natural wonders in your back yard! High peaks surround the town of Waynesville, once billed as the Gateway to the Smokies and now the seat of Haywood County. Plus, Waynesville's proximity to Asheville offers residents the best amenities of a larger city while still holding on to its small-town atmosphere. The recently restored Frog Level train district has gained recognition as a National Historic District and is now home to a collection of small galleries, a coffee roastery, and a microbrewery. From outdoor adventures to cozy spots downtown, Waynesville welcomes people from many different backgrounds to visit and stay for life.
Does that sound like the perfect lifestyle for you? Find your dream home in Waynesville now!
Photo from Boojum Brewing
Visited 283 times, 1 visit(s) today