Last Updated on November 1, 2023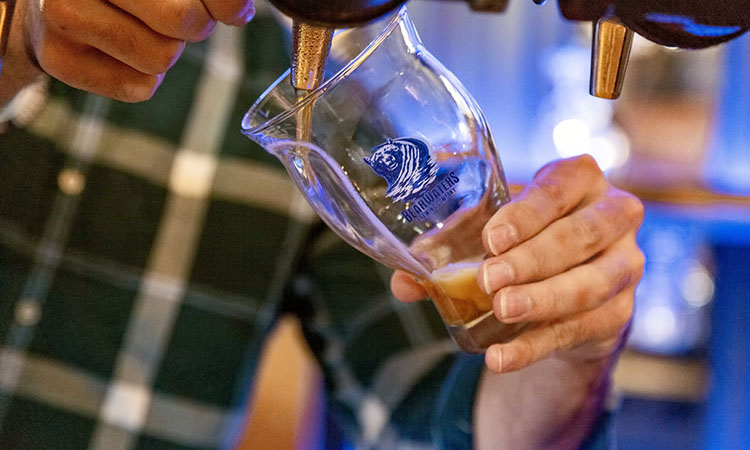 Did you know that Western North Carolina has close to 70 craft breweries? And the vast majority of those are homegrown!

From its epicenter in Asheville to tiny enclaves around the region, craft brewing is a big draw for people from near and far. The number of local craft breweries is matched only by their quality, uniqueness, and seasonal ingredients.

No matter your tastes, Western North Carolina breweries are guaranteed to have something you enjoy. Are you ready to get out of Asheville and explore the beer scene in other towns? All you have to do is drive west!

Here are nine breweries west of Asheville you need to visit sometime soon.

1 brewery in Canton, NC
BearWaters Brewing Company
What happens when passion collides with creativity, a love for beer making, and the best ingredients? Award-winning beer! BearWaters Brewing serves artfully crafted brews in a vast variety of European and American styles and flavors. Recently, BearWaters partnered with Elevated Mountain Distilling Co. to also create scratch-made hand sanitizer to help fight COVID-19. Relax outside by the river, or enjoy one of their many events. They are currently offering curbside pickup for those who continue to social distance.

101 Park Street, Canton | (828) 237-4200
4352 Soco Road, Maggie Valley | (828) 944-0009
2 breweries in Waynesville, NC
Boojum Brewing Company
Located in the middle of Main Street, Boojum Brewing takes its name from a local mountain legend. Fill up on their delicious beer and pub grub, including tasty burgers, shareables, and daily specials. Their taproom is currently open for limited seating and take-out orders. Downstairs, the Gem Bar features Boojum beer, wine, and a full liquor bar. It's the perfect hangout space, with bar games including pool, darts, shuffleboard, and foosball.

50 N Main Street, Waynesville | (828) 246-0350 | boojumbrewing.com
Frog Level Brewing
Waynesville's first brewery serves some of the smoothest craft beer to touch your tongue! From light and refreshing to extra hoppy, stout, or sour, you can enjoy their selection in the tasting room or get it packaged to take home. If you are hungry, stay inside and take advantage of the food menu, featuring snacks, sweets, and full meals (like Nashville hot chicken). Or venture out onto the back deck overlooking the flowing creek. Check them out for what they promise is "the best beer in Western North Carolina."

56 Commerce Street, Waynesville | (828) 454-5664 | froglevelbrewing.com
Find even more breweries in Waynesville, here.

3 breweries in Sylva & Cashiers, NC
Balsam Falls Brewing
Balsam Falls' nano-brewing operation is rooted in community and sustainability. Discover classic styles and one-of-a-kind flavors, all brewed with care and commitment. The name of the brewery connects the highest reaches of the mountains surrounding Sylva and the picturesque waterfalls that delight locals and visitors alike. The brewery is dedicated to protecting the natural resources of those mountains. Their process minimizes waste while maximizing efficiency and recycling. Much of their wastewater is recaptured for use in other brewery operations and the spent grain is used as livestock feed.

506 W Main Street, Sylva | (828) 631-1987 | balsamfallsbrewing.com
Innovation Brewing Company
Innovation Brewing Company is dedicated to changing the way you think about beer. They supply neighborhood patrons with plenty of traditional styles of ale and ol' standbys. But they are equally dedicated to evolving and crafting new and unique styles of beer. Enjoy whitewater rafting, river tubing, and rock climbing within minutes of the taproom. Go a few more miles and you'll find the Black Balsam Trail, one of the greatest hikes along the Blue Ridge Parkway.

414 W Main Street, Sylva | (828) 586-9678
40 Depot Street, Dillsboro | (828) 226-0262
Whiteside Brewing Company
Enjoy mountain life in a glass at Whiteside Brewing Company! Master Brewer Dieter Kuhn (formerly of Heinzelmännchen Brewery) leads Whiteside's production of quality, hearty, Bavarian-style aleas. Visit them to try their six year-round taps and rotating seasonal style. Along with unique craft beers, Whiteside also offers a carefully curated food menu, designed to complement the beer selection. You'll find the brewery adjacent to the popular Laurelwood Inn.

128 NC-107, Cashiers | (828) 743-6000 | whitesidebrewing.com

1 brewery in Bryson City, NC
Nantahala Brewing Company
For over 10 years, Nantahala Brewing has offered year-round flagships, seasonals, and pilot beers from their taproom in Bryson City. Several segments of the Appalachian Trail run through the town, with the nearest access just 13.8 miles away. Stop by Nantahala after a hike for the App Trail Extra Pale Ale. Enjoy tours and tastings in their rustic taproom, along with regular live music.

61 Depot Street, Bryson City | (828) 488-2337 | nantahalabrewing.com

2 breweries in Franklin & Highlands, NC
Lazy Hiker Brewing Co.
Feeling too lazy for a long hike? Take it slow, enjoy the mountains, and enjoy a delicious craft beer instead. Lazy Hiker Brewing Company has been crafting great beer and community since 2015. Their flagship Franklin taproom, located in the former town hall and fire department, includes an outdoor patio and event space. In 2019, Lazy Hiker expanded and opened a second taproom with Mad Batter Kitchen in Downtown Sylva.

188 W Main Street, Franklin | (828) 349-BEER
617 W Main Street, Sylva | (828) 349-2337
Satulah Mountain Brewing Company
When they opened in 2014, Satulah Mountain Brewing Co. became the first post-prohibition legal brewery in Macon County. Their premium craft beer is inspired by the wild places that surround the town of Highlands. Their taproom is family-friendly, and dogs are welcome on the patio. You won't find food there, but you are welcome to bring in outside food and nonalcoholic beverages.

454 Carolina Way, Highlands | (828) 482-9794 | satulahmountainbrewing.weebly.com

Map your trip to breweries west of Asheville
From Asheville, head west along Highway 23 to access each of these breweries. We suggest starting your tour in the recently revitalized mill town of Canton at BearWaters Brewing. Continue along Highway 23 into Downtown Waynesville for stops at Boojum and Frog Level. Then, follow the highway southwest into Sylva to visit Innovation and Balsam Falls Brewing. Make a detour even farther west to check out Nantahala Brewing. From Bryson City, venture south along Highway 64 to Franklin and Highlands. Highway 64 will take you back through Jackson County to Cashiers. Then, it's an easy drive home through Hendersonville, at which point you can jump onto Interstate 26W.

Along this trail, you'll travel through four mountain counties (plus two additional on the return) and a good bit of Nantahala National Forest. It's a great route to see the beauty of Western North Carolina and try a few craft brews along the way.

Toast to great beer every day! Live near breweries in WNC.
At Allen Tate/Beverly-Hanks, we appreciate the revitalization craft breweries have brought to many of our mountain towns. If you want to patronize local beer, cider, sake, and other breweries west of Asheville on a regular basis, why not live nearby? Find a home worth toasting to near one of the breweries mentioned in this post!
What's your favorite mountain brewery? Share your thoughts in the comments!
Visited 309 times, 1 visit(s) today