Last Updated on April 25, 2023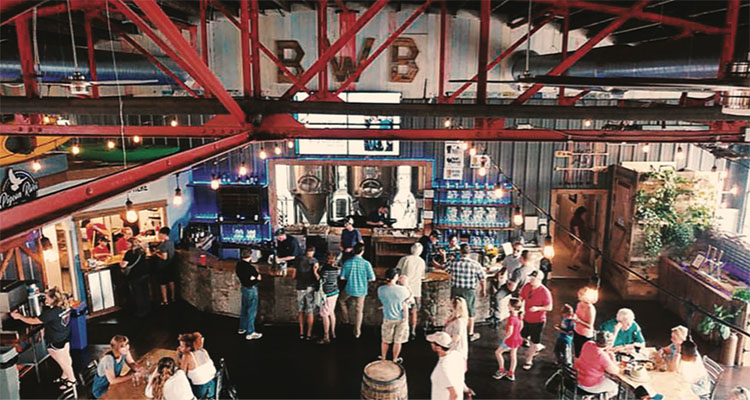 Driving around downtown Canton on a recent weekend, it was weird to have a hard time finding a parking space. In most Western North Carolina communities during the busy summer tourist season, this is the norm. But, for the blue-collar paper mill town of Canton, finding a parking spot has never been an issue.
That is, until now.
In the last couple of years, several businesses have popped up in downtown Canton, once again breathing life into a community many looked at as "dead" and "out of business." But one business was missing, especially when seemingly every single nearby town had one: a brewery.
"It's a new chapter in my life, a new beginning," said BearWaters Brewing co-owner/brewmaster Kevin Sandefur. "It's pretty much a dream realized, to finally open a full-size brewery with production and distribution, [and] a real destination taproom with a restaurant."
For the last four years, BearWaters was located in Waynesville. But with an increasing need for space and also finding out their property would soon become a Publix supermarket, the brewery started to look for new digs last year. At that time, the Canton town officials were putting feelers out to finally bring a brewery into their downtown. The brewery and the town worked together to make the long-held dream a reality.
With their official grand opening in June 2017, every parking spot within walking distance of BearWaters on Park Street was filled, every single hand hoisting high a craft beer in celebration of a new day in the long and bountiful industrial history of Canton.
"We kind of said this early on when we made this decision [to relocate to Canton]. The town and our company, I think we both have a tenacious and scrappy nature. We're both fiercely loyal to what we do," Sandefur said. "There's been many times that Canton has been written off—'done' or 'over'—and together this is a new beginning for both of us. The mill workers that come over here every day to check on the progress and the town officials, we all feel this sense of hope that we're going to create this symbiotic relationship to start a new beginning."
Overtaking an 11,000-square-foot, two-level building in downtown right on the Pigeon River, the brewery will kick things up a notch with its new 20-barrel system, which includes five 20-barrel fermenters and three brite tanks.
Aiming to harness the property's potential, BearWaters built a river access point for kayakers and tubers looking to stop by for a beverage. They also added a restaurant, the Pigeon River Grille, which features gourmet dishes and southern-inspired favorites. Haywood County businessman Richard Miller (of The Classic Wineseller and Church Street Depot in Waynesville) opened the gastro-pub within the facility. Sandefur noted the cellar below will contain BearWater's barrel-aging program.
"The Town of Canton is so pumped about this. I think they really expect this to be a catalyst for more growth in the downtown corridor," Sandefur said. "It's being looked at as an anchor business to attract future business to be put around this showcase brewery. We're seeing a lot of professionals from Asheville [coming here]. It's definitely an exciting time for the town. We feel very fortunate to have this opportunity—the building is absolutely perfect for what we want to do."
When Sandefur was looking for new investors, he found a special bond and kinship with Art O'Neil, who saw the promise of BearWaters and became a co-owner.
Wandering around the brewery, it's surreal to see such a vivacious and jovial energy permeating through downtown Canton. For years, perhaps even decades, those fighting for Canton, those in the town's corner, have been saying "someday, someday." You begin to realize that "someday" is actually today—right here and now.
"It's been a journey that definitely has had its twists and turns, and there were definitely times where we didn't know if we'd make it or not. But with lots of perseverance and determination, we kept fighting and fighting, and we got our breakthrough," Sandefur said. "I've fallen in love with the building. It's overwhelming and turned out way beyond my expectations. If you focus on what's at the end of the road, it can happen—[BearWaters] is living proof of that. I've had a lot of false starts, but to cross over the goal line, it's like, 'My god, this can be done.'"
This post is adapted from our annual Welcome to Western North Carolina magazine. Request your free copy today!
---
Live in Canton, NC
Canton is a snapshot of a classic mill town, with many of the unique bungalows and beautiful buildings once built for mill workers and managers still intact. Historic murals add an artistic touch to the downtown district, which is listed on the National Register of Historic Places. It's easy to stroll down Main Street, enjoy a meal or shop at the street's small businesses, and be received as a local. Quality of life truly is key in Canton.
Does that sound like the perfect lifestyle for you? Start your search for Canton, NC real estate!
Visited 27 times, 1 visit(s) today