Last Updated on April 25, 2023
After decades as a quiet mill town, Canton, NC is enjoying an economic resurgence thanks to new businesses and changing demographics. Learn more about the many ways you can Live Abundantly in Canton, North Carolina.
"I think what is special about Canton is the quality of life," says Jason Burrell, Canton Town Manager. "I would say potential, because there is a tremendous amount of opportunity here. And then, the economic development tagline: 'Canton's open for business.' All those things wrap up the ideology of Canton—the historical side of Canton, but also too, the potential of Canton."
Canton's economic resurgence
"In the last three to four years, Canton's really seen a redevelopment," says Burrell. "A lot of that is based on traffic moving this direction from Buncombe County and Asheville. But also too, I think it offers you a lot of value at a very low monetary point in comparison to some other areas."
Canton's charming downtown district is listed on the National Register of Historic Places, but offers a fresh face to small-town living.
"It's a new feel, new vision, new vibe from some of these businesses moving into the area," says Burrell. "And it's really excited the community, I think, more than anything. This is a community that wants to grow and is very supportive of those folks because that's what ultimately adds value to the community."
Downtown Canton is also centrally located and very walkable to local shops, restaurants, and breweries. Its crown jewel is arguably the Imperial Hotel. Built in 1876, the Queen Anne building began its life as a private home and now operates as The Southern Porch restaurant. Patrons can enjoy quality service and diverse Southern fare, from fried green tomatoes to shrimp and grits.
Dating back to 1932, the restored Colonial Theater features film festivals, stage productions, concerts, and community events throughout the year in its 300-seat auditorium. BearWaters Brewery is located a quick walk from the heart of downtown along the Pigeon River. Beer aficionados and families are invited to hang out on the patio overlooking the water, and stay for trivia, live music, or other events.
Canton's quality of life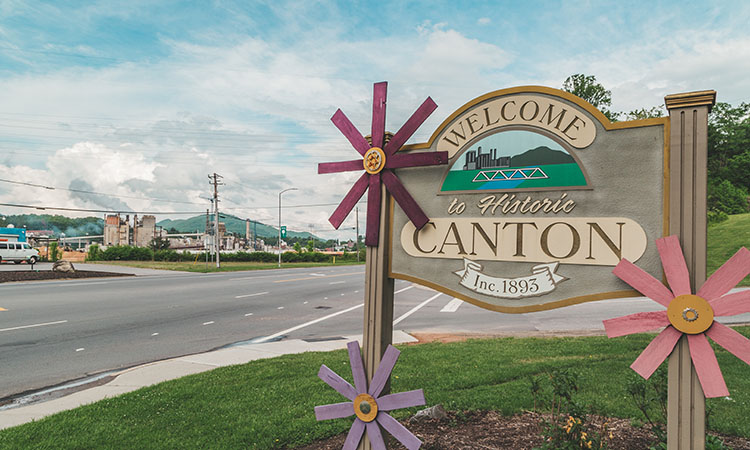 Canton's lower cost of living and proximity to Interstate 40 make it an affordable alternative to nearby Asheville and Waynesville. In addition, the town has invested in many recent improvements, from streetscaping to the general dynamic and look of the town. The result is a spirited community that has attracted many visitors and new residents in recent years.
"The makeup of the town of Canton has really morphed into a new … demographic," says Burrell, "where we start seeing a lot of new blood coming into the area, as well as new entrepreneurs. Also, folks looking for that small-town quality of life."
Historic murals dot the downtown landscape, offering interesting viewing for a stroll down Main Street. A quick stop into one of the street's barber shops or cafes will give you a chance to rub elbows with the locals.
The Pigeon River Scenic Walking Trail connects downtown to the scenic Pigeon River. Benches line the 1.5-mile trail for those looking to relax and take in the native flora or feed local wildlife, while a boat ramp is available for fishing and canoeing. The park also includes tennis courts, a huge outdoor pool and a picnic area with grills.
Living in Canton, NC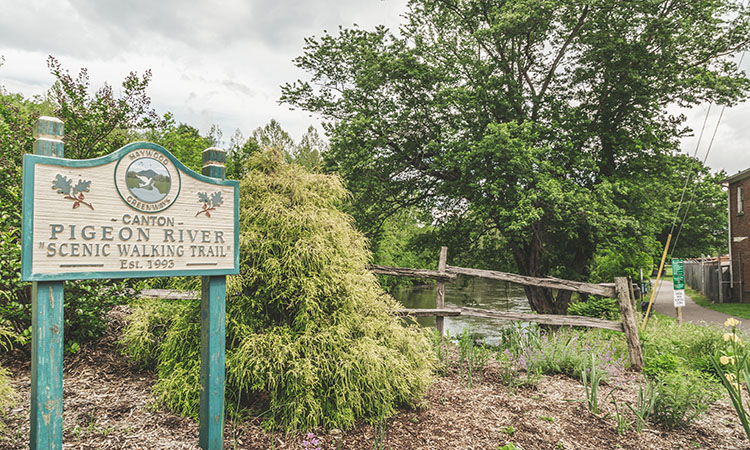 With its many recent updates, Canton is still a snapshot of a classic mill town. Many of the unique and beautiful bungalows and buildings once built for mill workers and managers are still intact.
"Canton is very much built around an older style of development where you have larger lots, you have more frontage between the streets and a home," says Burrell. "I think Canton is an ideal location for someone wanting to have a yard for a family and kids to play in."
Many residents leave their cars at home for an evening on the town.
"It's a very walkable community," says Burrell. "Even in the neighborhoods, in those residential areas, it's very walkable. We have a great sidewalk system throughout many of our neighborhoods that allows people to get from their house to downtown by walking, which people really seem to like and it adds to that quality of life value."
"This is a great place to work. It's a great place to live. Obviously, it's a great place to visit. And just a quaint and liveable community."
Find a home in Canton, NC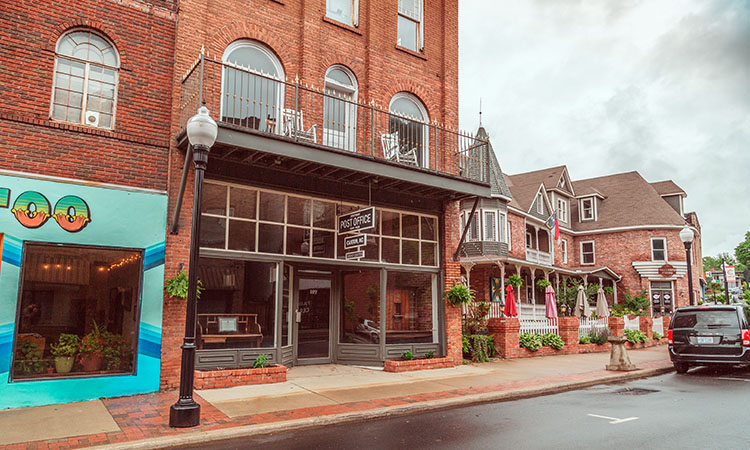 On Friday nights throughout the summer, the City of Canton hosts Pickin' in the Park. Grab a lawn chair and picnic blanket and head to the Canton Recreational Park to listen to live bluegrass and old-time bands. Or schedule a visit during the Canton Labor Day Festival, the oldest festival of its kind in the Southeast!
See the beauty of Canton for yourself! Read more about Canton, see more photos, or search for homes in the area, from our detailed community page. Find your dream home in Canton, NC.
Visited 64 times, 1 visit(s) today