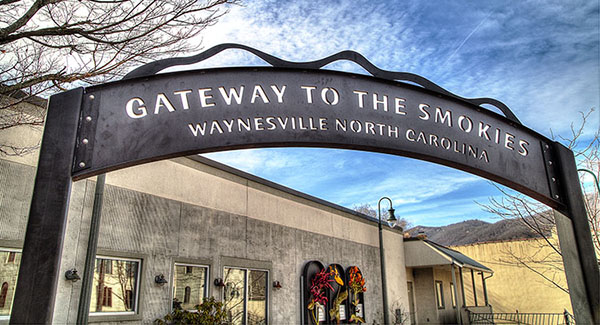 Last Updated on November 1, 2023
In Waynesville, day trips through the mountains and adventures in town don't require gallons of gas. It's easy to spend an entire day powered only by your feet and your imagination! Waynesville's proximity to Asheville, NC offers residents the best amenities of a larger city while still holding on to its small-town atmosphere. From outdoor recreation activities to annual town events, Waynesville welcomes people to enjoy the day or stay for life.
Ready to get to know this mountain town a little better? Here are more than 20 of the best things to do in Waynesville, North Carolina.
The best things to do in Waynesville, NC
Downtown Waynesville
Downtown Waynesville is a thoroughly enjoyable place to live and visit. The district is also a pedestrian's dream, with historic buildings, relaxing benches, public art, and welcoming folks. Numerous popular events, parades, and festivals occur in Downtown Waynesville throughout the year. Popular Mountain Street Dances are held during the summer in front of the Haywood County Historic Courthouse. The dances are fun, free events where locals and visitors enjoy live music and take part in traditional mountain dancing.
Main Street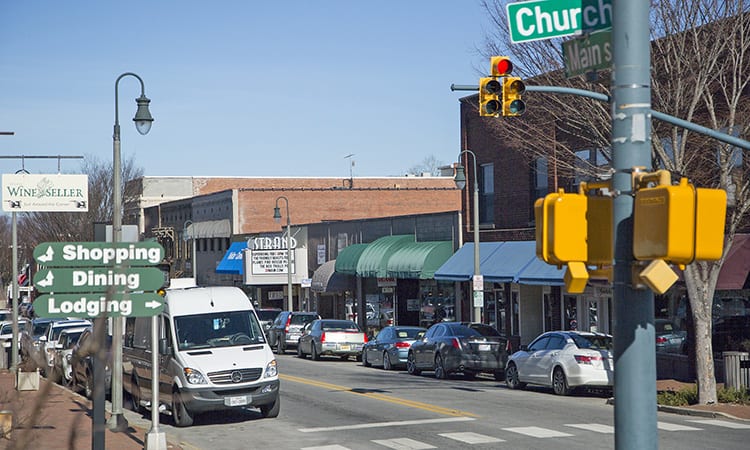 Downtown Waynesville's stroll-able sidewalks frame a Main Street that is a shopper's paradise and deserves some exploration. And with plenty of free parking, you don't have to worry about the time! Enjoy exploring working art studios, fine restaurants, breweries, a local bookstore, coffee roastery, gift shops, and more. High Country Furniture & Design, Massie Furniture Co., and Simply Main offer local home furnishings we love. Local shopping options also include gift shops and boutiques like Affairs of the Heart, Olde Brick House, and Ava & Arden. If you love consignment treasures, don't miss Flawsome New & Preloved.
Historic buildings
Many of the shops you'll come across on Waynesville's Main Street are located in restored historic buildings. In fact, the Waynesville Main Street Historic District includes 35 buildings notable for their Classical Revival-style architecture. As you walk through town, take note of the Waynesville Municipal Building, Citizens Bank and Trust Company Building, and Haywood County Courthouse. The recently revived Frog Level Historic District occupies a low-lying area of downtown near Richland Creek and the railroad tracks. Today, the area is making the most of its many historic buildings.
Waynesville Recreation Center
If you have some energy to expend, there are a variety of great activities in Waynesville to fill a whole day—and then some! One popular option is the Waynesville Recreation Center, located on Vance Street. The rec center has the amenities you would expect, along with a lap pool and water park. Locals come to the rec center to participate in a variety of fitness classes. With a convenient range of membership options, you could schedule a daily pass or visit as often as you please.
Waynesville Greenway
Waynesville's Greenway Trail system begins at the rec center and winds through Vance Street Park and along Shelton Branch to pass the Waynesville Skate Park and Waynesville Dog Park. From town, a concrete path winds along Richland Creek nearly all the way to Lake Junaluska. With a variety of topography and natural features along the way, sections of the nearly five-mile trail will appeal to all greenway users. All of the greenway is designed to be handicapped accessible.
Apple Harvest Festival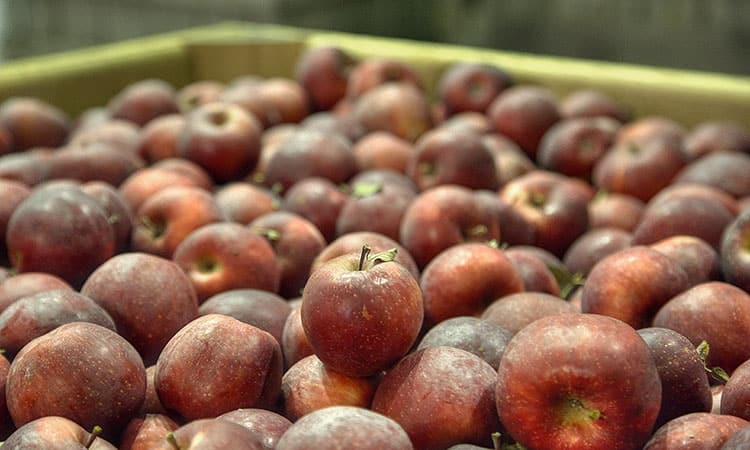 Nothing better complements the smells and colors of fall than the taste of fresh apple cider. Nearby Henderson County is well known for its abundance of apple orchards, but Haywood County has its fair share, too. The community celebrates their bounty each year during the Apple Harvest Festival. Named one of the "10 Best Fall Harvest Festivals in the Nation", this free annual street festival is also a premier arts and crafts event that highlights the beauty of the Great Smoky Mountains. Stroll historic Main Street as it is filled with vendors.
Maggie Valley
Just ten miles outside of Waynesville is Maggie Valley, a quaint mountain delight that rolls out the welcome mat to traveling tourists, creatives, old souls, and the young at heart. Maggie Valley traces its roots to the early 1800s and a group of pioneering settlers in Cataloochee Valley. Today, Maggie Valley is an epicenter of old-time mountain fun—with family restaurants and fine dining, foot-stomping Appalachian song and dance, putt-putt, elk-spotting, and some of the best snow skiing in the South. This laid-back resort town is easy to traverse year round. Most businesses are located along a five-mile stretch of US Highway 19 known as Soco Road.
Lake Junaluska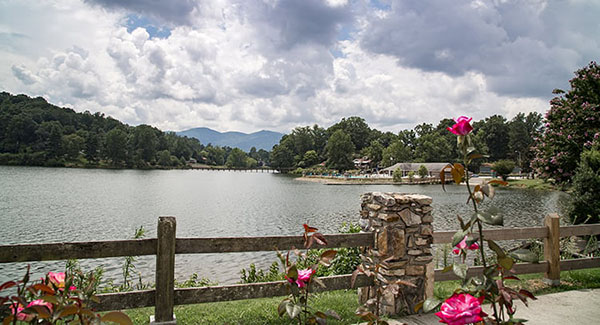 The Lake Junaluska community is centered around a beautiful 200-acre namesake lake ten minutes north of Waynesville. Surrounded by 1,200 acres of rolling hills and valleys, the high peaks, fresh air, and stunning natural beauty of the area first attracted people seeking refuge from hot summers. Birding aficionados will enjoy the variety of waterbirds visible along more than 2.5 miles of public walking and biking trails, as well as from the water. And during the summer, kayaking, canoeing, and paddle boarding are popular activities. Bring your own, or rent canoes, kayaks, or stand-up paddle boards at the Lake Junaluska Recreation Hut.
Valle Crucis
Head northeast of Waynesville, and within two and a half hours, you'll reach Valle Crucis, NC. This peaceful, rural community was first settled in the 1800s, and much of town remains as it was a century or more ago. In fact, Valle Crucis was North Carolina's first designated rural national historic district. Today, the entire community is officially listed on the National Register of Historic Places. Valle Crucis, meaning "vale of the cross", is popular for outdoor recreational activities, including hiking, fishing, and riverfront exploration. Boone, NC is within ten miles.
Hazelwood Village
Although it was incorporated into Waynesville in 1995, the historic Hazelwood Village neighborhood has maintained its own identity and evolved into a revitalized retail district. Enjoy arts and shopping along the walkable Hazelwood Avenue, including the iconic Hazelwood Soap Company and local favorite Smoky Mountain Coffee Roasters. Robin Blu is one of our favorite "pop into" spots in Waynesville to find the perfect gift for your loved ones or yourself.
Blue Ridge Mountains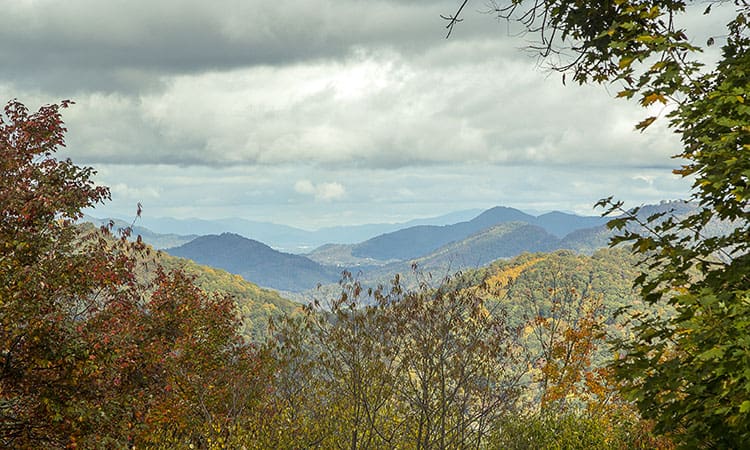 Outdoor adventures are limitless around Waynesville every day of the year! The Blue Ridge Mountains are the major range running through Western North Carolina, bringing snow in the winter and cooler temperatures in the summer—qualities that have attracted tourists and residents for generations. Haywood County boasts the highest average elevation of any county east of the Rockies, with 18 mountains towering 6,000 feet or higher. All of the county's rivers and creeks originate within the county, making it a great location for waterfalls, water adventures, and wildlife.
Visit breweries
The vibrant town of Waynesville is home to two breweries–Frog Level Brewing and Boojum Brewing Company. Asheville locals have been known to beat the crowds in downtown Asheville and head to Waynesville for some of the best brews in the area. Both breweries offer a full menu, so make sure to come hungry (and thirsty)!
Cataloochee Valley
Explore your wild side by interacting with the local wildlife. Our mountains and rivers are full of fascinating creatures, great and small. The Cataloochee Valley alone is steeped in history, blanketed with wildflowers, and rich with wildlife. It's a great place to see eye-catching critters of all sizes, including black bears, elk, salamanders, and white-tailed deer. Many species of birds, from cedar waxwings and indigo buntings to ruffed grouse and wild turkey, can also be spotted in Cataloochee. In June, many visitors journey to a "secret" location to witness the magic of the synchronous and blue ghost fireflies on a Firefly Night Walk.
Great Smoky Mountains National Park
Great Smoky Mountains National Park covers a large portion of northwest Haywood County, north of Maggie Valley. In fact, the county seat of Waynesville was once known as "the Gateway to the Smokies." Locals and visitors alike enjoy the natural beauty of this national park, which spans 522,427 acres from here west into Tennessee. Adventures await along mountain biking trails and whitewater rafting rivers. Locals can explore trails their entire life and still find something new.
Horseback riding
There are as many as 75 great horseback riding trails in Great Smoky Mountains National Park. One option that's popular with beginning riders is Ferguson Cabin Trail Loop. This 3.5-mile route is open year round, making it a great trail to visit throughout the year. Located along the trail, Ferguson Cabin is noted for being the highest elevation historic cabin in the Smoky Mountains. The back end of the trail intersects with McKee Branch Trail and Cataloochee Divide Trail, offering further exploration for adventurous horseback riders. 
Shining Rock Wilderness Area
Stretching across more than 18,000 acres, the Shining Rock Wilderness is the largest wilderness area in the state. Many mountains in the Wilderness exceed 5,000 feet, with three peaks exceeding 6,000 feet. Its namesake peak, Shining Rock, is a summit topped with white quartz that catches sunlight. The Wilderness offers many outdoor recreation opportunities, especially hiking. Among the most popular hikes through the Wilderness is Black Balsam Knob.
Art Loeb Trail
At 30.1 miles, The Art Loeb Trail is one of the longer and more difficult trails in North Carolina. It's also one of the more popular, largely because of the number of other trails to which it connects. Traveling mainly along peaks and ridges, the Art Loeb Trail skirts along the southwestern rim of the Davidson River valley, then skips across some of the highest peaks in the area before descending Cold Mountain, the peak that inspired the bestselling book and movie. This trail is a memorial to Art Loeb, an activist from the century-old Carolina Mountain Club.
Waterfall hiking trails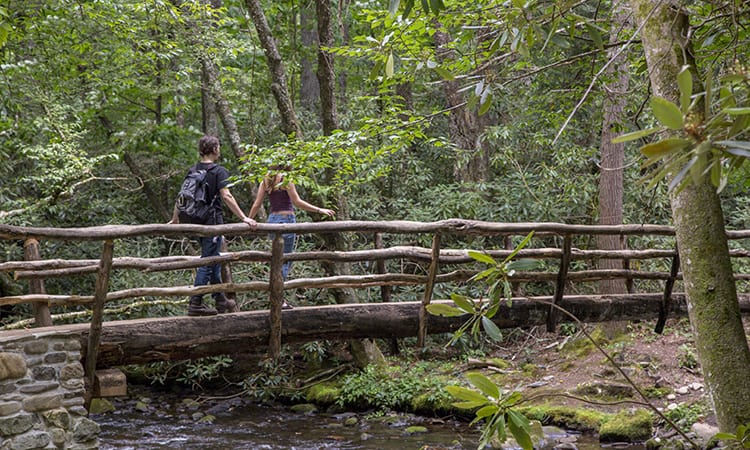 Complete with pools of crystal clear water and vibrant green ferns, there's hardly a better place to cool off on a summer day in the mountains than at a local swimming hole! The prehistoric topography around Waynesville is bursting with waterfalls. Some are relatively small and gentle. Others take big, breathtaking plunges into mountain pools. At least 250 falls exist in nearby Transylvania County alone, giving it the moniker "The Land of Waterfalls." Closer to town, check out the short hike to Woodfin Falls, accessed from the Blue Ridge Parkway's Woodfin Cascades Overlook.
Pink Beds Trail Loop
Pink Beds Trail Loop is another easy hike that adventurers of any age will enjoy. This trail was originally named after the pink native flowers that grew in the area. Today, this relatively flat loop hike, which features a shortcut option, is all about water—bogs, beaver dams, ponds, brooks, and even a waterfall. To reach the 25–30-foot waterfall (spectacular after a rain!), take the turn for Barnett Branch trail.
Mast General Store
"From cradles to caskets," the original Mast General Store opened in 1883 to serve a wide variety of community needs for every stage of life. Now the local franchise operates nine locations in four states, plus their original store and annex in Valle Crucis, NC. Mast offers outdoor outfitters gear, clothing, home items and accessories, food, toys, and iconic barrels of classic candies to people across WNC. Find their Waynesville location on Main Street.
Museum of North Carolina Handicrafts
Open May–October, the grand Shelton House in Waynesville (built in 1875) now houses the Museum of North Carolina Handicrafts (founded in 1977). Enjoy a guided tour in the Charleston-style farmhouse with a double veranda. View heritage crafts from the 18th and 19th centuries, agricultural exhibits, and items of today's crafters and artisans. The museum was also the first site on the Haywood County Quilt Trails. Visiting off-season? Check their calendar for upcoming year-round events.
Haywood Arts Regional Theatre
The award-winning Haywood Arts Regional Theatre (HART Theatre) is widely recognized as one of the finest community theaters in the Southeast. Founded in 1984, the facility sits on an eight-acre national historic site owned by the Shelton House Museum of North Carolina Handicrafts. The theater offers a full schedule of performances on the main stage at the Shelton House, April–December, and in the Feichter Studio, January–April.
Winchester Creek Farm
Have you ever visited a local farm? Winchester Creek Farm offers 45-minute educational tours where you can meet their adorable alpacas and a variety of miniature farm animals, including cows, donkeys, horses, and even a pig. This 20-acre family-owned farm is surrounded by the scenic Smoky Mountains. In addition to tours, the farm offers photo sessions, an onsite gift shop, and even overnight stays.
Art After Dark
Art After Dark transforms Downtown Waynesville and the Historic Frog Level District into an exquisite visual, culinary, and performing arts center. There are few local destinations where you'll find such a wide breadth of talented artisans and craftspeople within such a concentrated area. Participating galleries offer meet-and-greets, featured shows, refreshments, and live local music. The event happens on the first Friday evening of each month, May–December. Look for the festive Art After Dark flags that guide the way to participating galleries.
Great Smoky Mountains Railroad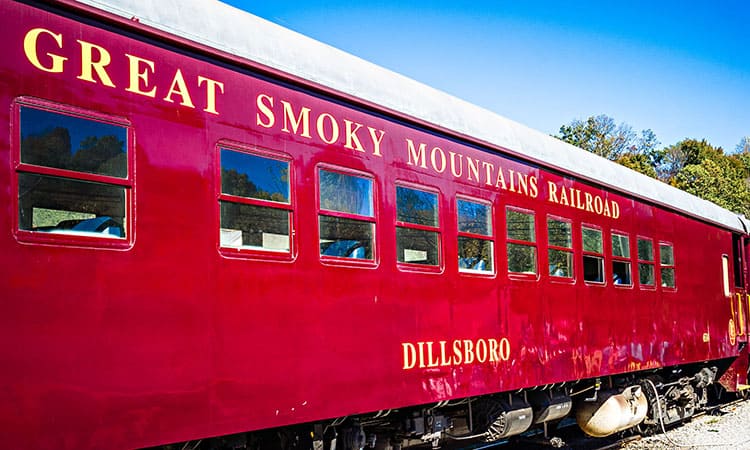 Looking for day trips around Waynesville that are full of adventure? The Great Smoky Mountains Railroad offers family-friendly or adults-only diesel or steam train excursions from their historic depot. No matter the season, you're sure to find great options for traveling by train in style through the mountains. Sit back and enjoy the views while train staff serve treats or share stories. It's an experience everyone is sure to love!
Find what feels like home in Waynesville, NC!
High peaks surround the town of Waynesville, once billed as the Gateway to the Smokies and now the seat of Haywood County. Where to Retire magazine named Waynesville one of its "100 Best Places to Retire," calling it the best mountain town with the best main street. The recently restored train district in Frog Level has gained recognition as a National Historic District and is now home to a collection of small galleries, a coffee roastery, and a microbrewery. From outdoor adventures to cozy spots downtown, Waynesville welcomes people from many different backgrounds to visit and stay for life.
Does that sound like the perfect lifestyle for you? Find a great home in Waynesville, NC!
Visited 6,212 times, 1 visit(s) today