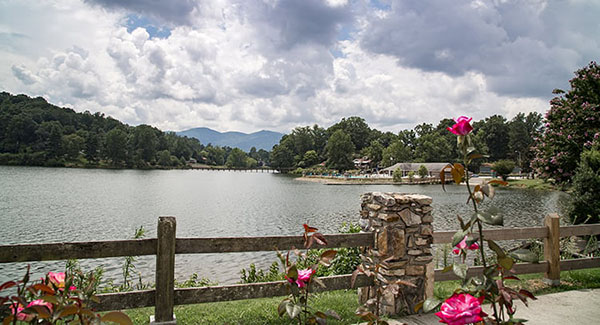 Last Updated on November 14, 2023
The unincorporated Lake Junaluska community is centered around a beautiful 200-acre namesake lake and surrounded by 1,200 acres of rolling hills and valleys. The high peaks, fresh air, and stunning natural beauty of the area first attracted people seeking refuge from hot summers.
Lake Junaluska continues this tradition as a summer haven and event destination. But the location is also a thriving community. Here are just five of the many reasons why locals love living in Lake Junaluska, NC.
Outdoor trails abound at Lake Junaluska
Nature's beauty is accessible from everywhere in Lake Junaluska, and there are many ways to enjoy the outdoors for the whole family, including Fido. A path encircles the lake with more than 2.5 miles of public walking and biking trails, as well as a 1.5-mile extension. Birding aficionados will enjoy the variety of waterbirds attracted to the lake, including Ring-necked and Ruddy Ducks, Ring-billed and Bonaparte's Gulls, Common Loon, Wood Duck, and many more. A rose walk and butterfly garden are also easily accessible.
Waynesville's Greenway Trail system begins at the rec center and winds along Richland Creek nearly all the way to Lake Junaluska. With a variety of topography and natural features along the way, sections of the nearly five-mile trail will appeal to all greenway users. All of the greenway is designed to be handicapped accessible. Waynesville Greenway Park—located in Lake Junaluska where the greenway terminates—sits just across the street from the lake.
Locals can access the Blue Ridge Parkway nearby, a sightseer's and cyclist's haven. They are also near the many miles of trails that wind through Pisgah National Forest.
Lake Junaluska is a great location for sports and outdoor activities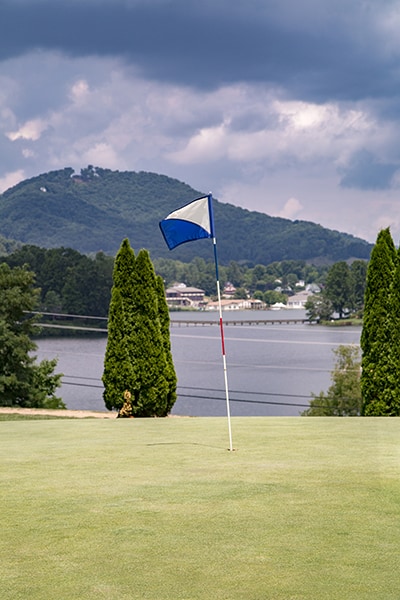 If you're looking for more structured activities, the community offers those, as well. The Lake Junaluska Aquatic Center is open to the public and includes an outdoor pool and playground. Locals and visitors alike regularly rent paddle boats on the lake. Or you can enjoy the water for boating, lake fishing, or fly fishing. Nearby, there are also tennis courts, mini golf, and shuffleboard.
You can also enjoy a round of golf on the 18-hole, public Lake Junaluska Golf Course. The 68-par, 5,108-yard course welcomes players of all skill levels and ages. They even host a seasonal junior golf program.
Dining options in Lake Junaluska will make your mouth water
For a small community, Lake Junaluska serves up some pretty delicious and eclectic fare. Most restaurants sit along Highway 19, the main route through the community. Locals love Blue Rooster Southern Grill, a self-expressed "quirky" setting offering Southern classics and homemade desserts. Ammons' Drive Inn & Dairy Bar is another favorite for classic American diner food and some of the best milkshakes around. But if you're looking for the best way to start your day, head over to The Buttered Biscuit, serving all your favorite breakfast options all day long.
Lake Junaluska also has a number of restaurants offering international cuisine, including Valé 243 Southern Italian Kitchen and 7 Asian Kitchen.
Lake Junaluska is a central location of the United Methodist Church
The Lake Junaluska Conference and Retreat Center is notable as the home for the World Methodist Conference and the Southeastern Jurisdiction (SEJ) of the United Methodist Church, a consultative body linking almost all churches in the Methodist tradition. More of a resort than a quiet spiritual center, the Lake Junaluska Conference Center features hotels, cabin rentals, an RV park, and full-service dining. It also features the SEJ Heritage Center and World Methodist Council Museum, which record the history of the Methodists and the Wesleyan movement.
The Lake Junaluska Assembly had its beginnings at the Laymen's Conference of the Methodists Episcopal Church, South in 1908. The first conference was held and the first cottages were completed in 1913. Although the Lake Junaluska Conference and Retreat Center is a central place of ministry for Methodists, all denominations are welcome to visit and live at The Assembly.
Lake Junaluska is close to everything, including first-class health care
Quietly nestled in Haywood County, Lake Junaluska is located just off US Highway 19, ten minutes north of Waynesville and east of Maggie Valley. With quick access to I-40, Junaluskans are also just half an hour from downtown Asheville's entertainment, dining, and nightlife.
Lake Junaluska is conveniently located less than five minutes from Haywood Regional Medical Center, a 154-bed Duke LifePoint Hospital. The campus, located in Clyde, is also home to the 54,000-square-foot Haywood Regional Health and Fitness Center and the 44,000-square-foot Haywood Regional Outpatient Care Center.
Find a home in Lake Junaluska, NC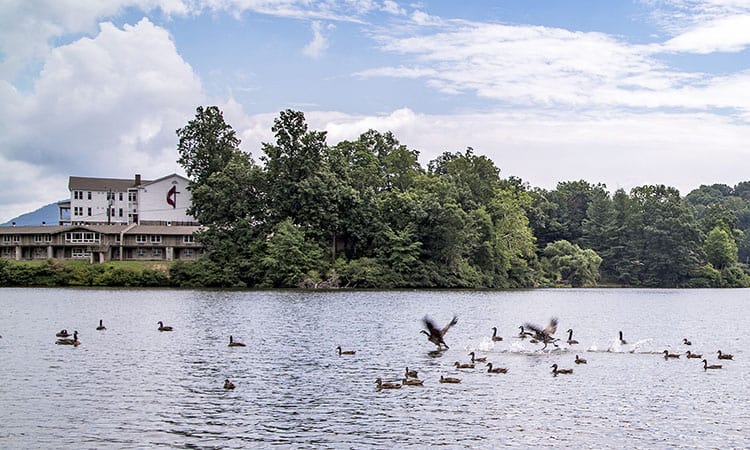 Lake Junaluska community is a beautiful 200-acre lake surrounded by 1,200 acres of rolling hills and valleys. Junaluskans are proud of the beauty, history, and unique nature of their community. And they take advantage of their proximity to local amenities and attractions. About half of the community's 3,250 residents live there year round.
Does that sound like the perfect lifestyle for you? Find a great home in Lake Junaluska, NC!
Visited 617 times, 1 visit(s) today