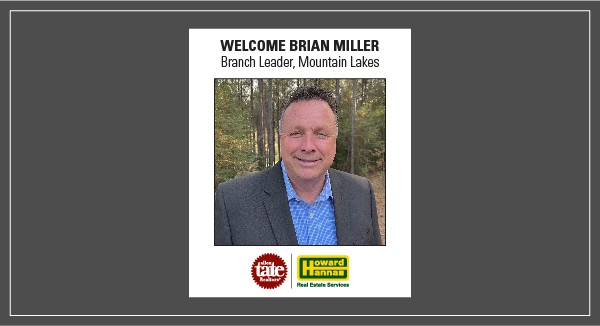 Last Updated on November 13, 2023
Allen Tate Realtors®, the Carolinas' leading real estate company, has named Brian Miller as branch leader for the company's offices in the Mountain Lakes region of Upstate South Carolina.
Miller will lead Allen Tate offices including Lake Keowee West, Lake Keowee Seneca, Lake Keowee North and provide support to the Rochester Hwy. office.. He will be based in the Allen Tate Lake Keowee West office at 402 Cane Creek Landing Road in Seneca, S.C. He will oversee branch operations and lead and grow a team of more than 40 Allen Tate Realtors and staff.
An accomplished professional, Miller has 10 years of experience in residential real estate and rural land development and has held positions including Broker/Owner, Broker in Charge and Realtor. He holds real estate licenses in South Carolina and Indiana. Prior to his real estate career, Miller worked as an employee benefits advisor and as executive director for several environmental management agencies.
Miller holds a Bachelor of Science degree in watershed and river basin policy and planning from The Ohio State University and a Master of Public Administration degree from Indiana University. He is currently an adjunct faculty professor with the Devoe School of Business at Indiana Wesleyan University.
An active volunteer, Miller served in various coaching and leadership positions with Carroll County Schools (IN) and as a board member and deacon of Fellowship Missionary Church in Fort Wayne, IN. He is a proficient public speaker, television guest and community advisor on real estate and environmental issues.
"Brian is the kind of leader who consistently delivers results. He's a proven negotiator, consensus builder, manager and teacher. He understands people, real estate and business, and he will be an outstanding asset to the Allen Tate leadership team in the Upstate region," said Adam McCall, regional vice president, Allen Tate Realtors.
"Brian spent a career understanding land development, environmental resources, and business, which is a strong foundation for a real estate career. We are very fortunate that he chose the Upstate for his next chapter, and that he has joined Allen Tate as his real estate home," said Gary Scott, president, Allen Tate Company.
A native of Bowling Green, OH, Miller lived in Indiana for 25 years before he moved to South Carolina in 2021. He and his wife, Rebecca, make their home in Salem, SC. They have four children and five grandchildren. Miller enjoys college football, history, boating, hiking and reading.
To contact an Allen Tate agent in the Mountain Lakes region, or for career opportunities with Allen Tate, call 864-888-2258 or visit allentate.com.
About Allen Tate Companies
Allen Tate Companies is the Carolinas' leading real estate company, based on closed transaction sides, with 74 offices and more than 2,100 Realtors® in the Charlotte, Triad, Triangle, High Country, Highlands/Cashiers and Asheville/Mountain regions of North Carolina and the Upstate region of South Carolina. Allen Tate provides real estate, mortgage, insurance, and relocation services throughout the entire homeownership life cycle. We are committed to providing and protecting quality of life for the communities we serve. For more information, visit allentate.com.
About Howard Hanna
Howard Hanna Real Estate Services is the #1 family-owned and operated independent broker in the country. The full-service real estate company has more than 500 real estate, mortgage, insurance, title, and escrow service offices across 13 states, including Allen Tate Realtors in the Carolinas and The F.C. Tucker Company in Indiana, with more than 15,000 sales associates and staff, including many of the industry's top-producing real estate agents. For more information, visit howardhanna.com
Visited 166 times, 1 visit(s) today