Last Updated on June 2, 2022
You don't have to be a master gardener or even have a green thumb to pull off a beautiful summer planter. There's no better way to spruce up your porch for summer than to add a pretty planter and fill it with colorful plants and flowers.
Just getting started with container planting? These easy tips will help even the most novice gardener.
Gather your supplies
Don't be intimidated by planting flowers. All you need is a large planter, a gardening soil mix, and some slow release fertilizer. Brighly colored planters or terra cotta pots can provide a beautiful backdrop to any flower arrangement.
Pay attention to your light
You'll need to choose flowers based on the amount of light the planter will receive. Make sure all the flowers and plants you use have the same sun or shade requirements.
Try the thriller, filler, spiller formula
Rather than planting one or two of the same flowers in a container, take your floral design skills to the next level when you follow the thriller, filler and spiller formula.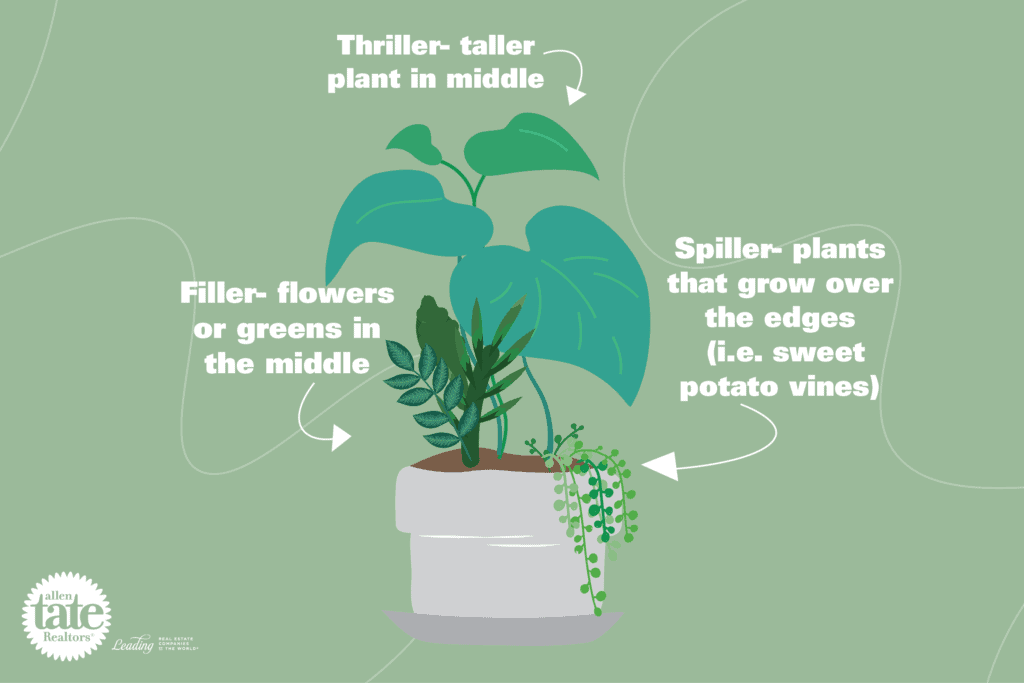 Start by identifying your thriller. This is a plant that you'll place in the middle of your container. Thriller plants grow upwards of 2-3 feet or even more and are items like Canna Lillies, Coleus, Hydrangeas, Purple Fountain Grass, Lantana, and Umbrella Plants, just to name a few.
Next you'll identify some filler plants. You'll place these around the thriller plant. You might need 4-6 of these depending on how much space you have.
Think about color scheme when choosing you filler plants. You might want to go monocromatic and identify filler plants that are all the same hue or you might want to spice it up and add some color.
Popular filler plants include Cosmos, Impatients, Begonias, Boston Ferns, Eucalyptus, Geraniums, Pentas and Petunias. The sun coleus is absolutely beautiful as a thriller and a filler.
Next add in some spillers. This is really the pièce de résistance and gives your planter that flowy, wispy look. Keep spillers simple and look for plants like Creeping Jenny, Sweet Potato Vines or Ivy Geraniums.
Below you can see this gardener used hydrangeas as the thriller and creeping jenny as the spiller.
Plant your flower pots in the spring to enjoy until the first frost. Your planter will likely look a little sad the first week or so, but by properly watering it and regular fertilizer throughout the season, in just a few weeks you'll have a beautiful, lush floral display!
Visited 2,770 times, 1 visit(s) today