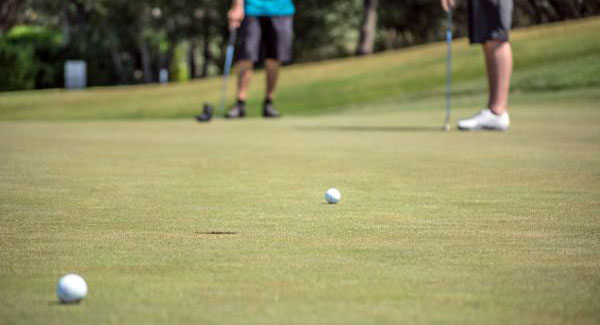 Last Updated on April 19, 2023
Here in Western North Carolina, we're fortunate to have so many options to live an active lifestyle. One of the most popular activities is golf. WNC boasts dozens of golf courses to choose from, both public and private, for a wide range of skill levels and price points. We even have courses designed by legendary course architects Donald Ross and Tom Fazio. Golf courses in Asheville and Western North Carolina have attitude, as well as altitude, challenging golfers in the most gorgeous of settings.
There's nothing like playing a round of golf at high elevation to quicken the blood and make you feel alive. We've highlighted a few of the many local courses for you, below. Read more about living the golf lifestyle in our annual Welcome to Western North Carolina magazine.
Our favorite WNC golf courses
Omni Grove Park Inn
Condé Nast Traveler Magazine included the golf course at Omni Grove Park Inn Resort & Spa in its list of "Top 20 Southern U.S. Golf Resorts." Designed by Donald Ross in 1926, the 18-hole, par 70 course has an undulating front nine and a back nine that can be steep. Over the years, the resort has invested $2.5 million to restore the course in a manner that Ross would approve. Golf immortals who have enjoyed its challenge include Bobby Jones, Sam Snead, and Byron Nelson, as well as PGA stars like Doug Sanders, Gene Littler, Fuzzy Zoeller, and Chip Beck.
290 Macon Avenue, Asheville | (828) 629-7071 | groveparkinn.com
Asheville Municipal Golf Course
One of the oldest in WNC, Asheville Municipal Golf Course is an 18-hole, par 72 course that opened in 1927. The front nine of this Donald Ross-designed course measures 3,246 yards from the back tees, calling for a driver on every hole. The course is open daily to the public, weather permitting.
226 Fairway Drive, Asheville | (828) 298-1867 | ashevillegc.com
Biltmore Forest Country Club
The 18-hole golf course at Biltmore Forest Country Club went through a $2.5-million restoration, accompanied by an $8.5-million renovation of the clubhouse, just a few years ago. The upgrades brought both back to their 1922 splendor. Over the years, the course has attracted the likes of Bobby Jones, Bill Tilden, John D. Rockefeller, William Jennings Bryan, William Howard Taft, and Calvin Coolidge.
31 Stuyvesant Road, Asheville | (828) 274-1261 | biltmoreforestcc.com
Champion Hills
Ranked the Number 1 year-round course in Western North Carolina by Golf Digest magazine, Champion Hills is part of The Executive Golfer Collection. This exclusive collection gives members access to over 115 private luxury golf clubs around the country.
1 Hagen Drive, Hendersonville | (828) 696-1962 | championhills.com
Chestnut Mountain Golf Club
South of Asheville in Mills River is Chestnut Mountain Golf Club, whose golf course is open to the public. Established in 1976 and designed by Tom Jackson, the 18-hole course has dramatic elevation changes and winding fairways. 
88 Country Club Road, Mills River | (828) 891-1986 | chestnutmountaingolf.com
The Cliffs at Walnut Cove
Sporting the only golf course in WNC designed by Jack Nicklaus, The Cliffs at Walnut Cove is a par 71, 18-hole course that opened in tournament-ready conditions, according to the PGA Tour. Its greens, bent-grass fairways, clever bunkering, and elevation changes make it a challenge that calls for a sharp eye.
40 Club Village Way, Arden | (828) 687-7965 | cliffsliving.com
Country Club of Asheville
The Country Club of Asheville has an 18-hole, par 72 Donald Ross-designed course with a distinctive clubhouse that overlooks the Blue Ridge Mountains. It also boasts a state-of-the-art indoor tennis facility that has eight outdoor clay courts and a modern fitness facility. Also available are a 25-tee driving range and putting and chipping greens.
170 Windsor Road, Asheville | (828) 258-9183 | ccofasheville.com
Etowah Valley Golf & Resort
In Henderson County, Etowah Valley Golf Club has three 9-hole courses, all knitted together in one spectacular championship golf experience. Create the combination you want from six tee positions on a scenic mountain plateau 2,200 feet high.
470 Brickyard Road, Etowah | (828) 891-7022 | etowahvalley.com
Mount Mitchell Golf Club
Height matters at Mount Mitchell Golf Club, located near Burnsville. Lying at about 3,000 feet in elevation and bordered by peaks that exceed 6,000 feet, the course is relatively flat for its location. The South Toe River runs through it, a factor that must be taken into account for many shots.
11484 State Highway 80 S, Burnsville | (828) 675-5454 | mountmitchellgolf.com
Reems Creek Golf Club
In Weaverville, just north of Asheville, sits Reems Creek Golf Club, an 18-hole, par 72 course. Located in the beautiful Reems Creek Valley, it's surrounded by tall mountains through which the Blue Ridge Parkway passes. The 6,492-yard course was designed by Hawtree & Sons, a British firm that worked on Royal Birkdale, a course in the British Open rotation.
36 Pink Fox Cove Road, Weaverville | (800) 406-3936 | reemscreekgolf.com
Other top-notch golf courses in WNC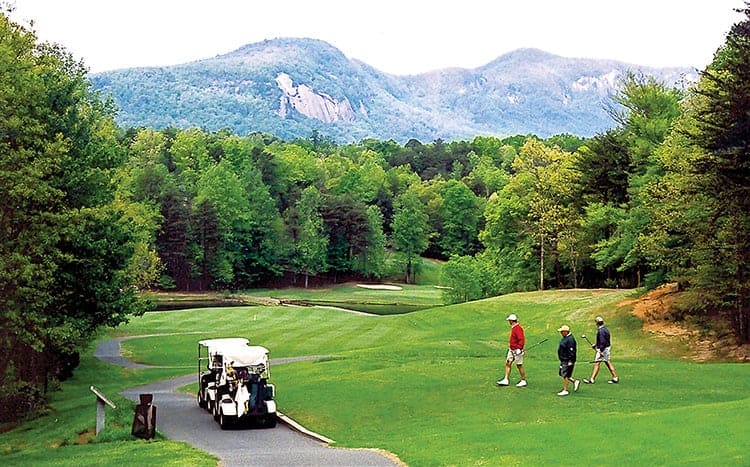 In the mountain region west of Asheville, there are a handful of top-notch public courses, including the Sequoyah National in Cherokee (designed by Robert Trent Jones II) and the historic 27 holes at Waynesville Inn Golf Resort & Spa. In the Cashiers area of Jackson County, the scenic High Hampton Inn has one of the most picturesque courses in the country.
Here is a complete list of the remaining golf courses in WNC:
Apple Valley Golf Course
112 Mountains Boulevard, Lake Lure | (828) 694-3043 | rumblingbald.com
Bald Mountain Golf Course
112 Mountains Boulevard, Lake Lure | (828) 694-3042 | rumblingbald.com
Read more about these two Rumbling Bald golf courses.
Black Mountain Golf Course
17 Ross Drive, Black Mountain | (828) 669-2710 | blackmountaingolf.org
Bright's Creek Golf Club
2222 Palmer Road, Mill Spring | (828) 694-4510 | brightscreekclub.com
Broadmoor Golf Links
101 French Broad Lane, Fletcher | (800) 238-5795 | broadmoorgolflinks.com
Chatuge Shores Golf Course
260 Golf Course Road, Hayesville | (828) 389-8940 | chatugeshoresgolf.com
Cleghorn Golf & Sports Club
183 Golf Circle, Rutherfordton | (828) 286-9117 | cleghorngolf.com
Connestee Falls Country Club
99 Overlook Clubhouse Drive, Brevard | (828) 885-2005 | connesteefallsgolf.com
Crowne Plaza Golf Course
1 Resort Drive, Asheville | (828) 253-5874 | ashevillecp.com
Cummings Cove Golf & Country Club
925 Lakeledge Court, Hendersonville | (828) 891-9412 | cummingscove.com
Dogwood Valley Golf Course
328 Dogwood Valley Road, Forest City | (828) 248-5222
Forest City Municipal Golf Course
211 Clay Street, Forest City | (828) 248-5222 | townofforestcity.com
Franklin Golf Course
255 First Fairway Drive, Franklin | (828) 524-2288 | franklingolfcourse.com
Grassy Creek Golf & Country Club
2360 Swiss Pine Lake Drive, Spruce Pine | (828) 765-7436 | grassycreek.com
Hendersonville Country Club
1860 Hebron Road, Hendersonville | (828) 693-6507 | hendersonvillecc.com
High Hampton Resort
1525 Highway 107 S, Cashiers | (800) 648-4252 | highhampton.com
Kenmure Golf Club
100 Clubhouse Drive, Flat Rock | (828) 697-1200 | kenmure.com
Lake Junaluska Golf Course
91 North Lake Shore Drive, Lake Junaluska | (828) 456-5777 | lakejunaluska.com
Laurel Ridge Country Club
49 Cupp Lane, Waynesville | (828) 456-0545 | laurelridgeexperience.com
Maggie Valley Club
1819 Country Club Drive, Maggie Valley | (828) 926-6013 | maggievalleyclub.com
Marion Lake Club
2030 NC HWY 126, Nebo | (828) 652-6232
Meadowbrook Golf Club
1211 Meadowbrook Road, Rutherfordton | (828) 863-2690
Mill Creek Golf Club
341 Country Club Drive, Franklin | (828) 524-4653 | golfmillcreek.com
Orchard Trace Golf Club
924 Sugarloaf Road, Hendersonville | (828) 685-1006
Red Fox Country Club
106 Club Road, Tryon | (828) 894-8251
Rutherfordton Golf Club
191 Twitty Ford Road, Rutherfordton | (828) 287-3406
Sapphire National Golf Club
50 Slicers Avenue, Sapphire | (828) 743-1174 | sapphirenational.com
Sequoyah National
79 Cahons Road, Whittier | (828) 497-3000 | sequoyahnational.com
Sherwood Forest Golf Club
101 Cardinal Road, Brevard | (828) 884-7825 | sherwoodforestnc.com
Smoky Mountain Country Club
1300 Conleys Creek Road, Whittier | (828) 497-7622 | carolinamountaingolf.com
Springdale Country Club
200 Golfwatch Road, Canton | (828) 235-8451 | springdalegolf.com
Waynesville Inn Golf Resort & Spa
176 Country Club Drive, Waynesville | (828) 452-4617 | waynesvilleinnand golf.com
Wolf Laurel Country Club
2607 Wolf Laurel Road, Mars Hill | (828) 680-9771 | wolflaurelcountryclub.com
Live the golf lifestyle in WNC
There are many different reasons why a golf lifestyle is so appealing. Living in golf communities provides all sorts of social and recreational opportunities. The well-manicured courses also supply a beautiful landscape from which to enjoy our mountains. Master-planned private communities like Hendersonville's Champion Hills, Flat Rock's Kenmure, or Arden's The Cliffs at Walnut Cove are often a first choice for many golfers.
Some homeowners still prefer traditional neighborhoods like the Grove Park community, which surrounds the The Country Club of Asheville and the Grove Park Inn's links. And if you want to enjoy big mountain views, there's hardly a better place than Waynesville's Maggie Valley Country Club.
Whether enjoying each day inside a master-planned community, or living in a traditional neighborhood that surrounds a course, WNC residents know they have many choices when it comes to spending time on the greens!
Are you ready to find your next golf home? Your Allen Tate/Beverly-Hanks REALTOR® is here to help you find the ideal golf course property that allows you to Live Abundantly in WNC. Find your dream WNC golf course home today.
Visited 1,010 times, 1 visit(s) today