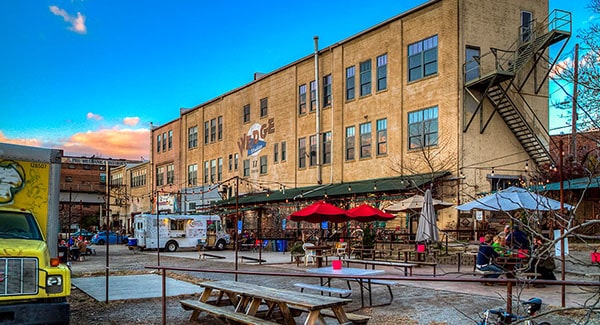 Last Updated on April 7, 2023
Asheville's River Arts District is a bright jewel of the Southern Appalachian art scene. This small but vibrant commercial district sits sandwiched between downtown and West Asheville. But in recent years, it has taken on a character of its own.
The RAD, as it's known, is an ever-expanding complex of art studios, galleries, and innovative spaces winding along the French Broad River. It's also becoming one of Asheville's culinary and entertainment hubs. And now, there are an increasing number of living spaces available to rent and own.
There are so many reasons to love living in the RAD. Here are just a few:
Art studios and galleries
Inspiration flows in the RAD! As you can imagine, the River Arts District is primarily known for its incredible array of working artists and open studios (Mark Bettis Studio & Gallery, Angela Alexander, Olga Dorenko, and more). More than 280 artists make their living here in mediums ranging from basketry and textiles to glass and metal to photography and paint. Seasonal organized studio strolls allow you to mingle with the artists or see them in action.
It's no wonder that the RAD is one of our favorite places to see local art. In addition to the abundance of studios and galleries, art is visible along every corridor, side wall, and grain silo. The whole district is covered in true and artistic "graffiti". Graffiti artists regularly leave their mark—sometimes to express social messages, sometimes creating value in the design. But like the district itself, it's everchanging. 
Creative coffee and cuisine
All of Asheville is known for its incredible restaurant scene. But there are few spots that boast both the concentration and range of eateries as the RAD (White Duck Taco, All Souls Pizza, Baby Bull, Vivian's, Fresh West Pizza). For presidential-quality barbecue, you can brave the lines of 12 Bones Smokehouse, a favorite of President Obama. Or for a taste of the mid-century Midwest, try the Smoky Park Supper Club. RosaBees offers tropical tastes through every season. The restaurant markets itself as a Polynesian restaurant with a pastry chef's flare.
You don't have to wait for dinner, though. The district is also home to a number of coffee shops and roasters (Ultra Coffeebar, Summit Coffee Co.). Since they came onto the scene a few years ago, PennyCup Coffee has quickly become a local favorite. The company sources the finest, sustainable, green coffee and roasts it to exacting standards. And Grind AVL is a Black-owned coffee shop and co-working space whose decor reflects local African American business owners from as far back as 1835.
Entertainment venues
Ready to celebrate your love of the RAD with song? The Grey Eagle is a nationally-renowned music venue that brings in top talent from around the region and across the country. The spot has bubbled up to become one of the acclaimed spots in the Southeast for live entertainment—including stand-up comedy. And you can hear the sounds of both professional musicians and sun-soaked, guitar-bearing locals as you sit outside by the river at Salvage Station. Formerly a salvage yard, it's now one of our favorite spots for live performances.
The Magnetic Theatre, at 375 Depot Street, is the only venue in the Southeast staging all-original works. But for on-screen performances, you can't go wrong at The Grail Moviehouse, now located at 17 Foundy Street. If sports is more your scene, Olde London Road is Asheville's premier (pun intended) English pub-style soccer bar.
Craft brews
Beer also flows through the RAD as abundantly as the French Broad itself. The centerpiece business of the RAD may be New Belgium Brewing Company, one of the largest craft beer companies in the country (based out of Fort Collins, Colorado). Their $140 million East Coast production facility occupies one of the most prominent spots on the river.
Brewing some of the finest craft beer in the region, Wedge Brewing Company is a long-time cornerstone of the district. It's an Asheville favorite for beer, food trucks, outdoor movies, and cornhole tournaments—so beloved, they opened a second location, also in the RAD. Another Asheville-grown brewery with presence in the RAD is Hi-Wire. Their hidden beer garden is their third location in Asheville. Anchoring the north end of the RAD are Zillicoah Beer Co. and Ginger's Revenge, a woman-owned ginger beer brewery.
Green space
In recent years, the city's Riverfront Redevelopment initiative has resulted in extensive greenway construction along both banks of the river. The French Broad River East Bank corridor is a 2.2-mile section with separate lanes for cars, bikes, and pedestrians. The French Broad River West Bank corridor has just recently opened, connecting the half-mile section of the greenway on New Belgium's property to the French Broad River Park. That section is now just over a mile long.
Nicknamed "The Edible Mile," the French Broad Greenway features information on the indigenous edible plants in the area and will soon have volunteer-led edible gardens. Even now, the path is perfect for recreation and commuting.
Live Abundantly in Asheville's River Arts District
Decades ago, the River Arts District may well have been called the River Industrial District. The area sits low along the French Broad River and train line, which made it a perfect location for industries ranging from iron works to chicken farming. These businesses faded over time, and beginning in 1985, artists began reopening the old industrial buildings as studios. You can still see the history of the district reflected in many of the building names, from 352 Depot Street Studios to The Hatchery.
The Landings brings together the best of Asheville living in the RAD. Designers and architects meticulously detailed every nook and corner to provide ample daylight—and a pinch of crafted creativity—in an open floor plan layout. Plus, graceful outdoor spaces enhance the panoramic views, maximize your river-front experience, and provide for a bright and airy home.
Does that sound like the perfect lifestyle for you? Find the best in Asheville, NC real estate here.
Visited 89 times, 1 visit(s) today