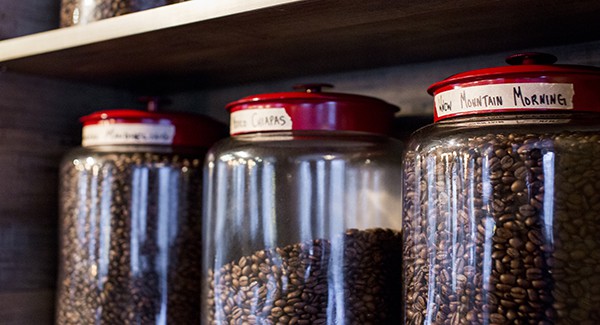 Last Updated on November 9, 2023
People are buzzing about local coffee roasters!

It's easy to make any day a brew-tiful day in Western North Carolina. Local coffee shops abound, and your cup tastes even better when you realize that the beans were prepared by independent roasters for maximum flavor.
Coffee is a great way to start your day. And it's also a great way to choose your home. While the daily personal benefits of living near a coffee shop are obvious, there are long-term financial benefits, as well. One well-cited study by Harvard Business School found that when an upscale coffee shop opens in your zip code, housing prices bump up 0.5% in a year. That's a little bump that can yield a high return when your home hits the market several years down the line!
Have you explored the many local and independent coffee roasters in our area? Here are a dozen we're sure you'll like a latte:

---
Skip Ahead! Find local coffee roasters near you:
---
5 Coffee roasters near Asheville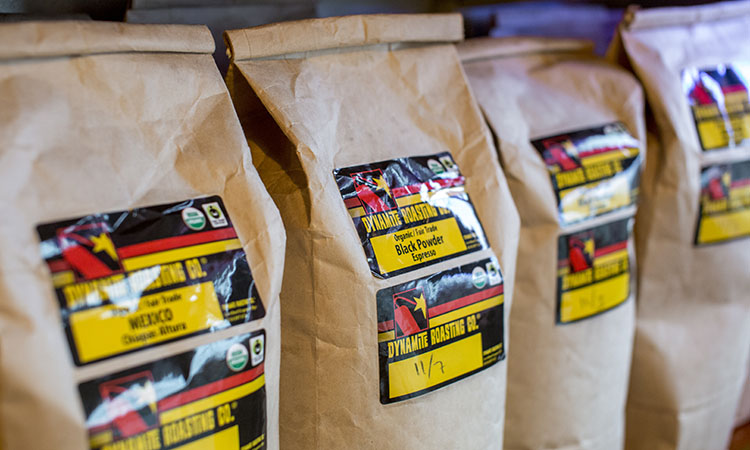 Dynamite Roasting Company
Dynamite Roasting Company brands itself as "the people's coffee"—by the people, of the people, for the people. Since day one, Dynamite has been committed to serving 100% certified organic and fair trade beans. The company works closely with their partners and growers to cultivate the best quality beans at the best price, ensure a fair and living wage for farmers, and bring those benefits back to WNC. Read more about Dynamite Roasting Company.

3198 US Hwy 70, Black Mountain | (828) 357-8555 | dynamiteroasting.com
High Noon Coffee Roasters
Coffee is an experience. And at High Noon Coffee Roasters, that experience starts far earlier than their namesake time of day. The owner fell in love with the combination of machinery and artistry that it takes to roast a great batch of beans. And they use that love to infuse every small batch they create. Led by their ears, eyes, and noses—there's no automated programming in High Noon's process. Instead, their artisanal approach to bean roasting ensures you'll enjoy the best cup of coffee you've ever had!

191 Charlotte Street #101, Asheville | (770) 851-7004 | highnooncoffee.com
Mountain City Coffee Roasters
Looking for fresh coffee at a great price? Mountain City is a micro-roaster of specialty coffee. They roast coffee the old-fashioned way—in a small, German-made Probat roaster one batch at a time. And they place their Fresh-RoastTM date right on the bag. Best of all, everyone gets their same low (wholesale) price on their order!

191 Charlotte Street #101, Asheville | (828) 407-9258 | mountaincity.com
PennyCup Coffee Co.
Since they came onto the scene a few years ago, PennyCup Coffee has quickly become a local favorite. The company sources the finest, sustainable, green coffee and roasts it to exacting standards. What results is an amazing cup of coffee. In addition to their own specialty drinks, PennyCup has developed custom roasts and blends for a number of local businesses.

362 Depot Street, Asheville
39 S Market Street, Asheville | (828) 505-3609
6 Beverly Road, Asheville | (828) 582-7980
857 Merrimon Avenue, Asheville | (828) 582-7980
Round Earth Roasters
Set in a quaint red house just south of Biltmore Village, this coffee shop serves house-roasted coffee and homemade organic pastries. Their sustainable beans are roasted onsite daily in small batches. Pick up your next bag in the store, online, or in the drive-through. Or stay and enjoy the low-brow-chill space of their backyard bar.

518 Hendersonville Road, Asheville | (828) 277-9227 | roundearthroasters.com
Are you into coffee? Find homes near your favorite local coffee roasters. Search homes for sale in Asheville.
2 Coffee roasters near Brevard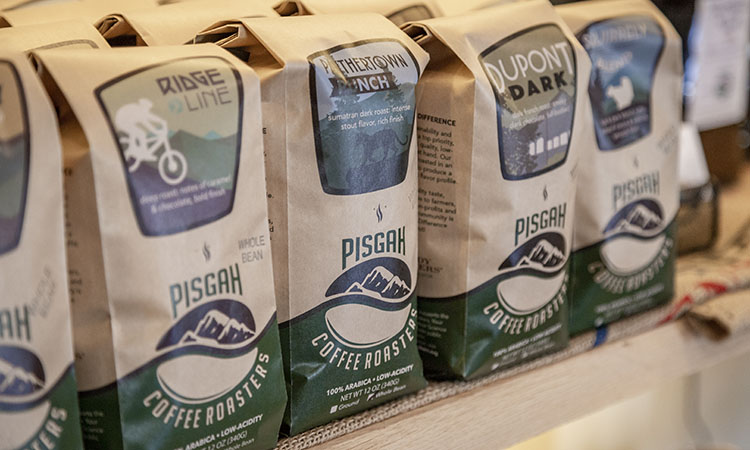 The Brown Bean Coffee Roasters
The Brown Bean is a small-batch coffee roaster specializing in Rainforest Alliance Certified coffees. The company was created by a small group of friendly people working to produce something to be proud of. Visit them at their retail location or inquire about wholesale roasting for coffee shops, restaurants, and markets across the region. 

57 W Main Street, Brevard | (828) 883-2233 | facebook.com/thebrownbean
Pisgah Coffee Roasters
Pisgah Coffee Roasters offers global coffee with a local flavor, right from the heart of the Blue Ridge Mountains. They draw inspiration from the natural wonders in the area, which is reflected in both their bag design and roast names. The minority-owned, family-operated company brings 45+ years of experience to every batch they roast.

6283 Asheville Highway, Pisgah Forest | (828) 309-0707 | pisgahroasters.com
Are you into coffee? Find homes near your favorite local coffee roasters. Search homes for sale in Brevard.
3 Coffee roasters near Hendersonville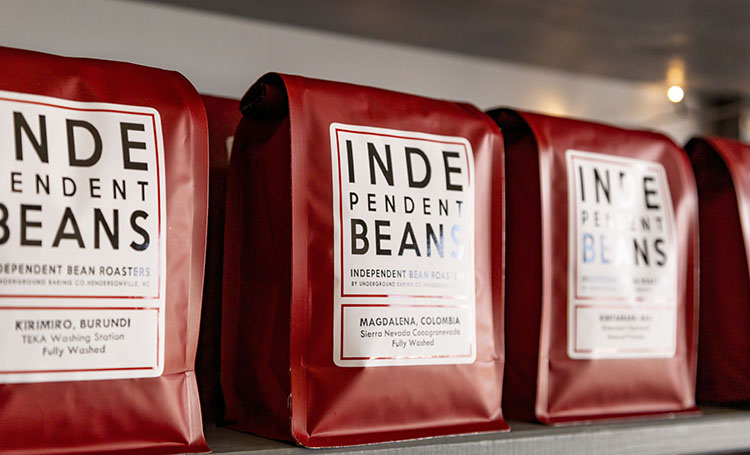 Independent Bean Roasters
Get comfy with a friend, sit back, and enjoy the delicious coffee at Independent Bean Roasters. Their single-origin, craft coffee is roasted in house and brought to you by the same great minds behind Underground Baking Company down the block. All of their whole bean coffees are available at the shop, as well as traditional espresso drinks, pour over and drip coffee, and many varieties of pastries.

346 7th Avenue E, Hendersonville | independentroasters.com
Openroad Coffee Roastery
Located in Polk County, Openroad specializes in high-altitude, mountain-grown beans from Honduras. Their coffee is also organically grown without chemical fertilizers and pesticides to provide you with meticulous quality from seed to fruit to roaster to cup. Visit them for fresh-brewed traditional coffees, frozen blended coffees, fresh handmade pastries, and more.

915 W Mills Street, Columbus | (828) 894-2021 | openroadcoffeeroastery.com
ShareWell Coffee Co. & Roastery
Purity. Quality. Integrity. ShareWell Coffee Co. is dedicated to giving you a new specialty coffee experience. Their roastery and espresso bar is located in the beautiful apple orchards of Hendersonville. From that location, they also offer community tastings, public coffee classes, private training, wholesale programs, and consulting.

2698c Greenville Highway, Flat Rock, | (828) 595-2085 | sharewellcoffee.com
Are you into coffee? Find homes near your favorite local coffee roasters. Search homes for sale in Hendersonville.
2 Coffee roasters near Waynesville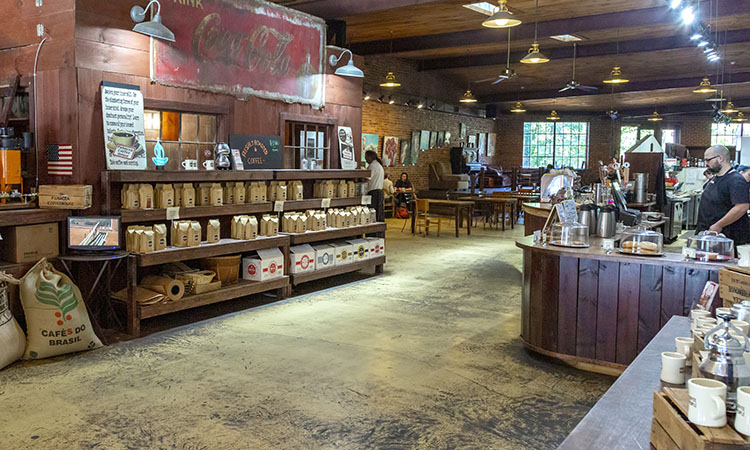 Panacea Coffee Co.
Since 2002, Panacea Coffee Co. has been a full-service espresso bar and coffee roastery that serves a wide variety of coffee and tea beverages. For late risers, breakfast is available all day. Choose a lox and bagel plate, smoked ham and swiss, or crunchy granola with steamed milk. Find your panacea and find a meeting place, a celebrating place, and a sharing place.

66 Commerce Street, Waynesville | (828) 452-6200 | panaceacoffee.com
Smoky Mountain Coffee Roasters
Smoky Mountain Coffee Roasters has been a Haywood County business since 1997. Find fresh brewed coffee by the cup, specialty coffee drinks, organic teas, fresh pastries, and delicious bagels topped with cream cheese, lox, or their famous pimento cheese! You can also buy organic, fair trade, and shade-grown roasted coffee beans by the pound!

444 Hazelwood Avenue, Waynesville | (828) 452-1212 | facebook.com/SmokyMountainRoasters
Are you into coffee? Find homes near your favorite local coffee roasters. Search homes for sale in Waynesville.
Who roasts your favorite coffee in WNC? Share your thoughts with us in the comments!
Visited 1,467 times, 6 visit(s) today