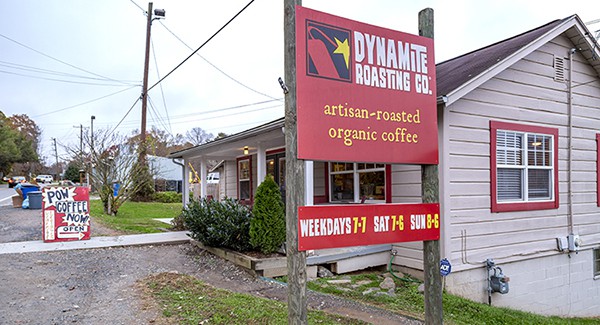 Last Updated on April 25, 2023
It's been nearly 10 years since Dynamite Roasting Company burst into Western North Carolina's specialty beverage market. At a time when craft breweries began multiplying across the area in earnest, the company's founders were called to pursue a different brew: specialty coffee. In the fall of 2008, Andy Gibbon and Josh Gibbs found a small batch roaster on eBay, loaded it in the back of a pickup, and drove back to town.
Wham! Pow! Fizz! Dynamite Roasting Company erupted onto the scene in Black Mountain, NC!
Dynamite Roasting Company is the people's coffee
But if specialty coffees bring to your mind visions of haughty baristas with ironic mustaches and unpronounceable daily specials, Dynamite is not for you. The company brands itself as "the people's coffee"—by the people, of the people, for the people. Since day one, Dynamite has been committed to serving 100% certified organic and fair trade beans. The duo works closely with their partners and growers to cultivate the best quality beans at the best price, ensure a fair and living wage for farmers, maintain as small a footprint as possible, and bring those benefits back to WNC.
Built on relationships
Their business is built on relationships, not just at the source, but at home, as well. They roast their beans in small batches in house, which allows them to concentrate on serving customers only the best, freshest brews. That business model has served them well. Dynamite is regularly voted among the best cups of coffee and roasters in the region.
But Gibbon and Gibbs aren't in it for the votes. The owners say their coffee bar is "where we connect with neighbors and where they connect with each other."
"One of my favorite parts about being a small business in Black Mountain is that we get to see all our old friends frequently," says Gibbs. "We have a lot of great customers, just a lot of great folks that we know who support us. But it's also a destination where a lot of people travel through. We see a lot of new faces all the time. It's really exciting to turn new people on to organic coffee and to be able to bring them into our environment and let them see what we have to offer—as a town and as a coffee shop and as a local business."
Based in Black Mountain, NC
It's no coincidence, then, that Dynamite is based in Black Mountain, the "front porch of Western North Carolina". The historic small town prides itself on its sense of community and friendly atmosphere. Black Mountain's quaint commercial center is also noted for its cultural and recreational offerings, serving as home to many eclectic, locally-owned shops and unique farm-to-table restaurants.
"I think a lot of people come to visit us in Black Mountain because of the cute downtown," says Gibbon. "There's lots of great shops, lots of window shopping—all easily walkable right downtown. The natural beauty, of course, is a big draw in this town, but also in the whole region. Mountains are easily accessible. Lots of culture. The music scene is very strong. The restaurants are great, even for a small town like Black Mountain. We've got everything you need in this small, little town."
Black Mountain's proximity, both to the regional hub of Asheville and within the region, makes it an ideal spot for cultural growth and entrepreneurial success, as Dynamite has found.
"There are so many people who are drawn here, not only for the culture, but to create the culture," says Gibbs. "And so, there are a lot of artisans at work all the time. We really enjoy working with other companies, being able to partner with them, whether we are serving our coffee in their shop or their restaurant, or whether we're able to work with a soap company or a chocolate company. To be able to combine our products, it's really nice, because the local economy here is really strong. And it's a very supportive environment for everyone."
Start your day with a bang!
In addition to their full-service cafe and retail shop in Black Mountain, you can find Dynamite Coffee at dozens of other local retailers. Beans and other essential merchandise can also be purchased through their online store.
Start your day with a burst of caffeine…and community! Connect with Dynamite Roasting Company on Facebook or online at dynamiteroasting.com.
See why Dynamite Roasting has made Black Mountain their home of choice for nearly 10 years:
Visited 60 times, 1 visit(s) today