Last Updated on April 19, 2023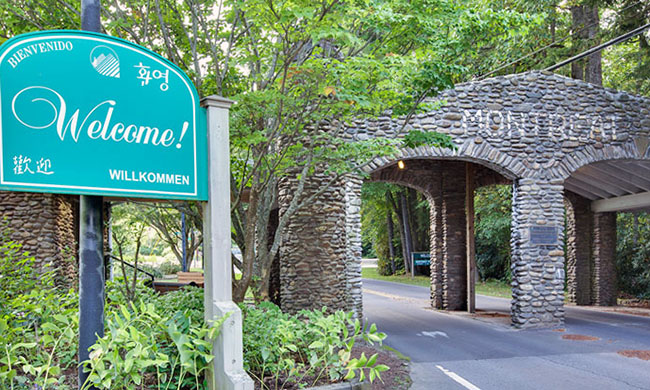 Are you looking for a retreat from your hectic life? So were the weary missionaries who first came to a secluded cove in the Blue Ridge Mountains to rejuvenate their souls. In the early 20th century, those missionaries settled just 20 minutes from the rapidly growing city of Asheville and developed the community of Montreat.

Even at only 2.8 square miles in size, Montreat's identity was woven into its very fabric. The environmentally conscious community is rich in history, spirituality, and connections to nature. What it lacks is commercial development. Even today, the town offers no traffic lights and no home postal delivery.

Today, Montreat has three distinct features that shape its character. Learn more about what makes Montreat, NC a unique mountain community:

Montreat Conference Center
Each year, 30,000 guests of all ages come through the Montreat Conference Center for religious conferences, recreation, education, and renewal. The center's facilities include a beautiful stone auditorium that seats 2,000, a craft center, child care center, children's park, and abundant hiking trails. The center's Assembly Inn accommodates up to 200 guests, while a variety of winterized lodges offer a variety of conveniences. The Montreat Family Campground offers an additional 28 campsites nestled along Graybeard Stream. A Nature Center and Wilderness School provide excellent opportunities to take the classroom outside.
Montreat College
Montreat College is a private Christian liberal arts college offering traditional undergraduate, adult learning, and graduate programs. The college attracts many special events to Montreat, including community arts festivals, community trips abroad, plays, symphonies, and sports programs. Most of the college's facilities are housed in historic stone and mica-laden buildings constructed in the early 20th century. The campus library is open to all Montreaters. The Chapel of the Prodigal is located on the college grounds and is open to the public. The chapel features a fresco entitled "The Return of the Prodigal" from internationally renowned fresco artist Ben Long.
Montreat's Natural Beauty
How would you feel if you opened up your calendar and the only appointments were fishing at the lake, hiking by the creek, playing with children on the community playground, or making s'mores around the campfire at night? Reconnecting with nature is easy in the town of Montreat. Multiple trails wind through thousands of acres of wilderness surrounding the town. Discover what the Blue Ridge has to offer along creeks, across rustic bridges, and through preserved woodland areas.
What's your favorite feature about Montreat, NC? Share your story in the comments:
Visited 47 times, 1 visit(s) today