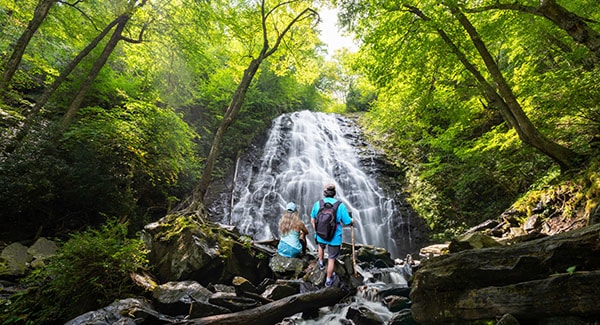 Last Updated on September 12, 2023
Do you hike Western North Carolina's scenic mountain and valley trails for the in-the-moment experience? Or for the end result?
Why not both?
Allen Tate/Beverly-Hanks is an Official Sponsor of NC Year of the Trail, a year-long initiative promoting trails throughout our state. Our local trails offer great recreation, and many lead to some pretty great payoffs, including breathtaking waterfalls, refreshing breweries, and more.
Sometimes in life, it's about the journey. Sometimes it's about the destination. But a trail is most exciting when it's about both. Here are 17 WNC trails that lead to exciting destinations.
---
Skip ahead! Take trails near you that lead to great perks:
---
5 Destination trails near Asheville, NC
Biltmore River Loop
The legendary Biltmore Estate has roughly 22 miles of hiking, biking, and equestrian trails on their 8,000 acres of mountain landscape. The popular River Loop trail runs from the house, downhill past the gardens and bass pond, and along the French Broad River before reaching Antler Hill Village. The most accessible section of the trail is around Antler Hill Village—a great destination for dining and shopping. Stop in at Cedric's Tavern, a cozy, wood-lined pub and brewery serving bar fare with a global twist. Click for more info.
Length: 6.9 miles | Difficulty: Moderate
French Broad River Greenway (West Loop)
Linking three of Asheville's city parks along one of the oldest rivers in the world, the French Broad River Greenway also winds through residential and commercial districts. With so many interesting destinations easily accessible, this is a popular trail for road biking, running, and walking. Begin at Carrier Park—formerly Asheville Motor Speedway and now a velodrome bicycle track—and head east along the river. Cross the river and head north along French Broad River Greenway East into the heart of Asheville's bustling River Arts District for even more exciting adventures.  Click for more info. 
Length: 3.1 miles | Difficulty: Easy
Highland Brewing Trail
There's nothing secret about the destination of this cheery trail! Start or end your journey at the steps of Highland Brewing's flagship location in east Asheville. Then follow the wooded path through sections with an old railroad and along Gashes Creek. While you're making the loop, take note of the campus' disc golf course, featuring three putting baskets and 18 holes (including a challenging back 9). Click for more info.
Length: 0.8 miles | Difficulty: Easy
Montreat Gate Trail to Lake Susan
This relatively easy mountain jaunt has a few steep sections, but generally offers a relatively comfortable climb up from Montreat Memorial Garden to Lake Susan on the Montreat College campus. The straight-shot trail is easy to follow, especially as it is marked by blue blazes on the trees. Much of the route runs along Flat Creek, parallel to Assembly Drive. Near the end of the trail, you'll walk by Montreat Nature Center before reaching the lake. Lake Susan offers an additional path around the lake, making it easy to loop around before taking the out-and-back route back. Click for more info.
Length: 1.9 miles | Difficulty: Easy
Vance Birthplace Historic Site
Learn about local history while you enjoy this easy, flat loop off of Reems Creek Road in Weaverville. The trail circles the Zebulon B. Vance Birthplace, a state historic site and birthplace of Revolutionary War-era Governor Zebulon Baird Vance (1830-1894). The site lets visitors explore daily life on an early 1800s mountain plantation. In addition to the trail, the site features seven historic and reconstructed buildings—including a 1790s slave dwelling—as well as a visitor center with interactive exhibits. Vance Cemetery is nearby. Click for more info.
Length: 0.2 miles | Difficulty: Easy
5 Destination trails near Brevard, NC
Brevard Bike Trail
Adventures come in many forms. If you're looking for an accessible (paved) trail close to town, this one's for you. The Brevard Bike Trail starts at Lowe's and ends at Brevard Middle School, taking hikers, bikers, birders, and dog walkers along Brevard Greenway. Behind Transylvania Regional Hospital, you reach a literal fork in the road. A right turn will take you to Oskar Blues Brewery, the largest brewery in Transylvania County. Their outdoor patio bar, the Tasty Weasel taproom, is open daily. And the Oskar Blues CHUBwagon on-site food truck serves CHUBurgers and fries that are well worth the journey. Click for more info.
Length: 3.8 miles | Difficulty: Easy
Fryingpan Mountain Lookout Tower
Out of the frying pan and into the fire station! This short, out-and-back hike leads to the historic 70-foot Fryingpan Mountain lookout tower. From the Blue Ridge Parkway (milepost 408.5), follow the old gravel road lined with wildflowers and berries. (You could also take a longer six-mile route from the head of the Mt. Pisgah trail.) You don't have to climb high—Spectacular views of nearby Mount Pisgah are available from the tower's lower levels. The trail climbs 357 feet in elevation, but abundant wildflowers make for pleasant hike to the top, any time of the year. Click for more info.
Length: 1.5 miles | Difficulty: Moderate
Hooker Falls Trail
From hiking to mountain biking to over 100 miles of multi-use trails, DuPont State Forest has enough to keep any outdoor enthusiast active. And waterfall lovers always have something new to discover. Hooker Falls is the fourth waterfall on Little River after Bridal Veil Falls, High Falls, then Triple Falls. But it's the only waterfall in the forest that is marked safe for swimming—and it certainly does not disappoint. Because the waterfall feeds into Cascade Lake, there are no dangerous currents or downstream hazards. For a bonus adventure, take a short spur half way along the trail to Hooker-Moore Cemetery. Click for more info.
Length: 0.8 miles | Difficulty: Moderate
Looking Glass Rock Trail
Looking Glass Rock is one of the largest masses of granite in the eastern United States. It gets its name from the shimmer and sheen of its surface after a rain. A popular hike takes you to the summit of the iconic pluton monolith, from which it's popular to rock climb or enjoy panoramic views of Transylvania County. Just a few miles from this overlook, locals and tourists alike enjoy the cool waters of Looking Glass Falls and Sliding Rock. From Looking Glass Rock, you're also just a short drive to charming Brevard or the Cradle of Forestry, a 6,500-acre heritage site that marks where forest conservation was born in America. Click for more info.
Length: 5.7 miles | Difficulty: Moderate to Strenuous
Long Branch Cemetery Loop
Whether you're a hiker or mountain biker, you'll enjoy this multi-use trail that travels through the hillsides and past an old cemetery that belonged to homesteaders in the area. Long Branch is a tributary of the Davidson River that runs through Pisgah National Forest. The trailhead for this loop is conveniently located off Davidson River Road and follows Long Branch for a good portion of the route. Wear sturdy shoes, as there are a couple creek crossings. It is possible to make this a true loop, or continue on to connect to other trails throughout the area. Click for more info.
Length: 3.8 miles | Difficulty: Moderate
4 Destination trails near Hendersonville, NC
Big Glassy Trail to Little Glassy Mountain Trail Loop
It's easy to spend a whole weekend in Flat Rock touring the grounds of the village's largest attraction: the Carl Sandburg Home National Historic Site. Built in 1838, this 264-acre working farm is the former estate of poet and author Carl Sandburg and his wife, Lilian "Paula" Sandburg, who raised prize-winning goats there. Five miles of hiking trails meander through the estate, including this loop trail to the top of Glassy Mountain. Carry a picnic lunch to the summit and enjoy the views across Tranquility Valley. Click for more info.
Length: 3.4 miles | Difficulty: Moderate
Outcroppings Trail to Devil's Head and Chimney Rock
Wind your way up the road through Chimney Rock Park, and at its terminus you'll find the trailhead for Outcroppings Trail. This half-mile trail quickly gains elevation and connects to Devil's Head Trail before you reach the park's namesake monolith. Short spurs take you to various camera-worthy outlooks, including Pulpit Rock and Devil's Head. Both Devil's Head and Chimney Rock require many stairs leading to the top. (Chimney Rock also offers elevator access.) Click for more info.
Length: 0.5 miles | Difficulty: Moderate
Pearson's Falls
One short but exquisitely beautiful trailhead adventure near Saluda leads you to Pearson's Falls. During the spring and summer, you'll practically feel like Snow White among the native flora and fauna. Throughout the year, you can see plants of remarkable diversity on the relatively easy, out-and-back trail, including over 300 varieties of ferns, flowering plants, algae, and mosses. Pearson's Falls and Glen is a wildlife and bird sanctuary maintained by The Tryon Garden Club. There is a modest admission fee. Click for more info.
Length: 0.7 miles | Difficulty: Easy
Sierra Nevada Brewery
The regional craft beverage powerhouse Sierra Nevada offers a number of brewery tours for beer novices and aficionados. The specialty "Trip in the Woods" hiking tour features a 1.5-mile guided nature walk along the brewery's grounds. Learn about the French Broad River, native plants and trees, and how Sierra Nevada harnesses and protects these resources through their brewing process. After an exhilarating hike, stay to enjoy their award-winning beers. Reservations required. Click for more info.
Length: 1.5 miles | Difficulty: Moderate
3 Destination trails near Waynesville, NC
Barnett Knob Firetower
Hike up this fire road near Cherokee, NC for lovely views under the natural canopy. Because of the trees, this firetower hike is not the best one in the mountains for its views (see Fryingpan Mountain above for another option). Visiting during colder months can offer better views. However, the firetower and cabin make for an interesting destination and the path offers a steady uphill climb. The top platform of the tower is inaccessible to hikers. Click for more info.
Length: 1.3 miles | Difficulty: Moderate
Ferguson Cabin Trail Loop
Among the countless trails in Great Smoky Mountains National Park, this popular 3.5-mile loop trail is open year round, making it a great trail to visit throughout the year. Located along the trail, Ferguson Cabin is noted for being the highest elevation historic cabin in the Smoky Mountains. The back end of the trail intersects with McKee Branch Trail and Cataloochee Divide Trail, offering further exploration. Because it is a popular horseback riding trail, no dogs are allowed. A paid parking tag is required within GSMNP. Click for more info.
Length: 3.5 miles | Difficulty: Easy
Woodfin Falls
There are several ways to access the scenic Woodfin Cascades, including via the Mountains-to-Sea Trail. But this is the simplest and most direct route. From the Blue Ridge Parkway near Sylva, take the turnoff for the Woodfin Cascades Overlook. Follow the trail across the street to the top of the cascades (the bottom can be viewed from the overlook). The trail gains 52 feet in elevation in under a quarter mile, making it moderately challenging. But many hikers can complete the route in under 10 minutes. Click for more info.
Length: 0.2 miles | Difficulty: Moderate
What is NC Year of the Trail?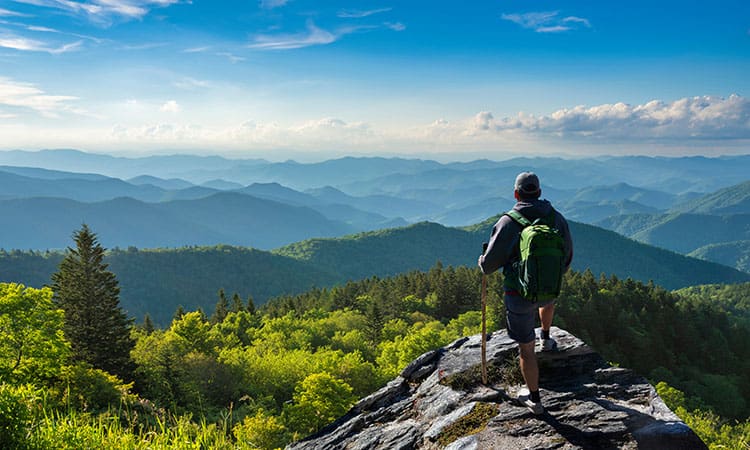 Allen Tate/Beverly-Hanks is proud to be an Official Sponsor of NC Year of the Trail! This year-long endeavor celebrates our state's vast network of trails, greenways, and blueways—and is the largest statewide celebration of trails and outdoor recreation in North Carolina history!
North Carolina is the Great Trails State, where each of North Carolina's 100 counties should be able to enjoy the proven benefits of trails, including health, safety, economic development, tourism, transportation, and environment. Trails are the backbone of our state's growing $28 billion outdoor recreation economy.
No matter your age, background, or abilities, there is a trail out there for you! We hope you're inspired by today's post on trails with interesting destinations across our Western North Carolina communities. Keep checking back; we're covering many topics this year related to NC Year of the Trail, including:
What are your favorite interesting destinations to reach from WNC trails? Let us know in the comments:
Visited 2,165 times, 1 visit(s) today