Last Updated on March 17, 2023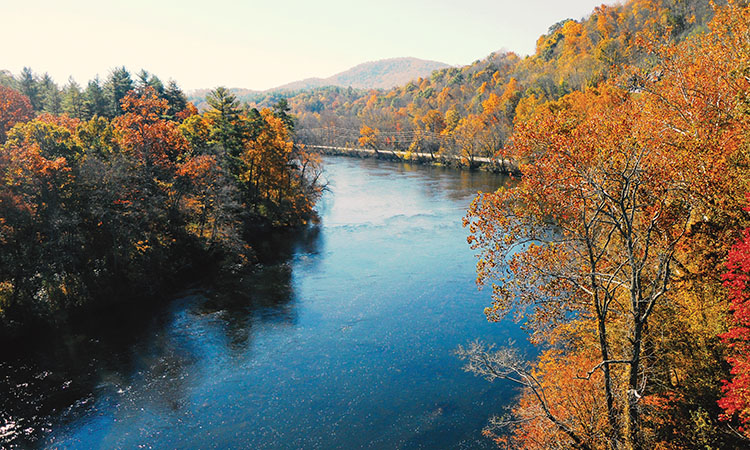 "Water is a living thing; it is life itself. In it life began."
—Wilma Dykeman, The French Broad
---
What is the Wilma Dykeman RiverWay Corridor?
The Wilma Dykeman RiverWay Corridor connects 17 miles of existing and projected greenway systems along the French Broad and Swannanoa Rivers, from Biltmore Village north to the edge of Woodfin. The project was organized by RiverLink, an organization that promotes the French Broad Watershed as a place to live, learn, work, and play.
According to RiverLink, the RiverWay Plan builds and expands on 1989's Riverfront Plan, which won the American Planning Association's Large Scale Planning Award. In addition to providing environmental benefits and recreational and wellness opportunities, the Wilma Dykeman RiverWay Plan is also already revitalizing the riverfront by encouraging economic development and job creation.
---
What areas and parks are included in the Wilma Dykeman RiverWay Plan?
The Wilma Dykeman RiverWay Plan incorporates several existing and upcoming parks and greenways:
French Broad River Park and Greenway System
Meandering through West Asheville, the French Broad Greenway System begins at Hominy Park and follows the river to French Broad River and Dog Park. It is then projected to follow the river north to Craven Street. The French Broad River Park features plenty of green space with old trees, a wildflower garden, and recreation amenities. The fenced dog park allows you space to exercise and socialize your best friend.
Carrier Park
Carrier Park is built at the location of a former local racetrack. Today, the site features a multi-use sports field, volleyball courts, a giant playground, a roller-hockey rink, and velodrome for cycling. People interested in less structured recreation opportunities can enjoy the park's picnic pavilion, river overlooks, and wetland interpretive trails.
Karen Cragnolin Park
Currently divided by a former junkyard, the upcoming five-acre Karen Cragnolin Park will connect French Broad River Park with Carrier Park. The park will be named after Karen Cragnolin, the former executive director of RiverLink, who helped create Carrier Park and French Broad River Park. This new park will feature places for recreation, education, and enjoying the natural beauty of the French Broad River. A pollinator garden is also slated, which will attract butterflies and bees to native flowers. Karen Cragnolin Park is scheduled to open in 2019.
---
Who was Wilma Dykeman?
Wilma Dykeman (1920–2006) was an Asheville native and author of 18 books of fiction and nonfiction. Her first book, The French Broad (1955), is credited with making the first full-fledged economic argument against water pollution (seven years before Rachel Carson shifted the public's consciousness about the environmental movement with her book, Silent Spring).
The French Broad River flows north from Transylvania County into Tennessee and is said to be the third oldest river in the world. For the first half of the twentieth century, it was also where people would toss old car tires or straight pipe industrial runoff. Dykeman's book spearheaded renewed local interest in the river. In the past few decades, scheduled clean ups, increased regulations, and the additions of greenways, hiking trails, and bike paths have restored much of the French Broad River.
In addition to having the local riverway plan named in her honor, Dykeman was the recipient of a Guggenheim Fellowship, National Endowment for the Humanities Senior Fellowship, and the Tennessee Conservation Writer of the Year Award.
---
What do you think about the Wilma Dykeman RiverWay Plan?
The French Broad River has long served as an essential artery for business, community, and conservation. What do you think about Asheville's efforts to revitalize the riverfront?
Share your thoughts with us in the comments!
All real estate is local. In order to make confident real estate decisions, we believe it is important for you to have timely and neighborhood-specific information. If you would like more information about communities near local parks, our experts at Allen Tate/Beverly-Hanks are here to help. Contact us today to speak with an Allen Tate/Beverly-Hanks real estate agent about buying homes and land in Western North Carolina.
Visited 72 times, 1 visit(s) today