Last Updated on March 29, 2023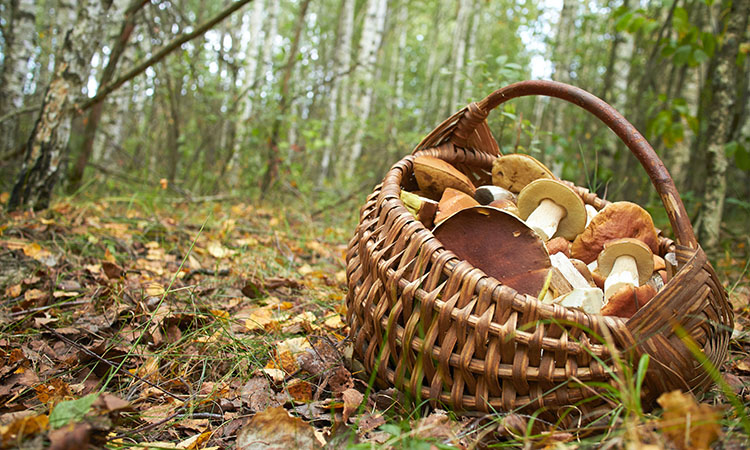 Professional gourmets and locally conscious eaters, alike, advocate for the health, economic, and culinary benefits of farm-to-table dining. In Western North Carolina, our abundant natural resources offer many opportunities to bring farm-fresh produce into our homes and restaurants. However, many locals are looking beyond the farm to enhance the quality of their dining experience and their quality of life.

Forest-to-table dining is gaining ground!

It's no wonder that people are taking to the woods to round out their home menus! The four-season temperate climate of the Blue Ridge Mountains, along with the area's broad range of elevations, make our region one of the most biodiverse in the world. In addition to hundreds of amphibian, reptile, bird, and mammal species, our mountains are home to an estimated 4,000 species of plants, 2,000 species of fungi, and 500 species of mosses and lichens—many of which offered sustenance to native populations and early settlers.

Are you interested in learning more about how to live off the land? Mushrooms offer a great source of protein and dietary fiber, making them a great addition to any meal. Here's our beginner's guide to mushroom foraging in WNC:

What is mushroom foraging?
Mushrooming, mushroom foraging, and mushroom hunting are just a few terms to describe the activity of gathering mushrooms in the wild, primarily for food. Edible mushrooms have been collected from their natural habitats by natives around the world for millennia. Today, mushroom foraging is still widely practiced throughout northern and eastern Europe, East Asia, India, and temperate Canada and the United States.

What mushrooms grow in WNC?
Western North Carolina is a haven for mycophiles (mushroom lovers)! For one, our mountains offer a range of temperate climates and elevations, old growth forests, and protected lands that facilitate hundreds of mushroom species. In addition, many local mushrooms don't have dangerous "look alikes," making it easier to be confident that what you're foraging is, in fact, safe to eat.

Among the more sought after edible mushrooms in Western North Carolina are:
Chanterelle
Chicken of the Woods
Lactarius
Lion's Mane & Bear's Head (AKA Hedgehog fungus)
Maitake
Morels
Oyster
Reishi
Shaggy mane
Turkey Tail
Where can I go on a mushroom tour?
Knowledge is power when it comes to mushroom hunting! Even though there are far more safe mushrooms in our forests than not, one bad experience is too many. Luckily, the Asheville area is home to experts who are excited to share their knowledge about the fungus among us. Here are just a few Asheville mushroom tours:
Deep Woods Mushrooms
Have you ever wondered where mushrooms come from? Walk the Deep Woods Mushroom Farm to see the many stages of mushroom cultivation, from log preparation to fruiting, picking, and packing for market. Or take a three-hour walkabout on how to positively identify choice edible mushrooms, as well as the ones that are better viewed than stewed.
$25 for Farm Tours; $100 for Wild Tours ($150/couple). | deepwoodsmushrooms.net
No Taste Like Home
Ready to go wild? No Taste Like Home's three-hour Foraging Tour shows you how easy it is to enjoy "find dining." After foraging for wild foods (mushrooms and more) you can enjoy a cooking demo and tasting of your finds from one of Asheville's local restaurants. Suitable for all ages and abilities.
$75 for Adults, $30 for Children. | notastelikehome.org

How can I get more involved with local mushrooms?
In addition to tours, area mushroom experts offer classes, grow kits, tinctures, and other resources related to local mushroom hunting and cultivation. The Asheville Mushroom Club is a great source of knowledge, from guest speakers to forays into the wild to tasty recipes. Take your first steps toward a forage-to-table lifestyle!
What's your favorite kind of local mushroom? Share with us in the comments!
Visited 1,675 times, 1 visit(s) today