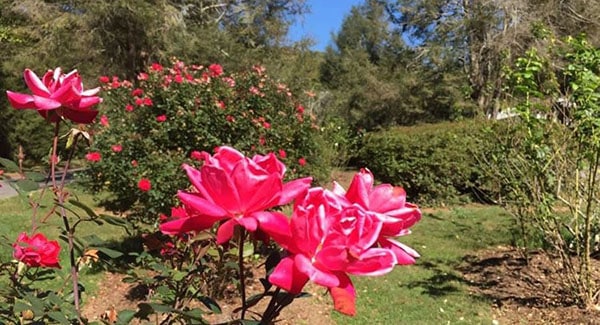 Last Updated on June 15, 2023
In Western North Carolina, we're fortunate to live among some of the richest, most biodiverse wilderness areas in the world. And luckily, greenspace isn't something you have to drive to encounter. There are myriad parks, greenways, and other well maintained outdoor spaces everywhere you look.
In fact, the Asheville Parks and Recreation department maintains five large city and 34 neighborhood parks, as well as a wide selection of other greenspaces and outdoor facilities. Anyone who's lived here for even a short time has likely visited Pack Square and Pritchard parks downtown, or Carrier Park along the French Broad River. But how many lifelong residents can say they've enjoyed every park the city has to offer?
Here are five charming public parks in Asheville, NC that you've probably driven by and overlooked, but never visited.
Griffing Boulevard Rose Garden
Tucked behind the Omni Grove Park Inn are hundreds of rose bushes occupying a little less than an acre of neighborhood land. The rose garden dates back to the first half of the 1900s when it was a vista of blooms. Roses are still part of the landscape, combined with a variety of trees and shrubs.
1719 Griffing Blvd, Asheville
Malvern Hills Park
Malvern Hills locals can enjoy proximity to the Hominy Creek Greenway and this wonderful community park. In addition to being wheelchair accessible, park goers appreciate its tennis courts, playground, and paved walking trails along a bubbling creek. A seasonal swimming pool is also a big draw.
75 Rumbough Place, Asheville
Murray Hill Park
Next time you're walking through the River Arts District, take note of one of Asheville's newest parks. Murray Hill Park is located in the South French Broad neighborhood behind the businesses on Depot Street. This seven-acre park features a loop walking trail, as well as a pavilion with benches, grills, and picnic tables.
123 Bartlett Street, Asheville
Ray L. Kisiah Park
The part of town south of I-40 has far fewer city-maintained parks and facilities than the northern end of town. But they make up for it at Ray L. Kisiah Park. The park consists of four lighted ballfields and a concession with restrooms. 2020 improvements to the park include new dugouts and new outfield and backstop fencing, as well as added bullpens and batting cages.
70 W Chapel Road, Biltmore Forest
Riverbend Park
If you've been to the Walmart in east Asheville, you've parked your car alongside this park. The Swannanoa River snakes along two sides of the Walmart parking lot. Between the river and the lot is Riverbend Park, which runs at a nearly perfect right angle to match the bend in the river. The small park is big enough to house the Swannanoa River Greenway, Dog Walk Park, and Swannanoa Bamboo Forest.
100 Bleachery Boulevard, Asheville
Live near your favorite Asheville public parks
Throughout the city, Asheville's neighborhoods are interconnected, not just by our mountains and rivers, but also by our local public parks and greenspaces. While all parks have common elements, Asheville's are as unique as the neighborhoods in which they are found. In fact, several public parks in Asheville have become destinations for the larger area community.
Does that sound like the perfect lifestyle for you? Find your dream home near an Asheville park now!
Photo of Griffing Boulevard Rose Garden via The City of Asheville
Visited 781 times, 1 visit(s) today