Last Updated on April 7, 2023
Of the five incorporated towns in Henderson County, we daresay the Village of Flat Rock may be the most charming. Home to around 3,300 residents, this historic community is rich with forested landscapes and scenic vistas. Many people come to enjoy Flat Rock's history, tradition, and beauty—and many choose to stay!
Whether you're vacationing or stay-cationing, Flat Rock offers residents and visitors alike many opportunities to Live Abundantly in WNC. Here's a quick itinerary for a colorful weekend in Flat Rock, NC.
Friday evening in Flat Rock
Check inn at Highland Lake
Whether you're on a business trip, in a wedding party, or simply enjoying a weekend away, Highland Lake Inn & Resort offers "another good reason to gather." The inn sits atop 26 scenic acres on a private 30-acre lake and offers a variety of authentic accommodations that are sure to please. Fish or boat on the lake, explore surrounding nature trails, or call for an in-room massage. The resort traces its history back to 1789, and operated as a grist mill, preparatory school for books, military and naval academy, playhouse, and summer camp before becoming the Highland Lake Inn and Conference Center in 1985.
Enjoy dinner…
Conveniently located on Highland Lake Inn & Resort property, Season's restaurant offers a delectable culinary experience with a seasonal craft cocktail selection and a wine list that is second to none. For more than 20 years, the restaurant has been a dining destination for delicious twists on familiar favorites, made with fresh, sustainably-sourced ingredients. Enjoy a refined dinner menu with entrees ranging from Roasted Cornish Game Hen or Dry-Aged Duroc Pork Chop to Seared Jumbo Sea Scallops with a mushroom-miso risotto. Season's has a long-standing commitment to sustainability.
…and a show!
There are many unique entertainment opportunities in Flat Rock. But none generates as much devotion as Flat Rock Playhouse, North Carolina's state theatre. That makes it the best place to kick off a weekend in Flat Rock. Located in the heart of town, this community touchstone stages Broadway-quality musicals, comedies, dramas, and shows for young audiences. The Playhouse has gained national recognition for its professional performing company and theatre training programs. Their season runs year round, with more than 100,000 patrons attending shows each year.
Saturday in Flat Rock
Sit down to tea
Make your reservations early for a late breakfast tea at A Southern Cup Fine Teas. This boutique tearoom offers a wide variety of quality loose leaf teas and infusions. Enjoy classic Cream Tea services with scones, fresh fruit, clotted cream, lemon curd, and jam. It is sure to be a service to remember! For a richer experience, try their Sugarbaker's Southern Belle Afternoon Tea. This reservation-only service is served with assorted tea sandwiches; scones; sweet butter, lemon curd, and jam; assorted desserts; and your choice of tea.
Live like a poet
It's easy to spend a whole day touring the grounds of one of Flat Rock's biggest attractions: the Carl Sandburg Home National Historic Site. Built in 1838, this 264-acre working farm is the former estate of poet and author Carl Sandburg and his wife, Lilian "Paula" Sandburg. Sandburg spent the last 22 years of his life on the estate, known as Connemara, and wrote more than a third of his works here. A collection of Sandburg's 10,000 books, papers, and notes are on display, and five miles of hiking trails meander through the estate. Descendants of Paula's prize-winning goats still live on the farm.
Zip through the canopy
Are you ready for America's steepest and fastest zipline canopy tour? Then, head a few miles south from Flat Rock to Saluda, NC. The Gorge begins your experience perched on the rim of the Green River Gorge and plunges into untouched wilderness. Descend an unprecedented 1,100 feet in elevation, zipping from treetop to treetop on 11 ziplines. Traverse a sky bridge and descend three huge rappels, all through stunning old-growth forest overlooking 18,000 acres of protected gamelands.
Indulge your taste buds
There are more than half a dozen Mexican restaurants and eateries within a mile of the intersection of Spartanburg Highway and Upward Road. This area of town is making a name for itself based on authentic and delicious tacos, tortas, burritos, and more. Food trucks like La Michoacana, Taqueria El Güero, and one simply named "Taco Truck" serve mouth-watering menu items at affordable prices. But even grocery stores like Tienda Los Nenes make great stops for a meal. This local favorite serves fresh-baked pastries alongside their house-made salsas and fully loaded taco bar. Eat in or grab your food to go.
Enjoy the fruits of your labor
After a long day outside during your Flat Rock weekend, you're probably ready for a nice drink. Henderson County ranks seventh in apple production among all counties in the U.S. Among the many delicious products that stem from this seasonal industry is hard cider, which brings together the area's rich history of agriculture with our exciting craft beverage scene. Places like Flat Rock Cider Company have taken root nearby, while others have branched out across the region. 
If cider isn't your cup of tea, so to speak, how about a pint of beer or glass of wine? Western North Carolina is also a hub for local breweries and vineyards. You can find more than a dozen breweries within a few miles, including Southern Appalachian Brewery, Dry Falls Brewing Company, and Oklawaha Brewing Company. Nearby wineries include Burntshirt Vineyard, Marked Tree Vineyards, and Saint Paul Vineyard at Flat Rock.
Sunday in Flat Rock
Take a selfie along "Little Rainbow Row"
You can't spend time in Flat Rock without getting the quintessential town selfie. As you travel along Greenville Highway through the heart of town, you'll notice a collection of shops and eateries painted in bright and whimsical colors. This area of town is known as "Little Rainbow Row," an homage to the famous Rainbow Row in Downtown Charleston.
Shop local art, apparel, and more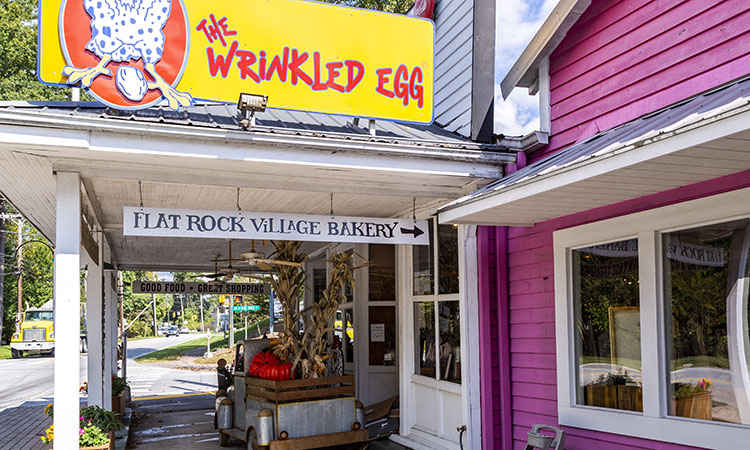 The Wrinkled Egg anchors the collection of colorful shops on "Little Rainbow Row". It is housed in the building fondly remembered as Peace's Grocery (c.1890), the community's only general store until the early 1980s. Within walking distance are arts and crafts galleries and a number of our favorite dining spots. Opened in 2015, the Gallery at Flat Rock showcases original, finely curated contemporary art and crafts. Stroll the sidewalk, explore the shops, relax in the rocking chairs out front, then cross the street to explore the shops in Flat Rock Square. 
Take your pick at lunch
There's no need to go far to find a great Sunday supper. Both Flat Rock Village Bakery and Hubba Hubba Smokehouse offer up great grub! At Flat Rock Village Bakery, everything is made from scratch daily. Treat yourself to sweet and savory pastries, brick-oven breads, wood-fired pizzas, sandwiches, soups, and more! The outdoor deck offers a relaxed environment and is very dog-friendly.
Hubba Hubba Smokehouse offers great barbecue along with a setting to meet with friends, old and new. You'll feel right at home inside or on their outdoor courtyard, complete with flower gardens and free-range chickens. From sandwiches and plates to BBQ by the pound, such good looking food will make you wanna say…. Well, you know.
Get some sun
One of our favorite spots in town to throw a Frisbee or read a book is the Park at Flat Rock. Formerly the Highland Lake Golf Club, these 66 acres of open green space are home for a wide variety of indigenous animals and plants. Park amenities include the 1.5-mile perimeter trail, Bryan Playground, Mayor Robert Staton Pavilion, Quiet Place, and Welcome Center. The park is still a work in progress, so even frequent visits generate new sights every time. It's a great place to wrap up a delightful weekend in Flat Rock.
Spend every weekend in Flat Rock, NC!
The perfect combination of historic, rural, urban, and planned living, Flat Rock is sometimes called "The Little Charleston of the Mountains." The area was a 19th century oasis frequented by affluent land owners from the South Carolina Lowcountry. They built English-style summer estates in the vicinity to escape the heat, many of which are still around. Today, Flat Rock remains as charming as ever, with art studios and unique specialty shops. And the Carl Sandburg Home and Flat Rock Playhouse continue to attract culturally minded individuals. The entire district is on the National Register of Historic Places. 
Does that sound like the perfect lifestyle for you? Find your dream home in Flat Rock now!
Visited 219 times, 1 visit(s) today