Last Updated on March 29, 2023
Let's be frank about local barbecue. Eastern or Western?

The only thing that fires up more allegiance on game day than the teams on the screen is your chosen type of barbecue. Whether you prefer tomato or vinegar, spicy or sweet, or your own meatless variety, Western North Carolina has a barbecue joint for you.

Get ready to drool at one of these nine WNC barbecue favorites:
9 best BBQ spots close to Asheville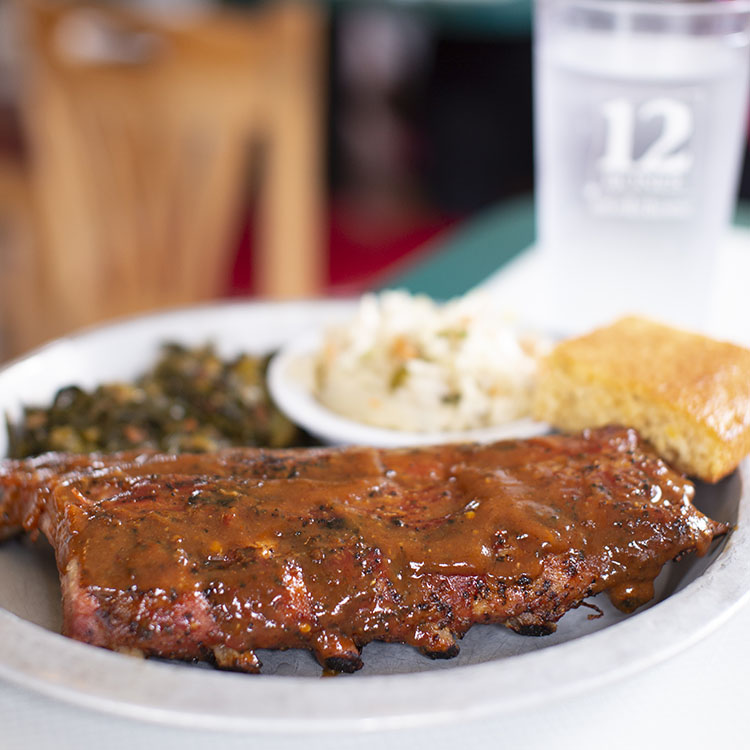 ---
12 Bones Smokehouse
12 Bones smokes their meats long and slow over select hardwoods every day. The iconic Asheville restaurant doesn't believe in only one right style of barbecue. But that means that everyone in your party can find a meal to love. For years, 12 Bones has filled the bellies of locals, visitors, and even American presidents. Find them in Asheville's River Arts District. Or head south and check out 12 Bones Brewing, attached to their Arden location.

5 Foundy Street, Suite 10, Asheville | (828) 253-4499
2350 Hendersonville Road, Arden | (828) 687-1395
---
Smoke on BBQ
Located at the bottom of S Broad Street, Blue Smoke BBQ is a favorite among Brevard locals. From hot chicken sandwiches to pulled pork tacos, they combine the best of old and new Southern cuisine. But many prefer the rib plates, complete with classic sides and both sweet BBQ and mustard sauces. Go ahead and get a little messy—we won't tell!

585 S Caldwell Street, Brevard | (828) 552-4584
---
Buxton Hall BBQ
Named the best BBQ joint in North Carolina by Southern Living, Buxton Hall is a central hub in Asheville's bustling South Slope district. People come from far and wide for the Eastern NC-style whole hog barbecue from pasture raised hogs roasted slow over hardwood coals and infused with a vinegar mop. But many come back for their freshly baked pies and cakes. Be sure to order 48 hours in advance for a whole pie to go!
32 Banks Avenue, Asheville | (828) 232-7216
---
Doc Brown's BBQ
Doc Brown's BBQ restaurant and food truck want to send you to hog heaven for the day. They do that by serving up the best of all things pig, a mean chicken salad, and even BBQ tempeh. You'll want to spread their array of sauce options (everything from Eastern Carolina to Alabama white) on the delectable Southern sides. The hardest part of the meal is making a decision on which staples and specials to order today!

1320 Smokey Park Highway, Candler | (828) 633-6901
---
Flat Rock Wood Room
It's not every restaurant that specializes in award-winning barbecue and wood-fired brick oven pizza. But Flat Rock Wood Room has built a solid fan base among foodies across WNC for serving both. Their Memphis-style meats focus on dry rubs and herbs. Several types of sauce are available on the table, but we guarantee that you won't need them. What you will need is a good parking spot—rain or shine, their lot fills up fast!

1501 Greenville Highway, Hendersonville | (828) 435-1391
---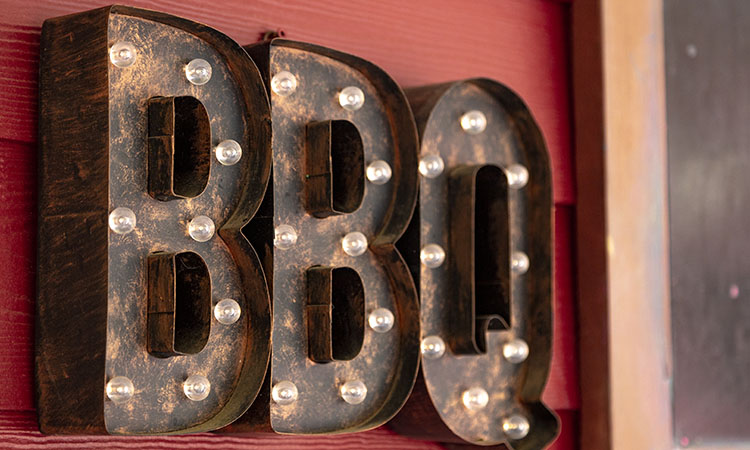 ---
Haywood Smokehouse
Haywood Smokehouse isn't interested in being just another BBQ joint. They begin with the highest quality, all-natural cuts of meat. Then they smoke their briskets and butts without sauce for as much as 20 hours. Collard greens, creamy coleslaw, cracklin' cornbread, and other Southern staples are always on their menu. But they're also inspired by Cajun, Tex-Mex, and other regional cuisines. Don't forget to save room for one of their homemade desserts!

79 Elysinia Avenue, Waynesville | (828) 456-7275
403 Haywood Road, Dillsboro | (828) 631-9797
33 Macon Center Drive, Franklin | (828) 369-6666
---
Hubba Hubba Smokehouse
Yes, Hubba Hubba offers great barbecue. But it's also more than that—It's a place to meet with friends, old and new. Located on Flat Rock's Little Rainbow Row, you'll feel right at home inside or on their outdoor courtyard, complete with flower gardens and free-range chickens. From sandwiches and plates to BBQ by the pound, such good looking food will make you wanna say…. Well, you know. Order at the window and find a seat in your new happy place.

2724 Greenville Highway, Flat Rock | (828) 694-3551
---
Luella's Bar-B-Que
Welcome to the home of hand-pulled perfection! Established in 2007, each of Luella's two family-run locations serves masterpieces for your mouth that are made from scratch each day. If their food reminds you of what grandma used to make, that's no coincidence. Grandma Lue has handed down many recipes, but they all have the same not-so-secret ingredient: Love! Even their sauces are homemade. Your tongue and your tummy will say thank you.

501 Merrimon Avenue, Asheville | (828) 505-7427
33 Town Square Boulevard, Asheville | (828) 676-3855
---
Hawg Wild BBQ
In 1997, Hawg Wild BBQ Restaurant and Catering started as a neighborhood gathering place at the entrance of the Pisgah National Forest for great barbecue, fun, and life-long memories. Now, the venue also manages dinner parties, banquets, and catering for any type of event. Mountain bikers, hikers, campers, local patrons, tourists, and leaf lookers all enjoy a visit that is both satisfying and comfortable.
91 Pisgah Highway, Pisgah Forest | (828) 877-4404
Ready to call Asheville home? View the best in Asheville Real Estate here!
---
Visited 60 times, 1 visit(s) today