Last Updated on June 1, 2023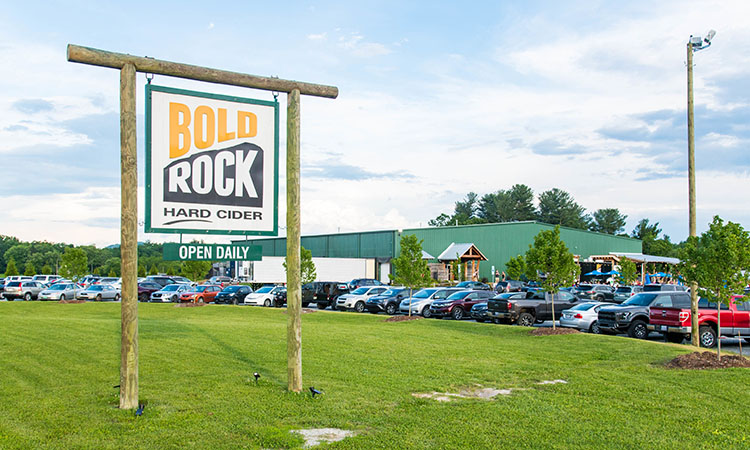 Did you know that Hendersonville is located in the heart of one of the most fruitful apple-producing regions in the U.S.? In addition to the bevy of apple orchards, products, and pastries available around town, Hendersonville is also home to several cideries. From crisp and dry to mellow and sweet, ciders offer flavor profiles for every taste.
Hard cider brings together the area's rich history of agriculture with our exciting craft beverage scene. Try a taste and let us know what you think! Here are six spots to find a tasty local cider in Hendersonville, NC.
Appalachian Ridge Artisan Cidery
A division of Saint Paul Mountain Farms, located next door, this orchard-based artisan cidery produces ciders and spirits using a "cider as wine" approach. Their combination of tradition and innovation allows layers of apple flavors to develop over time into a beverage that is truly special. Visit their tasting room in a restored 1920s apple barn overlooking the 29-acre orchard. Appalachian ridge offers apple cider, hard cider, apple brandy, and other apple products.
731 Chestnut Gap Road, Hendersonville | (828) 699-7507 | saintpaulfarms.com/appalachian-ridge-hard-cider
The Blue Door Bottleshop & Beer Hall
One of the newer additions to Hendersonville's burgeoning craft beverage scene is the Blue Door Bottleshop. It's your one-stop spot for a diverse selection of beer, wine, sake, mead—and cider, of course. Shop from their regional shelves of bottles and cans, or create a mix pack. Or simply sit back, relax, and catch up with friends over one of 20+ rotating taps. In addition to beer, you can always find a kombucha, hard seltzer, or hard cider on tap for the game.
146 3rd Avenue E, Hendersonville | (828) 290-4191 | thebluedoorhvl.com
Bold Rock Mills River Cidery
As the largest independently owned cider company in the U.S., they may be the "big kid" in town. But Bold Rock located their Mills River cidery in WNC for a reason. Like the locally grown guys, Bold Rock cider is crafted from locally sourced Henderson County apples. They offer hard cider tastings as well as pints, flights, and even local craft beer. The Bold Bites Mobile Kitchen offers freshly prepared food daily, and an expansive Cider Garden ensures plenty of space to spread out and relax.
72 School House Road, Mills River | 828) 595-9940 | boldrock.com/visit/mills-river-cidery
Flat Rock Cider Company
Located off Main Street in downtown Hendersonville, Flat Rock Cider Company supports local agriculture by using fresh fruit straight from community orchards. The result is what they call an "orchard to glass" product: cider pressed with love. All of the apples and blackberries they use are hand-picked and pressed by hand. They then mature their cider, allowing it to bring out its true flavors, much like how wine is made. Try their year-round and seasonal flavors, many of which are gluten free.
1992 Dana Road, Hendersonville | (828) 595-2992 | flatrockcidercompany.com
HVL Pedal & Brews
Looking for a fun and safe way to enjoy Hendersonville with your crew? Hop on the BYO Pedal & Brews pubcycle/trolley bike! This 14-person pedal-powered (electric motor-assisted) vehicle gives you an eco-friendly way to experience the sights and sounds of Hendersonville like never before. Bring your own beer, cider, or wine (perhaps from the Blue Door, above). And peddle away as your Conductor navigates downtown Hendersonville with a healthy dose of humor, style, and entertainment.
110 2nd Avenue E, Hendersonville | (828) 233-5606 | hvlpedalbrews.com
Sky Top Orchard
This magical destination is a treat for the whole family! As a working orchard, they offer a variety of apples, apple products, and some of the best cider donuts around. You can even see their cider press in action. Kids will adore the Bee Train, hay ride, barn animals (including peahens!), hot dogs, and cider slushies. And adults will love taking home a four-pack of their carbonated hard cider in one of three flavors. Get there before the season closes!
1193 Pinnacle Mountain Road, Flat Rock | (828) 692-7930 | skytoporchard.com
Live appley ever after in Hendersonville, NC!
Distinguished by an almost perfect climate, beautiful surroundings, great drinks and dining, and recreational variety, Hendersonville, NC is known as the City of Four Seasons. The town's many tranquil neighborhoods and housing developments all surround a sturdy core. It's a place where you can be as active or idle as you wish. No wonder Hendersonville has attracted hundreds of residents looking for a sweet life topped with ample recreation and a friendly atmosphere. 
Does that sound like the perfect lifestyle for you? Find homes in Hendersonville now!
Where's your favorite place to grab a local cider in Hendersonville? Let us know in the comments!
Visited 478 times, 1 visit(s) today