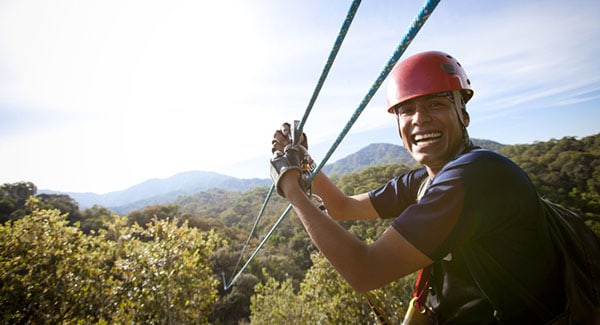 Last Updated on October 12, 2023
From mountain biking and hiking to whitewater rafting and rock climbing, Western North Carolina offers countless ways to explore the great outdoors. One of the most awe inspiring and adrenaline inducing is ziplining, traveling down a cable wire over an open span as fast as gravity can propel you.
With our majestic mountains and old-growth forests, WNC offers many wonderful locations for zipline adventures. Aerialists as young as four years old can travel from treetop to treetop, exploring protected forests from above.
Here is your complete guide to zipline adventures in Asheville, Lake Lure, Bryson City, and nearby locations across Western NC.
Asheville Treetops Adventure Park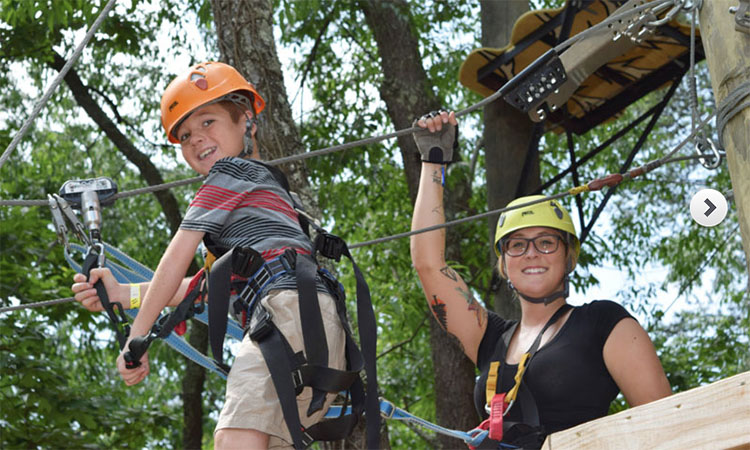 The Adventure Center of Asheville's outdoor treetops adventure park is as unique as the city in which you find it. Asheville Treetops Adventure Park has seven different aerial adventure trails ranging from beginner to challenging—so that you enjoy the obstacles you feel most comfortable with. Several of the 75+ elements represent activities you can do in North Carolina, including a sky kayak, a parkway tunnel, a snowboard in the sky, and a zip hang glider. Think of it as ski slopes in the trees and a true "jungle gym" for all ages, strengths, and adventure levels. Ages 4+.
85 Expo Drive, Asheville
(877) 247-5539
ashevilletreetopsadventurepark.com/asheville-treetops-adventure-park
Asheville Zipline Canopy Tours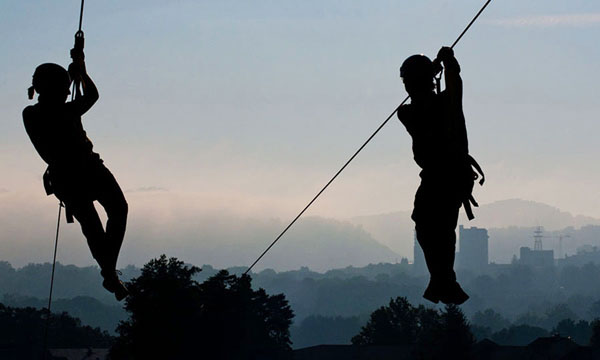 In a city full of adventure, this is an experience you won't soon forget! Take flight on a zipline canopy tour just minutes from downtown Asheville, yet surprisingly set amongst 150-year-old majestic white and red oaks. You'll reach heights of more than 70 feet and speeds of nearly 30 miles per hour! Asheville Zipline Canopy Adventures offers the best of many worlds. It is convenient and exciting, with urban views of downtown Asheville. But it's also set on a 124-acre resort and designated tree preserve amongst some of the oldest and largest oak trees in the region.
85 Expo Drive, Asheville
(877) 247-5539
wildwaterrafting.com/adventures/asheville-zipline-canopy-tours
Canopy Ridge Farm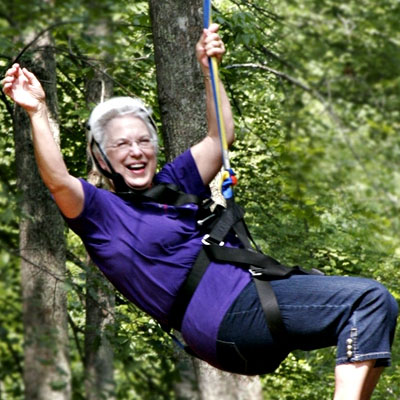 Make memories by the minute and soar through the lush green forests of the Blue Ridge Foothills for a truly unique and exciting nature experience. The Canopy Ridge Farm zip lines are nestled into more than 60 acres of stunning hardwood forest in beautiful Hickory Nut Gorge, just a stone's throw from Lake Lure. Pleasant weather conditions and a plethora of natural vegetation mimic the feeling of sailing through a tropical rainforest. With six zip lines reaching more than 100 feet in height, you'll reach speeds of up to 35 MPH!
7115 US-64/74-A, Lake Lure
(828) 625-4500
French Broad Adventures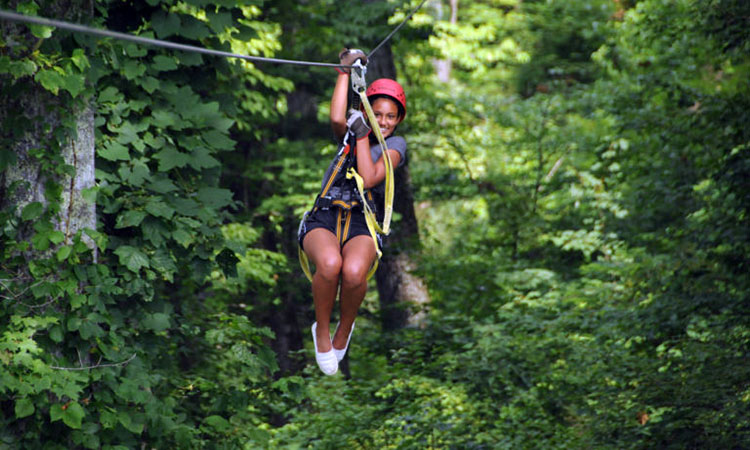 Have you ever wondered what it feels like to fly? Zipline with French Broad Adventures and experience the beauty of the Appalachian Mountains while you soar from tree to tree in a scenic mountain setting. Their tree-based zipline adventure course features 10 lines ranging in length from 75–1,000 feet—that's more than one mile of cable! Combine your ziplining with an off-road e-biking trip, a half day of rafting, or other adventures for a full day of fun!
12 Good Adventures Lane, Marshall
(828) 649-0486
The Gorge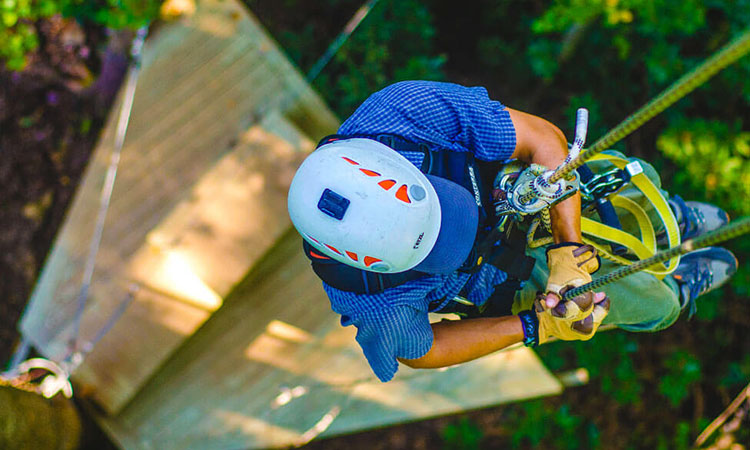 Are you ready for America's steepest and fastest zipline canopy tour? The Gorge begins your experience perched on the rim of the Green River Gorge and plunges into untouched wilderness. Descend an unprecedented 1,100 feet in elevation, zipping from treetop to treetop on 11 ziplines. Traverse a sky bridge and descend three huge rappels, all through stunning old-growth forest overlooking 18,000 acres of protected gamelands. There's more than one reason why this treetop adventure will take your breath away!
166 Honey Bee Drive, Saluda
(828) 373-2580
Highlands Aerial Park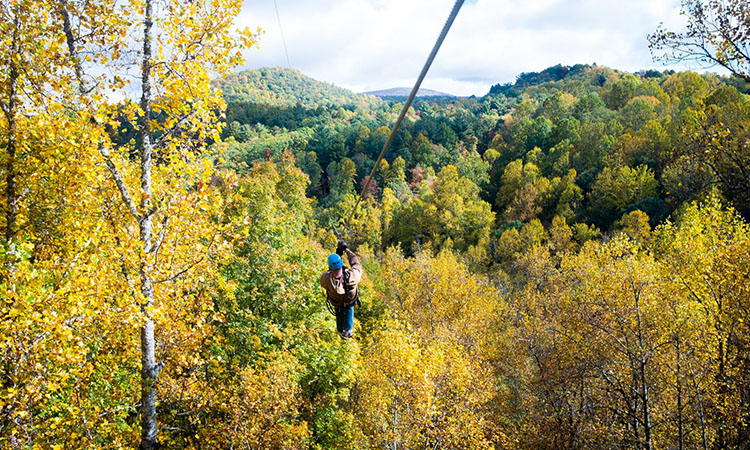 Zip rain, shine, or snow! Highlands Aerial Park's world-class canopy tours offer something for everyone—even the scaredy cats. Their setup consists of eight ziplines spanning 44 acres—including the 1,550-foot long, 210-foot high Squealing Mare! First-timers can enjoy the Half Mountaintop Tour, which features the first four zipline rides of the Full Mountaintop Tour. Work your way up from 10 feet to 45 feet off the ground. Add in challenge elements, a giant mountain swing, tree climbs, and more for a full day of family fun!
9625 Dillard Road, Scaly Mountain
(828) 457-8296
KidZip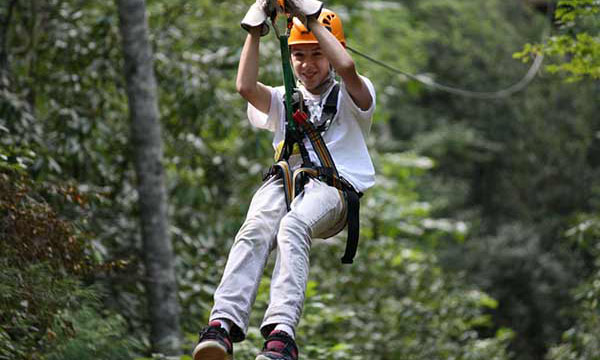 KidZip is America's first zip line adventure designed for kids 4–10 years old. It includes nine zip lines and four fun climbing elements situated in a scenic wooded setting within view of parents. Zip lines range from 50–250 feet long and from ground level to 25 feet high. Adult escorts are expected. Plan your next birthday adventure for KidZip at the Adventure Center of Asheville!
85 Expo Drive, Asheville
(828) 488-8899
ashevilletreetopsadventurepark.com/kidzip
Nantahala Gorge Canopy Tour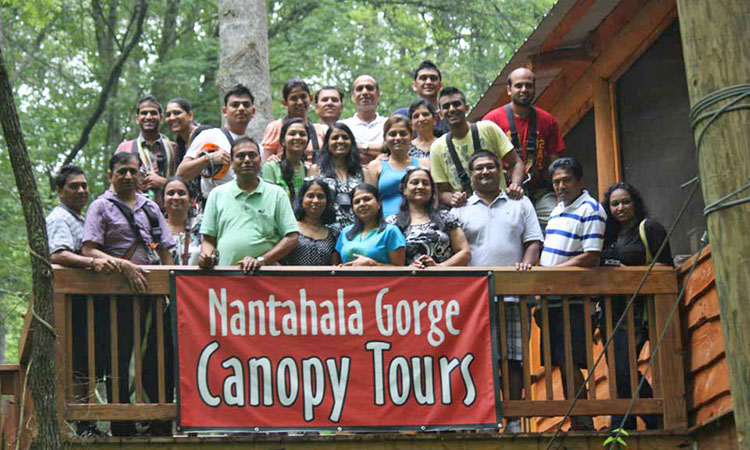 The first canopy tour in the Nantahala Gorge Region, this course takes you deep into the woods and high into the treetops with spectacular views of Fontana Lake, Clingman's Dome, and the Nantahala Gorge. You'll also travel through multiple ecosystems: past hemlocks, into hardwoods, and through a deciduous forest packed with native flowering plants. This fully-guided trip is of moderate intensity and does not require previous ziplining experience. Ages 8+.
10320 US-19, Bryson City
(800) 451-9972
wildwaterrafting.com/adventures/nantahala-gorge-canopy-tours
Nantahala Outdoor Center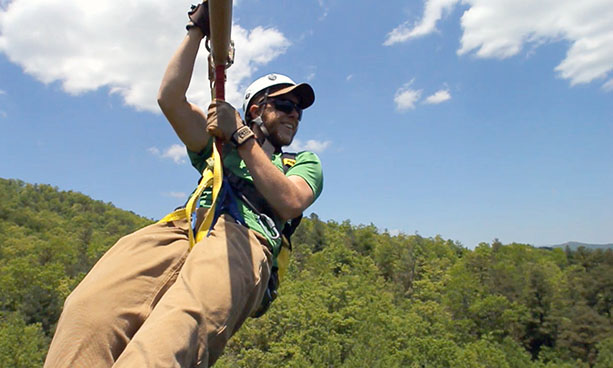 Nantahala Outdoor Center (NOC) offers four aerial and zipline adventures in Bryson City, NC—each with something for everyone and every budget. Their signature course is the Mountaintop Zip Line Tour. While most zipline tours glide from tree to tree in forest canopies, the Mountaintop flies from ridgeline to ridgeline. With almost two miles of cable, it's considered the premier zip line in the North Carolina mountains. Try the Moonlight Mountain Tour with only the light of the full moon to guide you. Or explore their Zip Line Adventure Park, which is an aerial challenge park with 16+ exciting obstacles.
13077 US-19, Bryson City
(828) 785-5082
Navitat Canopy Adventures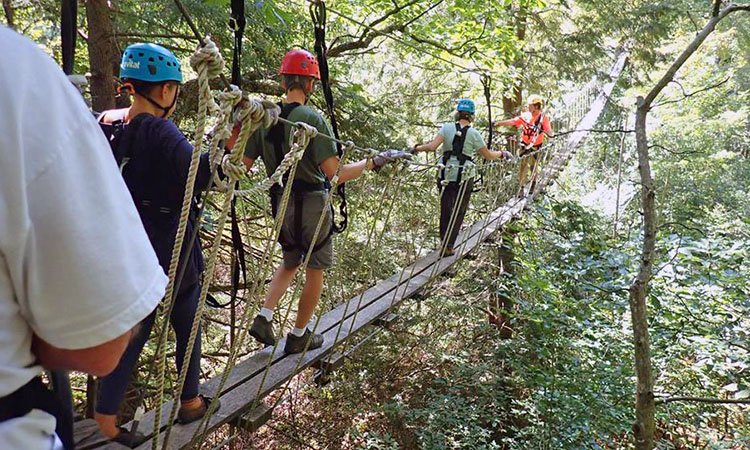 Navitat is an experienced company whose sole focus is tree-based adventure. They opened their Asheville location in 2010 with the original tree-based canopy tour, the Moody Cove Treetop Tour. An unprecedented mountaintop zipline tour, the Blue Ridge Mountaintop Tour, opened in 2014. Today, they have several additional adventure options, including Navitat at Night, which allows you to enjoy your adventure under a canopy of stars! Enjoy the ride. At Navitat, you're in great hands.
242 Poverty Branch Road, Barnardsville
(828) 626-3700
Wildwater Ziplines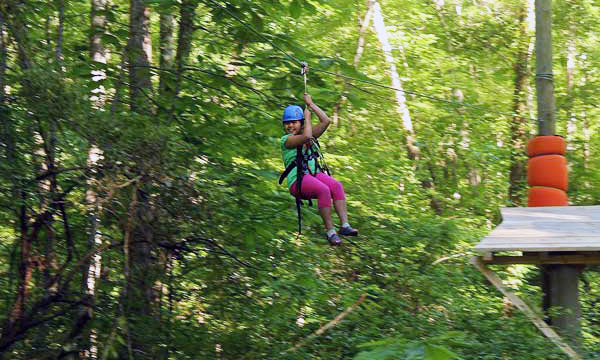 Wildwater is the oldest outfitter in the Southeast. In addition to whitewater rafting, Wildwater offers kayak clinics, SUP and kayak lake tours, Raft & Rail© excursion, climbing walls, and a high ropes course. Their WNC zipline and canopy tours operate under the names Nantahala Gorge Canopy Tour, KidZip, and Asheville Zipline Canopy Adventures.
(866) 319-8870
wildwaterrafting.com/zipline-canopy-tours
*All photos taken from respective websites
Which is your favorite zipline adventure near Asheville? Let us know in the comments.
Visited 591 times, 1 visit(s) today