Last Updated on May 4, 2023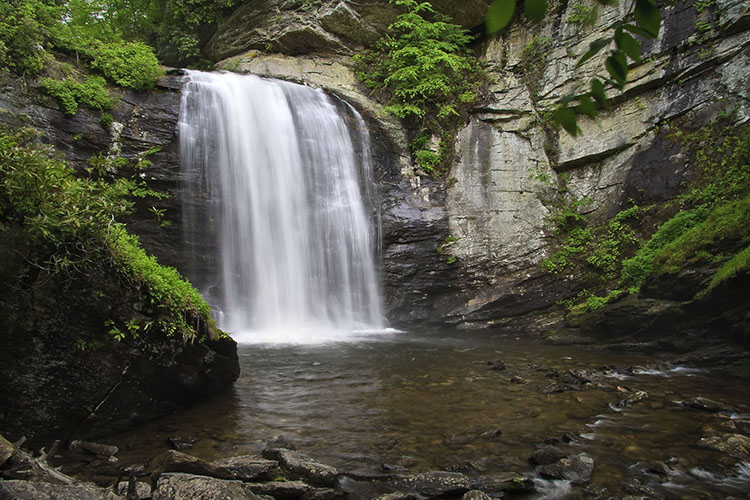 If you've gone all summer without spending an afternoon in one of our natural mountain swimming holes, we daresay you've wasted your time. Luckily for you, this summer season is lasting a little longer than usual, giving you more time to get out and enjoy all the natural wonders that Western North Carolina has to offer. 

But don't wait—Summer won't last forever! Here are seven swimming holes you need to try this weekend.

What is a swimming hole?
Swimming holes are obviously different than man-made swimming pools. But they're also different than swimming areas of lakes and oceans. Swimming holes are located along moving bodies of water—like rivers, streams, or creeks—and are deep enough for people to swim in. A good swimming hole is safe from excessively swift currents, and bonus points if nude swimming is allowed.*

Top swimming holes in Western North Carolina
Even during the hottest days of summer, mountain rivers and streams run cold with waters from highly elevated wellsprings. These swimming holes are among our favorites, but be sure to bring the right towels and supplies to keep yourself safe and warm. Assume all rocks are slippery, and never get into the water while you're alone.
Azalea Park
You never have to drive far to find anything in WNC, and the swimming hole at Azalea Park in East Asheville proves that. The park winds along the banks of the Swannanoa River at a point where the current is just light enough to enjoy a nice dip. Because the park is maintained by the City of Asheville, parking and restrooms are easily accessible. (Note: The swimming hole is not official, and the city does not maintain the water in any way.) Even if you don't jump in the water, it's also a great place to just enjoy a stroll or soak up the sun.

Azalea Road East, Asheville
Hooker Falls
What's not to love about DuPont State Forest? From hiking to mountain biking to over 100 miles of multi-use trails, the area has enough to keep any outdoor enthusiast active. Hooker Falls is the only waterfall in the forest that is marked safe for swimming, and it certainly does not disappoint. A parking lot sits just a quarter mile away, making access relatively easy. And because the waterfall feeds into Cascade Lake, there are no dangerous currents or downstream hazards to worry about. Just float, try the rope swing, and enjoy your day.

1300 Staton Road, Cedar Mountain
Looking Glass Falls
Looking Glass (pictured above) may be the most iconic waterfall in WNC. Located just off the road (seriously, you don't even have to get out of the car), its easy access is matched only by its 60-foot height to make this one of the most popular local attractions. Steps lead down to the stream below the waterfall, where wading, swimming, and selfies are popular activities. A myriad of nearby waterfalls and hiking trails mean you can stretch this experience into an entire afternoon.

U.S. Route 276, Pisgah Forest
Midnight Hole
The Great Smoky Mountains National Park might as well be called the Green Mountain Waters National Park, judging by this swimming hole. Midnight Hole is located just along the North Carolina-Tennessee state line on Big Creek. The refreshing pool is fed by a narrow waterfall and is circled by jump rocks, making it an especially pleasant oasis. Escape the last vestiges of summer humidity and enjoy your dip, sunbathe, or bring a picnic.

4 miles off I-40 Exit 451, Waterville Road, Tennessee
Silver Run Falls
Though not the tallest waterfall in the region, the 25-foot Silver Run Falls is a sight to behold. Located in the heart of the Nantahala National Forest, this serene swimming hole is only about 2–3 feet deep, making a great place to cool your feet after a hike or to bring the kids.

Silver Run Road, Cashiers
Skinny Dip Falls
Ironically, you're not allowed to skinny dip and Skinny Dip Falls. But the swimming is quite nice if you bring your suit. The waterfall is located just a short hike from the Blue Ridge Parkway on the Mountains-to-Sea Trail at the headwaters of the Big East Fork of the Pigeon River. Jump into the deep plunge pool or wade through the shallow areas. It's a great place to cool down after a day on the trail.

Blue Ridge Parkway MP 417, Canton
Sliding Rock
You can't mention waterfalls, water fun, or swimming holes in WNC without mentioning Sliding Rock! Located just eight miles outside of Brevard, Sliding Rock is known locally as nature's slip 'n' slide. This natural, fast-paced waterslide draws thousands of visitors each season to slide down its 60-foot, slick surface into a six-foot-deep pool of shockingly cold water at the bottom. A lifeguard stands on duty during the day between Memorial Day and Labor Day. No wonder it's fun for the whole family!

U.S. Route 276, Pisgah Forest

*Editor's note: The Code of Federal Regulations, Section 2.34 ("Resource Protection, Public Use and Recreation") can be used to regulate nude swimming in national parks and on federal lands. Beverly-Hanks does not endorse breaking federal laws. Remove clothes with caution.

Visited 192 times, 1 visit(s) today