Last Updated on April 19, 2023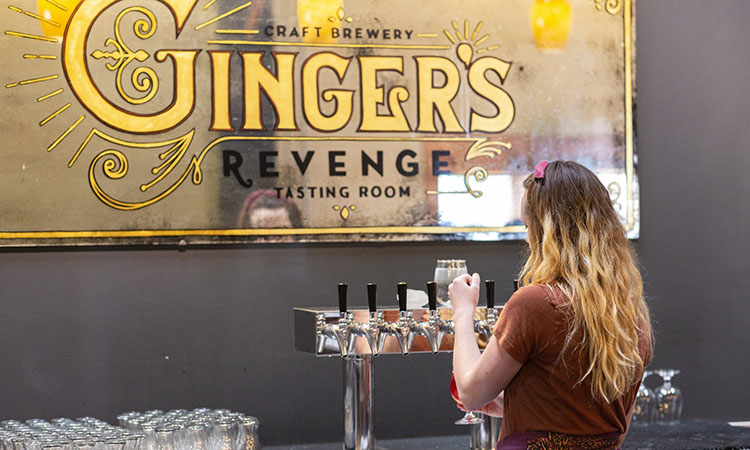 Did you know that October is Women's Small Business Month? In fact, women owned 42% of businesses in the U.S. as of 2019, generating $1.9 trillion annually, according to business.com. And half of those companies are owned by women of color! 

Those are facts worth celebrating every October (and throughout the year, of course). This year especially, we think it's appropriate to lift up female small business owners who work so hard to build successful enterprises and collectively support thousands of employees in our region.

We'd like to celebrate just a few of the many incredible female small business owners in our community. Here are 10 women-owned businesses in Asheville, NC.
Aisha Adams Media Group
Since 2014, Aisha Adams Media Group has helped small businesses and nonprofits bring profitable but conscious content to social media. The company offers business coaching and development, speaking engagements, strategic planning, web design, and workshops. Founder Aisha Adams is also the program developer for the Lenoir-Rhyne Equity & Diversity Institute (LREDI), founder of Equity Over Everything, and host of the Asheville View.

(828) 275-9650 | aishaadamsmedia.com
Asheville Wellness Tours
Venture out, stay in, or go virtual. Asheville Wellness Tours offers ways for your private party to enjoy the city in whatever way best suits you. From yoga hikes and cooking classes to winery tours and group tarot reading, they craft experiences that encourage connection with yourself, others, and nature. The company is woman-owned and employees 20 female instructors and guides.

(828) 407-0711 | ashevillewellnesstours.com
Black Mountain Cider + Mead
Slake your thirst at Black Mountain Cider + Mead to discover something that is at once old and new. This brewery crafts dry ciders and sessionable meads from local apples and honey in an old furniture factory. The result of every small batch is fresh flavors harmonized with traditional wisdom. Black Mountain Cider + Mead is also Local Food Certified through Appalachian Sustainable Agriculture Project (ASAP).

104 Eastside Drive #307, Black Mountain | (828) 419-0089 | blackmountainciderworks.com

Blessed Buildings & Tiny Homes
Whether you're looking for storage, leisure, or a tiny home lifestyle, Blessed Buildings and Tiny Homes has what you need. You will be hard pressed to find anything better than their man caves/she sheds, carports, and garages. But if you're downsizing or adding an ADU, Blessed Buildings understands construction, codes, zoning, permitting, and the other various do's and don'ts of "Right-Size Living". 
heritagebuildingco.shedsuite.com/936
Blue Ridge Hiking Company
Named the 2019 "Woman Entrepreneur, Best in Business" by the Asheville Chamber, Jennifer Pharr Davis is a long-distance hiker with 15,000 trail miles under her belt. She's transformed her expertise into a thriving tour company. In 12 years, Blue Ridge Hiking Company has grown from a one-woman operation to a robust team of a dozen expert guides, boutique gear shop in Downtown Asheville, and base camp for trail enthusiasts in Hot Springs.

70 College Street, Asheville | (828) 713-5451 | blueridgehikingco.com

Essential Journeys
Essential Journeys specializes in a wide array of soaps, lotions, bath soaks, lip balms, body salves, body butters, and soy candles. From soap by the slice to salt for the tub to anti-chafing crotch grease for cyclists, they have what you need. Their everyday soap is great to keep in the house or outside to wash up after a long day working in the garden. Owner Kimberly Masters has been widely lauded for her products and business success. 

(828) 350-0395 | essentialjourneys.com

Ginger's Revenge
Ginger's Revenge was rated the second fastest startup in the area in 2018, and secured angel round funds to expand the brewery last year. The effort earned co-founder Cristina Hall Ackley 2019's "Rising Star Award" from the Asheville Chamber. Ginger's Revenge ginger beers are all naturally gluten-free and made with 95% organic ingredients. It's one of only a handful of breweries in the country that specializes in alcoholic ginger beers.

829 Riverside Drive, Suite 100, Asheville | (828) 505-2462 | gingersrevenge.com

Miss P's Cateringz and Delicious Dogz
Miss P's Cateringz prepares homestyle breakfast, lunch, or dinner meals that "feed the soul". Their menu caters to vegans, vegetarians, and meat lovers, and can be served buffet-style, plated, or on-the-go. Miss P's Delicious Dogz offers delicious build-your-own beef or veggie dogz for birthday parties, festivals, and other outdoor events.

(828) 407-0318 | facebook.com/MPCateringz

Piano Lab Studios
Founded in 2010, Piano Lab Studios, Inc. is the creation of concert pianist and former professor, Kimberly Cann. Today, the scope and resources of the studios have grown into The Music Lab. Here, pianists and musicians of all ages, backgrounds, and economic statuses receive the benefits of a quality, well-rounded music education. Piano Lab was also voted the best woman-owned small business by Mountain Xpress readers. 

0 Westgate Parkway, Asheville
830 Hendersonville Road, Asheville
4023 Haywood Road, Mills River
3086 Cane Creek Road, Fairview
(828) 412-3775 | pianolabasheville.com

Pulp + Sprout Juice Bar and Vegan Cafe
Pulp + Sprout is a locally grown Asheville company dedicated to producing high-quality, nutrient-dense, organic "real food." They serve the community through the highest quality, organic, plant-based foods and raw vegan desserts. Visit them for smoothies, smoothie bowls, cold-pressed juices, and a variety of toasts, sandwiches, salads, sipping broths, soups, and more. Owners Zack and Jenni love what they do. Find them near Liberty Coffee Cafe.

233 S Liberty Street, Asheville | (828) 412-5701 | pulpandsprout.com

Are you a woman looking for business help?
The Western Women's Business Center provides technical assistance, capital, and programs for women entrepreneurs in WNC. Business owners are offered training on a range of topics including business planning, financial management, marketing, preparing for a small business loan, industry-specific topics, and more. Find them at the A-B Tech Enka campus.

1465 Sand Hill Road, Candler | (828) 633-5065 x101 | wwbcnc.org

This list just skimmed the surface of women-owned businesses in Asheville and WNC. What's your favorite local woman-owned business? Share it with us in the comments.
Visited 136 times, 1 visit(s) today