Last Updated on April 26, 2023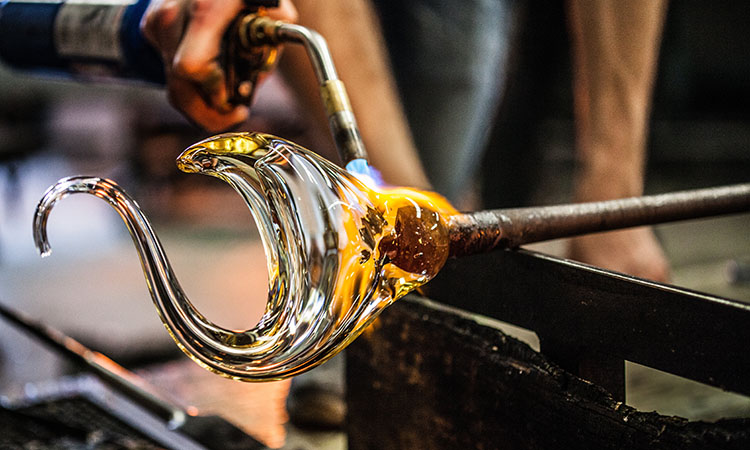 It doesn't matter whether this is your first visit to the mountains or you've lived here all your life. When the local flora ignites in a blaze of color, you stop in awe to appreciate the way the crisp, vibrant colors reflect against the clear blue mountain sky.
Honestly, the worst thing about the fall is knowing the leaves will inevitably drop and we'll have to wait until spring blooms to see the same variety of hues in our landscape. Luckily, modern life offers plenty of opportunities to bring bright colors and stunning refracted light into our homes—namely in the form of local art.
Enjoy the colors of the Blue Ridge Mountains year round through the beauty of glass art! Here are just four of the many great places to discover glass art in Asheville, NC.
Lexington Glassworks
See the glassblowing process from beginning to end at Lexington Glassworks. Located in the heart of downtown Asheville, this working studio and gallery allows visitors to experience the heat and hard work inherent in each of the high-quality, handcrafted pieces on display in the gallery area. Each piece of art, ornaments, glassware, and lighting is blown by hand on location.
81 S Lexington Avenue, Asheville | (828) 348-8427 | lexingtonglassworks.com
North Carolina Glass Center
Ready to learn from the best? Glass artists as young as 11 years old have access to high-quality, affordable instruction at the North Carolina Glass Center, a nonprofit glass studio and gallery. Students and experienced glass artists alike can use the center's furnaces, torches, and kilns. The center's gallery showcases work from undiscovered and well-established glass artists across WNC.
140C Roberts Street, Asheville | (828) 505-3552 | ncglasscenter.org
River Arts District
There are so many great glass artists in Asheville, it's challenging to mention them all! But tour the city's River Arts District, and you'll discover many glass artists within blocks of each other. Between the NC Glass Center and plēb Urban Winery—a distance of less than a mile—you'll spot at least four glass art studio-galleries: Stainedglass & Metalwood Creations, Leenes Glassworks, Tanya Franklin Glass, and Level 42 Gallery & Studio.
Stainedglass & Metalwood Creations, 344 Depot Street, Asheville | (828) 231-1397 | davewattssculptor.com
Leenes Glassworks, 348 Depot Street #125, Asheville | (248) 855-4999 | leenesglassworks.com
Tanya Franklin Glass, 36 Foundy Street, Asheville | (262) 719-8897 | riverartsdistrict.com/artist/tanya-franklin
Level 42 Gallery & Studio, 47 Foundy Street, Asheville | (828) 767-0466 | level42gallery.com
Southern Highland Craft Guild Folk Art Center
One of our favorite spots to see local art is Southern Highland Craft Guild's Folk Art Center. Since 1930, the Guild has promoted the local craft economy. Today, they represent more than 800 makers from nine states. The organization hosts several shops and galleries around town, but their central hub at the Folk Art Center displays and sells local art and handicrafts in a variety of mediums, including glass.
Milepost 382 Blue Ridge Parkway, Asheville | (828) 298-7928 | southernhighlandguild.org/folkartcenter
Live Abundantly in Asheville, NC
With a population of 90,000+, Asheville is the largest city in both Buncombe County and Western North Carolina. Asheville serves as the area's economic and cultural nerve center in many ways. It's a hub for education, healthcare, local arts and crafts, entertainment, night life, and innovative food and drink. Throughout the city, Asheville's neighborhoods are interconnected, not just by our mountains and rivers, but also by our local community centers—those intentionally created and those that have grown organically.
Does that sound like the perfect lifestyle for you? Find your dream home in Asheville now!
Where is your favorite place in Asheville to discover glass art? Share it with us in the comments!
Visited 129 times, 1 visit(s) today