Last Updated on June 6, 2023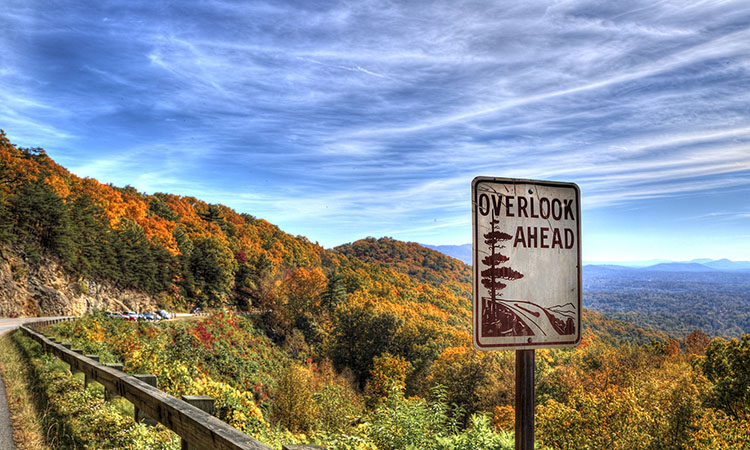 Every autumn in Western North Carolina, nature puts on a kaleidoscopic color show of deep reds and bright yellows as the leaves erupt into rich and vibrant hues. Private drives and public outlooks that show our mountains' majesty year round suddenly transform into breathtaking, fiery scenes.
In WNC, it's easy to find the perfect spot to enjoy fall's leaf colors—just stand wherever you are! But if you're looking for a new vista from which to marvel, we can help.
Here are seven sensational spots to enjoy seasonal colors in WNC.
Blue Ridge Parkway
We begin with not one spot, per se, but 469 miles of them! Each year, thousands of people take to the Blue Ridge Parkway to soak in the sights. But no season is more marvelous than the fall. The Parkway was deliberately designed as a winding, scenic roadway. It provides the perfect venue for enjoying the Blue Ridge Mountains by bicycle, vehicle, or on foot. And with overlook stops every few miles, at most, you can stop as often as you wish to find the perfect view. It's no wonder it's called America's Favorite Drive!
Biltmore Estate
No offense, but your back yard has nothing on Biltmore's! If you are a Biltmore Estate passholder, the property's 8,000 acres of rolling lands, woods, and waterways are yours to enjoy throughout the year. And fall is a prime time to explore the grounds. There are 22 miles of hiking trails and 20 miles of biking trails in place, from which you can leaf peep or bird watch. Come out for a leisurely afternoon, or push yourself for a more challenging experience. Bikers are welcome to bring their own bikes or rent one on site.
Cataloochee
The Cataloochee Valley is another year-round hotspot steeped in history, though this one is also blanketed with wildflowers and rich with wildlife. It's a great place to see eye-catching critters of all sizes, including black bears, elk, salamanders, and white-tailed deer. You can also spot many species of birds, from cedar waxwings and indigo buntings to ruffed grouse and wild turkey. But the area also offers scenic solitude at its finest. Discover unmatched fall views on the Cataloochee Divide Trail.
Green River Gorge
You may think that the best way to view the trees is from above. But the canopy can be just as spectacular from below. The gentle rapids of the Lower Green River flow through the lush forests of the Green River Gorge near Saluda. Enjoy the sights from a river tube, but be wary of your route. The gorge also boasts some of the most popular whitewater rapids in the eastern U.S. At its most impressive point, the Green River drops 400 feet in a distance of one and a half miles and runs through a six-foot-wide crevice known as the Narrows.
Mount Mitchell
Then again, if you would like to view the leaves from up high, you can't get any higher than Mt. Mitchell! Mount Mitchell is the highest peak in eastern mainland North America and the highest peak of the Appalachian Mountains (6,684 feet in elevation). Located off the Blue Ridge Parkway, you can drive nearly to the peak. From the visitor center parking lot, take the quarter-mile paved trail to the observation deck for incredible long-range views. But don't forget your jacket! The high altitude means Mount Mitchell and surrounding areas can be chilly year round.
Pisgah Inn
One of our favorite views in WNC is from the dining room of the Pisgah Inn. Known as "The Peak of the Parkway," the inn offers accommodations, a gallery, and a country store and gift shop. But we go for the food! Pisgah Inn offers fine dining daily from April through October. Breakfast and dinner are served only to guests, but lunch is open to the public. Windows surround the main dining room and overlook a panoramic view. Be sure to make a reservation in order to get a good seat to view the seasonal colors of WNC.
Sam's Gap
Drive north on I-26W, and just before you hit the Tennessee state line you'll arrive at Sam's Gap. You can access the Appalachian Trail from this spot. A two-mile hike south to High Rock will offer a great view. The trail winds through a mature ridgetop forest, alongside land once used for grazing, and ends with a lofty view from a narrow perch just large enough for two people. Look for a sign that reads "Vista 200 ft." nailed to a tree. Or drive just over the state line for the official Sam's Gap Scenic Overlook right off the interstate. With colors so bright and vibrant, you'll hardly believe your own eyes!
Where are your favorite spots to view the seasonal colors in WNC? Share them with us in the comments!
Visited 32 times, 1 visit(s) today