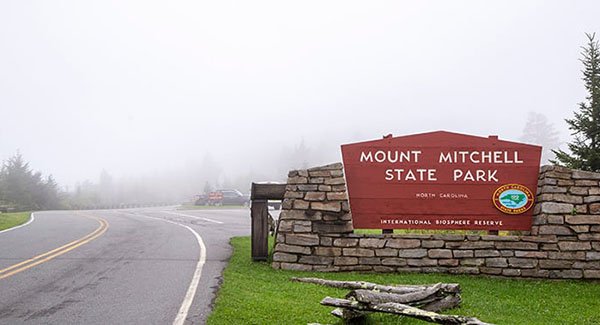 Last Updated on March 30, 2023
Standing majestically above all other surrounding peaks, Mount Mitchell is an incredible location to visit for scenic views, hiking, picnicking, camping, and more.
Continue reading for (or click to skip down to):
Mount Mitchell at a Glance:
Elevation: 6,684 ft
Location: Mount Mitchell State Park, Yancey County, NC
Notable Features: Highest U.S. peak east of the Mississippi River
Observation deck, museum, and gift shop at summit accessible by foot (hiking) or car (via Blue Ridge Parkway)
Park Hours: Open everyday at 7:00AM except Christmas Day. Closing time varies by season.
Park Fees: There are no entrance or parking fees at Mount Mitchell State Park. There are fees for camping, certain event permits, and facility reservations.
Pets: Pets are allowed at the park and at campsites but are not permitted inside buildings. Pets must be on an attended leash of no longer than six feet at all times.
Mount Mitchell History & Geography
Mount Mitchell is the highest peak in eastern mainland North America and the highest peak of the Appalachian Mountains (6,684 feet in elevation). The nearest higher peak is Lone Butte in Colorado. The range containing Mount Mitchell was formed between 325–260 million years ago. Originally known by Native Peoples as Black Dome for its wide, rounded shape, the summit was named in modern times for Dr. Elisha Mitchell, the first Westerner to explore the Black Mountain subrange of the Appalachians in 1835. The distance between the endpoints of this J-shaped range (Yeates Knob and Celo Knob) is only 15 miles.
Mount Mitchell is protected by its namesake state park, one of the first national parks in America (est. 1915). The park, which includes a museum, observation deck, and network of trails and campsites, is accessible via a 4.6-mile road off of the scenic Blue Ridge Parkway.
Mount Mitchell is located near Burnsville, NC and only 19 miles from the regional hub of Asheville, NC.
Mount Mitchell Climate, Vegetation, & Wildlife
Average Summer Temperature: 66.8°F (19.3°C) in July
Average Winter Temperature: 16.7°F (-8.5°C) in January
Mount Mitchell is characterized as a humid continental climate, bordering on subalpine, with mild summers and long, moderately cold winters. The peak is covered in a dense conifer forest of native red spruce and Fraser fir, which is especially lush and green throughout the summer. Wildflowers are abundant through the warm months, and native birds feed on wild blackberry and blueberry shrubs. Hikers sometimes spot bears along trails and near campgrounds, so park rangers advise keeping clean camps and disposing of waste properly.
Precipitation on the summit of Mount Mitchell is frequent due to its elevation and averages 81.09 inches/year (206cm). Heavy winds can also be prohibitive, with gusts recorded at 178 mph (286 km/h).
At its high elevation, the flora of Mount Mitchell is also exposed to high levels of pollution, mainly in the form of acid precipitation. Combined with a non-native insect infestation in the second half of the twentieth century, many of the mature firs were killed and the stumps can be seen more readily in the winter months.
Despite these hardships, Mount Mitchell is home to the most distinctive and diverse flora in the Southern Appalachians. Common vegetation includes red spruce, fire cherry, yellow birch, mountain ash, mountain maple, mountain raspberry, red elder, and bush honeysuckle. Keen observers can also spot northern flying squirrels, saw-whet owls, white-tailed deer, striped skunk, bobcats, or gray foxes. The park office offers a complete plant and animal checklist.
Mount Mitchell Activities & Events
Mount Mitchell State Park offers a variety of activities, shopping, dining, and learning opportunities for nature lovers of all ages. See the park reservation website for information about reserving picnic shelters, the summit classroom, or lounge.
A few planned activity options at the summit include:
Mount Mitchell Observation Deck
The pinnacle of Mount Mitchell's attractions is the awe-inspiring observation deck at the summit of the mountain. The deck is easily accessible via a quarter-mile paved trail. From the deck on clear days, visitors have unobstructed 360-degree, 85-mile views of the Blue Ridge Mountains. The peak's namesake, Dr. Elisha Mitchell, was interred atop Mount Mitchell in 1858, a year after his death. His grave is visible from the summit.
Mount Mitchell Education Center
Learn about the history and ecology of Mount Mitchell directly from park rangers in their fully equipped classroom. Developed for grades 4–6, available educational materials introduce students to "the forest types of the Blue Ridge Mountains, focusing on the potential causes for forest decline in the mountains and at Mount Mitchell." Most events are free, though some require preregistration.
Mount Mitchell Museum
See how Mount Mitchell measures up against the east coast's highest peaks at the 1,385-square-foot exhibit hall located near the mountain's summit. Hands-on and replica exhibits offer visitors insight into Mount Mitchell's natural and cultural history. The museum is open daily May–October.
Mount Mitchell Concession Stand & Gift Shop
Light snacks, like local cider and candies, can be purchased at the concession stand adjacent to the summit parking lot. The next-door gift shop offers crafts, books, and other keepsakes to remember your visit. Both locations are open daily from May–October.
Mount Mitchell Restaurant
Hungry hikers and tourists need not go far to enjoy a relaxing meal and scenic views. The Mount Mitchell restaurant is located approximately half a mile from the park office. It offers a lodge-like space with simple American fare, including burgers and sandwiches. The restaurant is open until one hour before park closing, May–October.
Camping near Mount Mitchell
Between the park office and summit, and along the Campground Spur Trail, Mount Mitchell State Park maintains nine family campsites for tent-only camping. Each site is equipped with a grill and picnic table. Campgrounds and adjacent restrooms (no showers or hot water) are open from May 1–October 31. Take proper bear safety precautions.
Visitors may also leave their vehicles in the park overnight to backpack into the Pisgah National Forest as long as they register on the forms provided at the trailheads near the parking area or at the park office. NOTE: Pisgah National Forest backpacking sites are not within Mount Mitchell State Park property.
Trails & Hikes near Mount Mitchell
Mount Mitchell State Park is a wonderful location for a variety of outdoor activities, including short strolls or more extensive hikes. The park has an extensive hiking trail network, including entry onto the Mountains-to-Sea State Trail.
NOTE: Trails surrounding Mount Mitchell are marked for hiker use only. No trails are marked for mountain biking. The 17.0-mile Buncombe Horse Range trail is also marked for horse use.
Remember to wear appropriate clothing and carry proper gear—the high altitude means Mount Mitchell and surrounding areas can be chilly year round.
Current Weather Conditions: nchighpeaks.org
Balsam Nature Trail
Length: 0.75 miles, round trip
Difficulty: Moderate
Description: Self-guided nature trail from Mount Mitchell Trail to mountain summit. Features the highest spring in the eastern U.S.
Camp Alice Trail
Length: 0.50 miles, one way
Difficulty: Strenuous
Description: Intersects Old Mitchell Trail 1/4 mile from summit and descends south to Camp Alice, remains of a lodging camp from the early 1900s.
Commissary Trail
Length: 2.00 miles, one way
Difficulty: Easy
Description: From the park office, follow an old logging railroad bed from the early 1900s. After logging was prohibited, railroads brought tourists into the mountains.
Deep Gap Trail
Length: 4.30 miles, one way
Difficulty: Strenuous
Description: Begin near the picnic area at the mountain summit across the crests of Mount Craig and Big Tom Mountain.
Mt Mitchell Trail
Length: 6.00 miles, one way
Difficulty: Strenuous
Description: Start at the Black Mountain Campground and climb to the summit of Mount Mitchell. Requires 4.5 hours to the top and 3.5 to return.
Old Mitchell Trail
Length: 2.20 miles, one way
Difficulty: Strenuous
Description: Used by explorers as early as the 1840s, this was the primary trail for reaching Mount Mitchell into the early 1900s.
Summit Trail
Length: 0.25 miles, one way
Difficulty: Easy
Description: The short, paved trail from the upper summit parking lot to the summit observations platform.
Seasonal Access & Safety
Mount Mitchell State Park is scheduled to be open every day of the year except Christmas Day. The park is accessible by hiking, backpacking, or via a 4.6-mile road off of the scenic Blue Ridge Parkway. Park accommodations, including campsites, museum, gift shop, and restaurant, are open May–October. Accessibility by car in colder months is subject to the Blue Ridge Parkway's opening hours.
Because of its elevation, Mount Mitchell and surrounding areas can be chilly, even in summer. Hikers should wear appropriate clothing and carry proper gear. Take proper bear safety precautions.
For park alerts, updates, or directions, visit ncparks.gov/mount-mitchell-state-park.
What's your favorite thing about Mt. Mitchell? Share your stories with us in the comments.
Visited 1,769 times, 2 visit(s) today