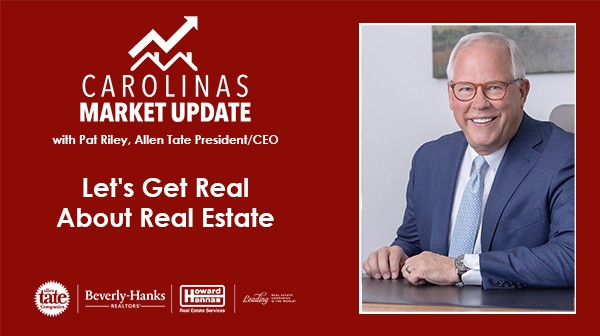 Last Updated on April 3, 2023
We're finding our new normal, says Allen Tate President & CEO Pat Riley
Interest rates are rising. Home price appreciation has cooled. Does that mean the sky is falling when it comes to real estate?
"The residential housing marketplace has always been geographically and neighborhood-driven. Right now, we're just finding our new normal," said Allen Tate Companies President and CEO Pat Riley in the March edition of Carolinas Market Update.
More than 60 percent of U.S. homeowners have mortgage interest rates below 4%, but today's rates of 5-6% are starting to seem more palatable.
"We don't like it, but we understand that we are still at a rate well below the historical average of 7.9%," Riley said. "To put your dreams on hold because of a higher (but still reasonable) interest rate just isn't worth it."
Riley's advice? Date the rate. Marry the house. Refinance later. And in the meantime, deduct the interest.
"The average first-time homebuyer has spent $94,000 in rent before they buy their first house," Riley said. "That's a huge bar that is set even higher now because of home price appreciation and interest rates. Homebuyers need to get a little creative: financial help from family, lower expectations, and sweat equity to make that house a home.
Home prices are still appreciating in most markets, but at a lower rate than in 2020-2021 – unprecedented times for the real estate market.
"If you're selling a home today, you won't get the price your neighbor got a few years ago. But you can still expect a fair price that will allow you to get into your next home," Riley said.
"The road to homeownership isn't always a straight path. But the destination is worth it."
Carolinas Market Update is targeted to consumers in the Charlotte, Triad, Research Triangle, High Country, Highlands/Cashiers, Asheville/Mountain, and Upstate S.C. regions. It is produced every other month by the Allen Tate Companies and features information, statistics, trends, and predictions about the real estate market in North and South Carolina.
Allen Tate is the Carolinas' largest real estate company based on closed sales volume, with 71 offices in the Charlotte, Triad, Triangle, High Country, Highlands/Cashiers and Asheville/Mountain regions of North Carolina and the Upstate of South Carolina. Allen Tate offers the advantage of hometown service with international capabilities and the latest in real estate technology and maximum marketing exposure. Visit www.allentate.com for more information.
Visited 791 times, 1 visit(s) today