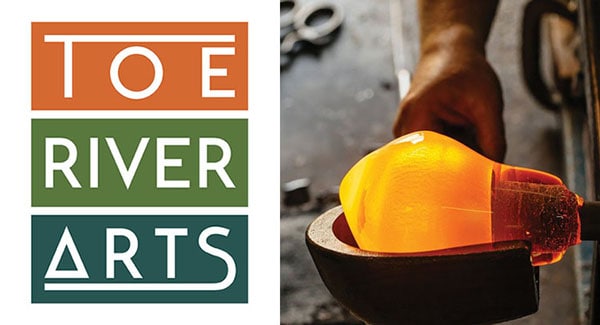 Last Updated on April 18, 2023
It's been proven time and time again that people learn best through hands-on activities. Whether you're eight or 80, making something with your hands teaches more than just the skill of the craft. Through arts education and support, the Toe River Arts Council works to help the locals and visitors of Yancey and Mitchell Counties Live Abundantly in WNC.
We invite you to learn more about the Toe River Arts Council and how you can help the team behind it maintain their mission.
What is the Toe River Arts Council?
Since 1976, the Toe River Arts Council (TRAC) has worked to connect artists and the community of Yancey and Mitchell Counties through participation in and appreciation of the arts. They bring arts-related experiences to area schools and work with local artists to improve the quality of life for everyone in the Toe River Valley.
The Toe River Valley is perhaps best recognized for its meandering streams, majestic mountains, and native rhododendron. But the valley is also home to more than 400 artists who have made the location a destination for visitors year round. TRAC works in conjunction with 18 other community organizations and local government agencies to brand the two-county region for its cultural assets. Their work has put the Toe River Valley on the map through new gateways to the area, wayfinding signage, artist area identifiers, and an interactive online presence. This work has encouraged creative activity, fostered a strong community identity and sense of place, and revitalized economic development.
Take the studio tour
Want to see these incredible area artists for yourself?
The Toe River Studio Tour may be the largest and longest running studio tour in the country. It features more than 100 artists at more than 75 studios and galleries between Mt. Mitchell and Roan Mountain. Meet the artists, see where they create, and experience where they live. Enjoy mountain vistas and valley enclaves as you travel from artist to artist, many in out-of-the-way studios.
This year, the free, self-guided Spring Studio Tour is scheduled for June 2–4, 2023. A Studio Tour Preview Exhibition will accompany the Tour. It will be on display May 13–June 4 at the Kokol Gallery in Spruce Pine. Enjoy an enchanting drive through Mitchell and Yancey Counties along the meandering Toe River. Navigate across its many bridges and through miles of forests, all while visiting the talented studio artists and galleries participating.
Artists featured during the Toe River Studio Tour represent nearly every medium. Many are at the top of their field, while others each season are new to the tour. Save the dates for this fall's Studio Tour, which runs November 10–12, 2023!
Get more by giving back
Every day, our Allen Tate/Beverly-Hanks agents and staff impress us through their involvement in strengthening community efforts through service and financial support. We encourage you to get involved, too.
Support local mountain artists now and in the future! Consider donating time and money to an organization like the Toe River Arts Council that means something to you. Reach out to TRAC or contact your Allen Tate/Beverly-Hanks agent to learn about local nonprofits in your community.
Toe River Arts Council
Spruce Pine Gallery | 269 Oak Avenue, Spruce Pine | (828) 765-0520 | toeriverarts.org
Visited 294 times, 1 visit(s) today