Last Updated on April 7, 2023
Using your hands to make what you need or desire has long been a regular practice among the creative minds and curious spirits of Western North Carolina. If you can't find it or afford it, you build it.
This region has a storied history of handmade crafts and visual arts. From the passed-down traditions of basket weaving and stonework of the Eastern Band of Cherokee Indians to the arts of metalsmithing and glassblowing, there has always been a rich atmosphere of creation in these parts.
Keep reading for an intimate look at the visual arts in WNC.
Preserving traditional crafts and skills
Throughout the year, art lovers take advantage of the innumerable artisan galleries in every downtown and home studios dotting the mountainous landscape. WNC also plays host to numerous art and craft festivals, shows, and exhibits. These venues provide crafters with a platform to share their wares with locals and visitors in search for that perfect piece.
"At these shows, you can see the love and compassion that come from each individual piece," said Cherokee silversmith General Grant. "Sometimes it makes you want to cry because you see so much love exhibited in the work. Our souls are absolutely in our work. Buyers are not just 'taking it home with them,' they're coming in to get what they were looking for. People are looking for something to feel real. They're drawn to certain pieces, and can't put them down."
And in a 21st century global society, many of these cherished skills can fall through the cracks, gone forever. But, luckily, that's not the case in WNC.
"It's amazing how easily things can be lost, how a family technique can die out in a generation," said local weaver Amy Tromiczak. "There's something incredible about working with your hands, and that everything you put into a piece really does matter."
A handful of renowned academic institutions are promoting and teaching specific skills to the next generation of crafters, ensuring that the future of handmade items is in safe hands. Institutions like the acclaimed Penland School of Crafts in Bakersville and the professional crafts program at Haywood Community College in Clyde are revitalizing what it means to make something and be able to find a market for it.
"The professional crafts program at HCC is very unique," said Amy Putansu, fiber instructor at HCC. "It promotes not only creativity and craft, but also how to market yourself as an artist. The students here are learning to make things, and make things well, with an emphasis on ethics very minded in the local sustainability movement. I love it because they're creating a whole new future, a different shape of manufacturing in America, a new design in conjunction with manufacturing."
Textile crafting is a large part of the heritage in WNC. The students at HCC are not only preserving traditional skills, they're perpetuating them.
"It's about staying in touch with history," Putansu said. "It's maintaining that thread through generations, time, and history. It's about what we do, the objects we make, and it's really important that history doesn't get lost."
Building on history with an eye toward the future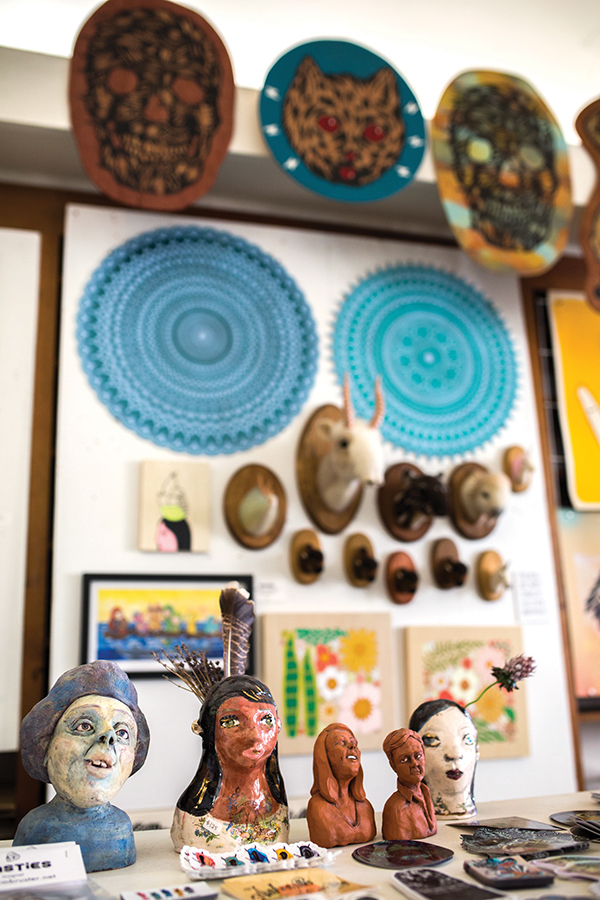 Local artisans are building on this history of craft making to create futures for themselves in WNC communities. Co-owner of Lexington Glassworks in downtown Asheville, Billy Guilford has been a glass artist for nearly 15 years. What started out as a curiosity has now become a full "blown" career.
"It's a very challenging medium, but I also like the immediacy of it," said Guilford. The moment you're done firing up and shaping the glass, the piece is finished, too."
Though he studied at the New York State College of Ceramics, Guilford honed his craft at Penland with his peers. That time learning and apprenticing not only opened them up to the endless possibilities of their creativity, but also to a haven of encouraging artists from around the region. In just five quick years, Lexington Glassworks has become a fixture on Lexington Avenue.
"We jumped right into this community of artists, and we feel like part of this community," said Guilford. "This area and this city are rooted in crafts, in arts, in culture, and in a great sense of community. People who come in here ask us if we really do this for a living. Yes, yes we do, and we feel so lucky to do so."
Woodworker Ben Grant has made WNC his home since 2009. Originally a construction worker, he became enthralled with the idea of building something from nothing.
"I fell in love with the hands-on aspect of woodworking immediately, but my craftsmanship was terrible. It took a while to get the hang of it. But I stuck with it, and the results became very fulfilling," Grant said. "I didn't know where woodworking would take me exactly, but, at that point, I knew it was what I was going to be doing for the rest of my life."
From 2009 to 2012, Grant found himself enrolled in workshops at Penland. In 2016, he graduated from HCC with a degree in "Professional Crafts – Wood."
"The HCC woodworking program was extremely beneficial," Grant said. "Students are given the freedom to explore design ideas and techniques while being skillfully guided. We learned how to problem solve and take ideas from the original concept to the finished project, no matter what skill level we started the program with."
Situated in the River Arts District (RAD) of Asheville, the gallery and studio of painter Mark Bettis is a living, breathing studio. Bettis is constantly at work in the space, turning a large blank canvas into something completely his own.
"I love the creative aspect of Asheville. This place has always been a beehive of creativity," Bettis said. "I like the freedom here to do whatever I want. This city is so welcoming to artists and supportive of whatever it is they want to create."
Bettis' studio is surrounded by dozens of other studios, which is what makes the RAD such a rare place to wander and explore.
"What makes the RAD so special is that we're working art studios, instead of galleries where you don't know who the artist is and you just see a name on the painting," Bettis said. "Here, you meet the artist, talk to them, and see what they do in real time. One thing I like about this town is that there's a lot of entrepreneurs— artists or small businesses—who take charge and make their dreams a reality. Anything goes here."
This post is adapted from our annual Welcome to Western North Carolina magazine. Click here to read more online, or request your free copy today.
Visited 31 times, 1 visit(s) today