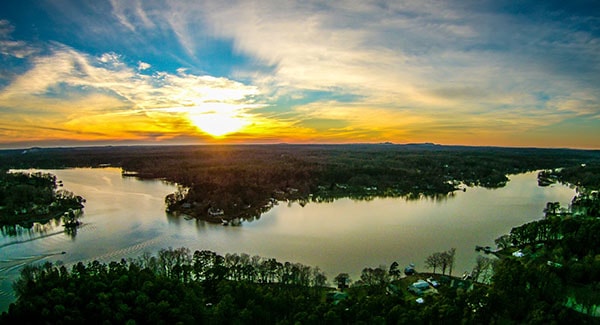 Last Updated on March 28, 2023
Not everyone is cut out for full-time living on a boat. But just about everyone wants to live on the water—or as close to it as possible. Luckily, that's easy to do around Lake Wylie because there are so many great surrounding neighborhoods and communities.
Here's our guide to the ten most popular neighborhoods around Lake Wylie in North and South Carolina.
Belmont, NC
Belmont is a small town nestled between Charlotte and Gastonia, NC. The town is surrounded by natural beauty and filled with a charming atmosphere. Thanks to its location, Belmont also offers a wide selection of employment opportunities, dining and shopping destinations, and entertainment within reach. Belmont has actively worked to preserve its historical buildings, many of which are related to its long history as a mill town. With a quaint downtown and proximity to beautiful rivers, this tight-knit community is a wonderful place to call home.
Find homes for sale in Belmont.
Cramerton, NC
Cramerton is a small, historic town with picturesque natural features that was created as a "model mill village" in the early 20th century. Today, Cramerton provides a peaceful residential community with serene water views, beautiful mountains, and lush greenery throughout. The 30-acre Goat Island in the center of Cramerton has been transformed into a recreational wonderland. Residents take advantage of the treehouse-style playground, green space, walking trails and serene waters by going fishing, canoeing, kayaking, disc golfing, walking, jogging, and biking.
Find homes for sale in Cramerton.
Fort Mill, SC
Fort Mill is a popular suburb of Charlotte located just over the state line in South Carolina. This tight-knit community has seen significant growth but still maintains its original charming character. The prosperous community comes together through several events each year. One of the most notable events is the South Carolina Strawberry Festival, a two-day festival with live music, a car show, kids activities, a pageant, and lots of strawberries. The Fort Mill Historic District is now listed on the National Register of Historic Places.
Find homes for sale in Fort Mill.
India Hook, SC
One of three communities on Lake Wylie, India Hook's population has doubled in the last 15 years to 4,000. The census-designated place offers the best of rural, waterfront living while maintaining proximity to big-city amenities. No wonder it's considered one of the best places to live in South Carolina! The neighborhood is flanked by the Museum of York County on the west and the 320-acre Westminster Park on the east. A 26-acre lakefront park called Ebenezer Park offers a wide variety of day use recreational opportunities and overnight campsites.
Find homes for sale in India Hook.
Lake Wylie, SC
The CDP of Lake Wylie sits on a peninsula that juts into the waters of the lake itself. Both the lake and the community were named after Dr. W. Gil Wylie in 1960. Wylie was one of the founders of Catawba Power Company, the company which created the lake and later became Duke Power. One of the most popular spots on Lake Wylie is Papa Doc's Shore Club. The rustic American seafood restaurant and raw bar offers great food and even better waterfront views. Nearby Buster Boyd Access Area is a great launch point for a day of tubing, kayaking, or paddle boarding.
Find homes for sale in Lake Wylie.
Newport, SC
The suburban community of Newport may not be right on the water. But you'll be just a few minutes away from Lake Wylie's western shores from anywhere in town. Church groups visit the area regularly to soak in sunshine at Bethelwoods Camp & Conference Center. And the Rock Hill Aquatics Center has offered locals recreational opportunities for well over 150 years. Nearby Winthrop University infuses activity and nightlife into the area. Among locals' favorites is Corks, Cooks, & Books, a combination wine bar/restaurant/bookstore.
Find homes for sale in Newport.
River Hills, SC
River Hills is the oldest and largest of Lake Wylie's waterfront communities. Sea Pines of Hilton Head designed and built the planned community to capitalize on the abundant natural beauty and serenity of the area. The secure neighborhood features a playground, dog park, country club, community garden, beach park, and marina club. In fact, with an 18-hole championship golf course, tennis and pickleball courts, pools, and a fitness center, the River Hills Country Club is one of the premier clubs in the region.
Find homes for sale in River Hills.
Riverview, SC
Located on the east bank of the Catawba River, Riverview offers quality suburban living within minutes of Lake Wylie's southern shores. The community also straddles I-77, offering quick access to Charlotte and other major metropolitan areas. Residents enjoy sunny days at one of several community parks. And a couple different trails run along the river. The Wylie Dam Trail takes hikers to the point where the river was dammed to create the lake.
Find homes for sale in Riverview.
Steele Creek, NC
Steele Creek Township was one of the original 15 townships of Mecklenburg County, with its first school founded in 1780. Today, most of the community is within Charlotte city limits, and Steele Creek is among the fastest growing parts of the county. The Charlotte Area Transit System (CATS) offers local and express bus service in the area, making the area convenient for residents and visitors. Steele Creek features a number of parks and protected lands, including Thomas McAlister Winget Park and McDowell Nature Preserve.
Find homes for sale in Steele Creek.
Tega Cay, SC
There's much to love about the planned waterfront community of Tega Cay. Located on a 1,600-acre peninsula on Lake Wylie, the town features six miles of scenic walking trails, a 27-hole golf course, and 13 miles of waterfront. Grab an annual pass for year-round access to all of the area's lakefront parks, including the newly renovated Windjammer Park with beach access. The YoCo (York County) Brew Trail encourages locals to explore the area's many craft beverages. End your days at The Shore Club, where they pair fine dining with incredible views.
Find homes for sale in Tega Cay.
Find your Lake Wylie dream home today!
Lake Wylie is one of three man-made lakes in the Charlotte area that are fed by the Catawba River. First created by a dam near the town of Fort Mill in 1904, today Lake Wylie covers nearly 12,500 acres and features 325 miles of shoreline. The lake straddles the border of North and South Carolinas, covering many different communities and neighborhoods. The SC Department of Natural Resources (SCDNR) manages the lake for recreational fishing and maintains six fish attractors. Popular sport fish on Lake Wylie include catfish, crappie, and largemouth bass.
Does that sound like the perfect lifestyle for you? Find homes in Lake Wylie now!
Visited 640 times, 1 visit(s) today