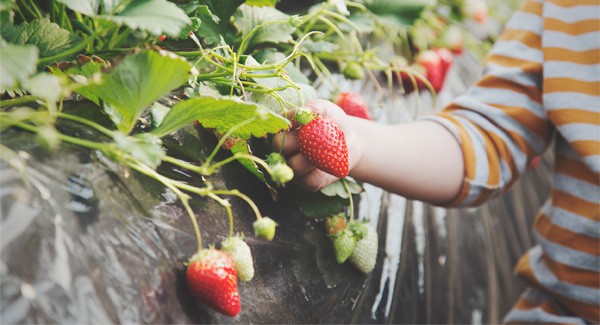 Last Updated on April 25, 2023
As the weather begins to warm up in the Carolinas that can only mean one thing–strawberry season is here! If you've never experienced the sweet taste of freshly-picked strawberries ripe from the vine, you're in for a treat. In today's post we'll highlight 9 of the best places to pick strawberries in the Carolinas.
Jump to navigation:
The false spring we had at the beginning of March has confused some of the crops at Obermiller's Farm, causing a bit of a delay in their emergence. Typically strawberries are available around Mother's Day Weekend here, but make sure to check their facebook page for updates before you go. Visit Obermiller's for u-pick strawberries in the spring and blueberries and blackberries in the summer!
Hall Family Farm is a highly sought-after strawberry picking destination, as the farm has an abundance of family-fun activities. Located just a short drive from Charlotte, NC, beyond u-pick strawberries, there are tons of fun things for kids to do–from jungle gyms and corn cribs to fire truck slides and hill slides and more. Open now for the strawberry season, the farm is open Sunday through Thursday from 9-6 pm and Friday and Saturday from 9-7 pm.
This small family farm is open now through the end of the season for u-pick and pre-picked strawberries. Weather conditions will greatly affect availability and hours open each day, so make sure you check out the farm's facebook page before heading out.
Enjoy a fun-filled day when you visit this working farm in Durham, NC. Offering u-pick now through the end of the season, you also have the opportunity to purchase homemade jam, fresh produce, eggs, pound cake, fresh flowers and more. Weather conditions will affect availability and hours, so make sure to check their facebook page before planning your visit.
If ripe-off-the vine strawberries are what you're after, Buckwheat Farm in Apex is the place to be. Strawberry season is open now through at least mid-may. You can also stop by for some homemade ice cream, jams and jellies. You-pick blueberries and honey are also typically available later in the season. Be sure to check for updates before you go, as weather can greatly impact hours.
More than just a place to pick strawberries, this 5th generation family-owned farm grows fruits, veggies, boasts a natural quarry, hosts weddings and events and more. Strawberry picking is now open for the season, but make sure to check their page for exact hours and availability each day. Don't forget to bookmark this fun spot for the summer, as swimming at the quarry opens for the season in mid-may.
The first crop planted at Ingram's Family Farm over forty years ago was the strawberry. For six generations Ingram's Family Farm has produced a wide variety of fruits and vegetables, but their specialty has always been their chandler sweet strawberries. Offering U-pick and pre-picked strawberries, those wanting to pick your own will have to wait just a little bit longer, as the weather has again delayed things. U-pick is expected to begin the first week of May, but it's a good idea to check for updates first before heading out.
What started out as a peach farm has now grown into three locations offering a wide variety of u-pick crops, a community supported agricultural program (CSA) and angus beef. Strawberries are now available at each location, but u-pick is only available at the York location.
Located in the foothills of Pickens County, and just a short drive from Greenville, Hunter's Farm has been cultivating fun at the farm since 1998. Strawberries season is weather-dependent, but typically, the season runs from mid-April to mid-June. Besides strawberries, you'll find homemade ice cream, jams, jellies, cider, bread and more.
Visited 2,394 times, 1 visit(s) today