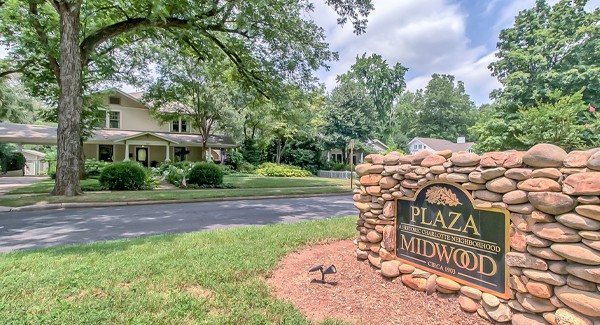 Last Updated on April 25, 2023
If you're moving to Charlotte, North Carolina you'll quickly realize it's where Southern charm meets modern city life.
It's a growing city with something for everyone, whether that "something" is old-school barbecue or avant garde molecular gastronomy.
If you're thinking about relocating to Charlotte or already have a move to Mecklenburg County in your plans, you're in luck. We've compiled the definitive list of everything you need to know about life in the Queen City.
Everything you need to know about moving to Charlotte, NC

Charlotte by the numbers
Charlotte, North Carolina is a fast-growing metropolis, the seat of Mecklenburg County, and home to more than 850,000 people. It's also the center of a region known as the "Charlotte-Mecklenburg" area that encompasses 16 counties in North and South Carolina, with a population exceeding 2.9 million people.
Job Market in Charlotte
With its mild weather and convenient midway location along the East Coast of the U.S., Charlotte is an ideal place to do business, and many large companies have set up shop in the city.
In fact, Charlotte serves as the headquarter city for six Fortune 500 companies. And the area continues to attract new business. In November 2018, Honeywell (a Fortune 100 company) announced plans to relocate its global corporate headquarters to Charlotte. That's an estimated 750 jobs by the end of 2024, according to the Mecklenburg County Pulse Report.
Home to Bank of America's corporate headquarters and the home of East Coast operations for Wells Fargo, Charlotte is the second-biggest banking hub in the U.S. and the largest in the Southeast.
But the Charlotte job market offers a lot more than finance positions. Over the past decade, Mecklenburg County's job growth rate was 25%, compared with the national average of 5.6%. More recently, Charlotte was ranked number one in I.T. job growth in 2018 by CompTIA.
Cost of living in Charlotte, NC 
Although business is booming in Charlotte, the cost of living is five percent lower than the national average. Here is the breakdown of Charlotte expenses via Expatistan and PayScale
Median Home Price:

$296,685

Median Rent: $929.39/month

Median Energy Bill: $153.9/month

Gas: $2.53/ gallon

Basic

lunch menu item

: $12

Two tickets to the movies: $21

Standard mens haircut: $18

Cocktail drink in a downtown bar:  $11
Payscale also reports that the average salary in Charlotte is $54,660. With a healthy job market and lower than average cost of living, it's no wonder an average of 122 new people per day are moving to the Charlotte-Concord-Gastonia metropolitan area!
Transportation
The LYNX Blue Line is Charlotte's light rail service. It is 18.9 miles long and operates from ​I-485 at South Boulevard to UNC Charlotte's main campus in University City. Along the way, there are 26 stops,  including 11 Park and Ride locations. service is available every 7.5 minutes during weekday rush ensuring that commuters get to work on time. Check out the LYNX stations and parking map.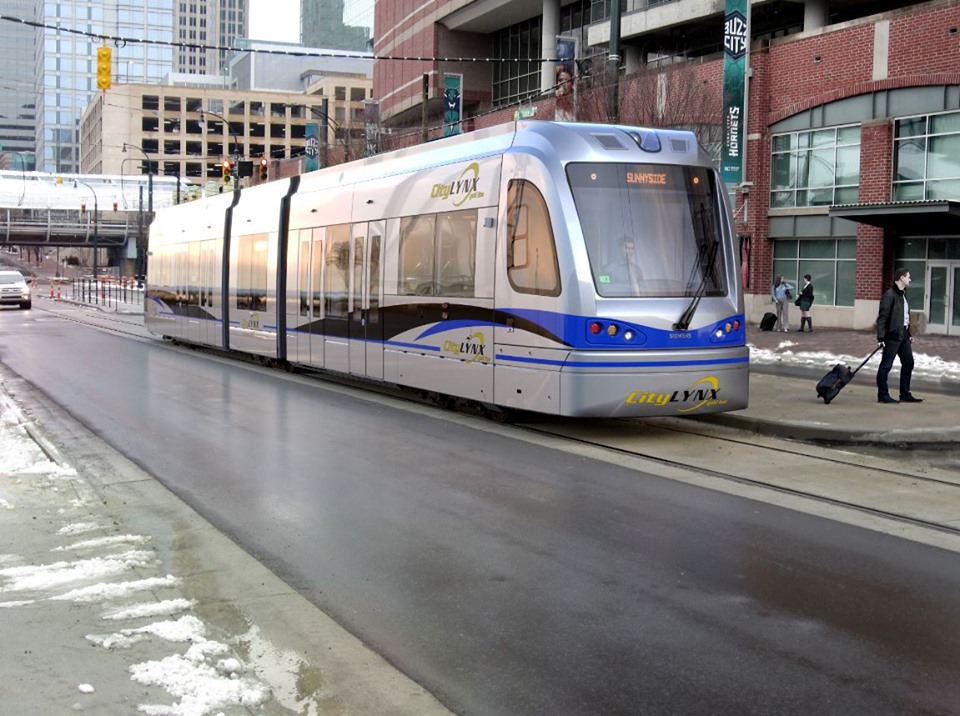 There are a few downsides that come with the fast-paced growth of a city like Charlotte. To combat the traffic, people have been known to move closer to their workplaces, using back roads instead of the highways, and working with their employer to adjust their hours (for example, driving into work mid-morning and staying later in the evening).
Thinking about buying a home soon? Click here to receive your free copy of our first-time home buyer ebook!
Relocating to Charlotte: Popular neighborhoods
When it comes to living in Charlotte, knowing the neighborhoods is essential. We recommend working with a local Realtor to learn your way around the different areas of Charlotte and figure out which one is right for you and your family.
First Ward
Want a spot in the center of Charlotte? The area is divided into four wards by the intersecting Tryon and Trade Streets. The First Ward offers Craftsman-style single-family homes, townhouses, mid-rise apartments and high-rise condominiums.
Families will love the four-acre First Ward Park and ImaginOn, a collaborative effort between the Charlotte-Mecklenburg Library and Children's Theatre of Charlotte ranked by Livability.com as the number one children's library in the U.S. The First Ward is also home to the City Center campus of the University of North Carolina, Charlotte.
Second Ward
The Second Ward is hospitality central. Here you'll find more than 3,000 hotel rooms, the Charlotte Convention Center, and the NASCAR Hall of Fame. The Green offers a park and sculpture garden, and Wells Fargo has its campus and atrium in the Second Ward.
If Uptown living is something you're interested in, the second ward has many great options: Newer condominiums like the Trust, Radcliffe, Madison and Skye are all amazing options. Additionally, The EpiCentre features an array of dining and entertainment options.
Third Ward
Sports fans will love the Third Ward for Bank of America Stadium, home to NFL team the Charlotte Panthers, and BB&T Ballpark, home to Triple-A White Sox affiliates the Charlotte Knights. The Third Ward also contains Romare Bearden Park and the campus of Johnson & Wales University.
Plenty of condos, townhomes and single family homes are available for those attracted to the many offerings of the Third Ward.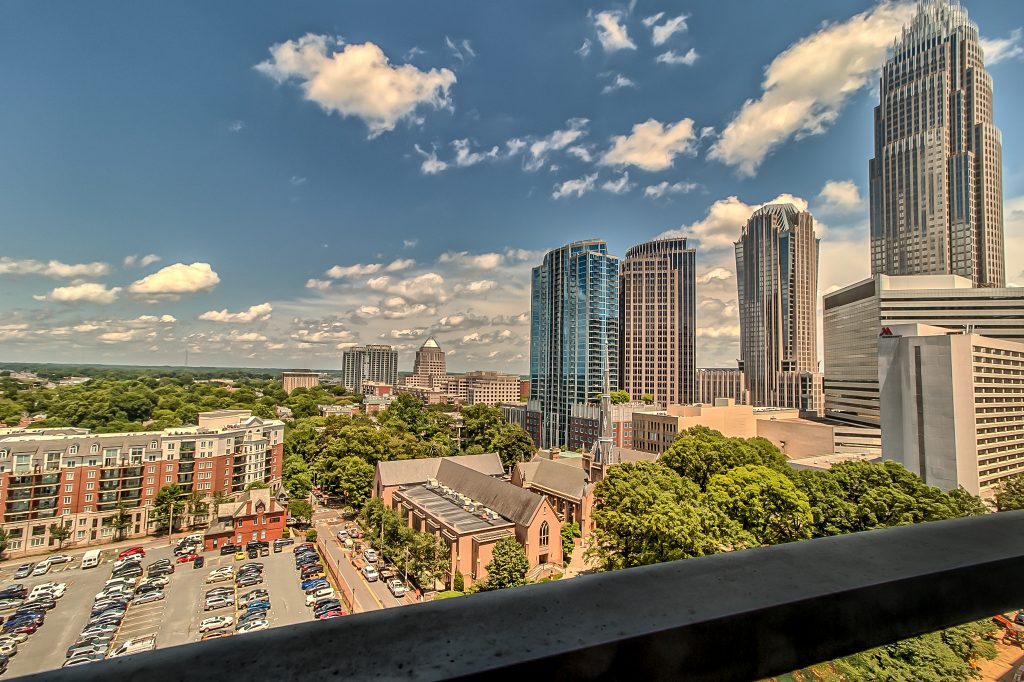 Fourth Ward
The Fourth Ward boasts Victorian-style historic homes and quiet streets. The annual Holiday Home Tour has delighted visitors for more than 35 years, but new-construction condominiums are also available for those seeking a modern abode.
Search for homes in Charlotte's center city  
Noda
NoDa is a thriving arts district that also offers an eclectic mix of breweries and dining spots. Property values are only getting higher in this district, with options ranging from new construction to condominiums and lofts.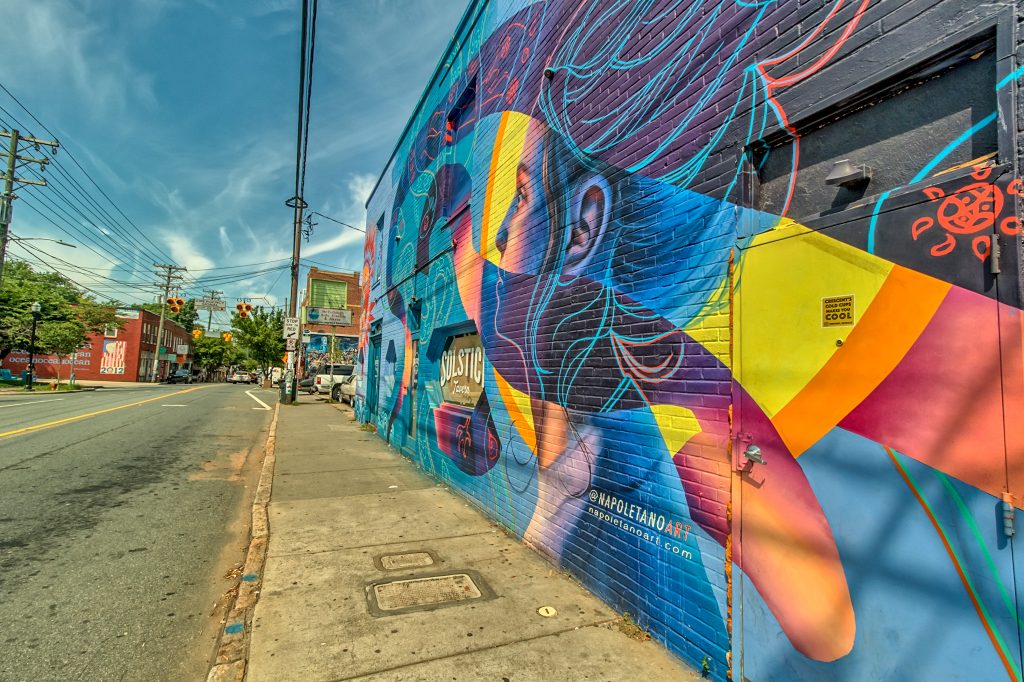 Dilworth
Dilworth was Charlotte's first streetcar suburb, and it's still known for its walkable charm and family-friendly vibe. Homes range from fixer-uppers to renovated historic homes going for over one million dollars.
South End
South End was Charlotte's first industrial park, and after the decline of the textile industry it's being reborn as a trendy place to live and work. Housing options include mid-rise condominiums, townhomes, and lofts, and the area continues to grow in popularity.
Elizabeth
Elizabeth was Charlotte's second streetcar suburb, and it still has the charming tree-lined streets people enjoyed in the 1800s.
Plaza Midwood
Plaza Midwood was designed around a trolley line running from Uptown, and features both large Craftsman bungalows and smaller cottages, all within walking distance to some of the best nightlife gems in the city. Belmont is an up-and-coming area, following in the revitalization footsteps of NoDa and Plaza Midwood.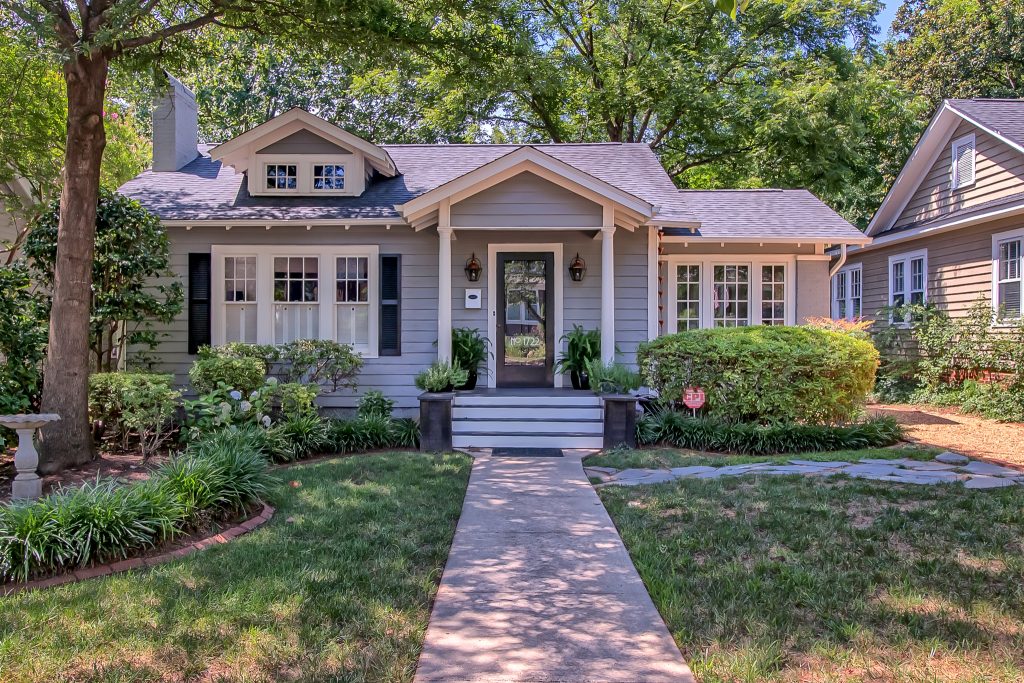 Myers Park
Myers Park in South Charlotte was the site of the city's first trolley line and is known for Queens Road West, arguably one of the most beautiful residential streets in the country. Myers Park is home to Queens University of Charlotte, which was founded in 1857 as a women's college and is now co-ed. Head to the SouthPark neighborhood for retail therapy, high-end dining options, and more than six subdivisions to explore.  
Search for homes in Myers Park
Up and coming neighborhoods in Charlotte
Looking for those neighborhoods that are just on the brink of becoming hot? Look no further than Madison Park (think Dilworth with more accessible price points), Sunset Road (Close to Interstate 77, more space for your money than Center City), and Mallard Creek-Withrow Downs (more accessibility thanks to new light rail options, investment by nearby UNC Charlotte is increasing value).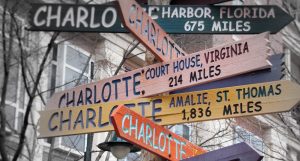 Public school system in Charlotte 
Whether you're a single young professional or a married couple with children, you're probably interested in Charlotte schools and educational opportunities.
Charlotte-Mecklenburg Schools, or CMS, is the local public school system, serving more than 130,000 students in kindergarten through 12th grade. As the second-largest school district in North Carolina, it's not surprising that there are all kinds of schools within CMS.
CMS students are assigned to schools based on their neighborhood or zone, and some families choose charter schools (there are about 30 in CMS) or private schools (serving about 10% of Mecklenburg County students). CMS also offers several magnet schools, and the home school community is growing in the area. Here is a good primer for the education scene in Charlotte.
Higher education
Looking for higher education options in the Charlotte area? There are 30 colleges within 50 miles of Charlotte, including the University of North Carolina at Charlotte, Davidson College, Central Piedmont Community College, Belmont Abbey College, Johnson C. Smith University, Queens University of Charlotte, and Johnson & Wales University.
Food in Charlotte
Ready to get out and about in Charlotte? Let's start with something everyone loves: eating and drinking. Charlotte is a foodie's playground, with good grub available at every price point and from every cuisine category you could imagine. Of course Charlotte is in the south, so barbecue is a must. You'll also find a thriving brunch scene , plenty of coffee options , and a robust craft beer industry.
If you're craving some good southern cooking, Mert's Heart and Soul should be #1 on your list. It has become one of Charlotte's top restaurants and was even visited by Food Network's Guy Fieri on his show Diners, Drive Ins, and Dives.
Escape to Paris and enjoy boutique cafes such as SouthPark's Café Monte or Amelie's which is open 24/7 and offers upscale french pastries, a full espresso bar, local craft beer, and a unique interior and fun seating options.
Breweries in Charlotte, NC 
With 40+ craft breweries occupying over 400,000 square feet in the area, drinking beer in Charlotte can be quite an undertaking! Queen City breweries offer everything from your basic IPAs to gluten-free beers to kombucha mimosas all the way to peanut butter and jelly ales.
Some of the most notable breweries in Charlotte are:
Wooden Robot

, located in SouthEnd and famous for their outdoor patio and Good Morning Vietnam blonde ale.

Sycamore Brewing, located in SouthEnd and famous for being very dog friendly and for their food truck fridays.

Olde Mecklenburg Brewery (OMB), located in Lower SouthEnd and famous for their huge outdoor German Biergarten.

NoDa Brewing Company, located in NoDa (

Optimist Park), famous for their award-winning Hop Drop 'n Roll and weekend vendor markets.
Outdoor activities
You'll be happy to know that Charlotte offers plenty of outdoor activities for working off that barbecue and the pint that went with it. Start at the U.S. National Whitewater Center, located on 1,300 acres of the Catawba River.  The USNWC boasts an impressive menu of outdoor activities, including whitewater rafting, kayaking, paddle boarding, rock climbing, and zip lining.
For some free recreation, visit Freedom Park, a 98-acre sanctuary between the historic Myers Park and Dilworth neighborhoods. Billed "the Central Park of Charlotte," Freedom Park offers a paved running path that connects to Little Sugar Creek Greenway, plus volleyball and tennis courts, playgrounds, sports fields, a seven-acre lake, and an NFL Play60 Kid Zone that's perfect for little crossfitters-in-training.  
Make a splash at one of three man-made Charlotte-area lakes, all fed by the Catawba River. North of the city you'll find Lake Norman , North Carolina's largest man-made lake. With 325 miles of shoreline, Lake Wylie is in York County, South Carolina, just a half hour from Charlotte. Mountain Island Lake is northwest of Charlotte and can be enjoyed from Hornets Nest Park and Latta Plantation Park.
Charlotte's mild climate means you can enjoy nature's bounty all year, from strawberry picking in the summer months to pumpkin patch fun in the fall. Looking for something more thrilling than a pumpkin patch? Take the family to Carowinds, an amusement park that boasts 14 roller coasters and straddles the NC-SC state line.
Related: Best skiing in North Carolina 
Sports in Charlotte, NC
When the sun goes down, the Charlotte skyline lights up, and the city offers an abundance of nightlife options. For a high-energy night out, catch a Hornets basketball game at the Spectrum Center. Enjoy craft beer from local breweries such as Triple C and NoDa and check out the calendar to make sure you are there on one of their "giveaway" nights to wine bobbleheads, t-shirts, and more!
If you want to feel like a true Charlottean, go all-in for Panther's football at the Bank of America Stadium. Pick up some BBQ or fried chicken from Midwood Smokehouse or Bojangles and be the MVP of your tailgate. Parking for these games can be expensive so plan to park at one of the free lots on the LYNX Blue Line and take the light rail Uptown.
There is nothing like nine innings of fresh air at a Charlotte Knights baseball game. Right in the heart of uptown next to Romare Bearden Park, enjoy dinner and drinks in the French Quarters before or after the game. Watch out for foul balls!
If you like your adventures on ice, check out a Charlotte Checkers game at Bojangles' Coliseum. This might be your cheapest option for Charlotte sports with tickets starting at $15. But don't worry, with a full service restaurant inside and the arena's live organist- you'll get a lot bang for your puck!
Live music scene
Charlotte's dynamic live music scene means there's always a show to enjoy, whether you're looking for an intimate dive like Smokey Joe's Cafe or a sold-out crowd at the PNC Music Pavilion.
Finding live music isn't hard in Charlotte; in fact, the city has over 100 venues that routinely have music on the menu, so to speak.
Charlotte's proximity to the beach and mountains
Ironically, one of the perks of living in Charlotte is how easy it is to get away. The city's location between the gorgeous North Carolina beaches and mountains makes a NC getaway easy. And Charlotte Douglas International Airport, the second-largest hub for American Airlines, makes air travel convenient for Charlotteans.
Charlotte is the perfect distance between the coast and the mountains so it's nice to get out of town and explore every now and then. From bustling cities to natural hot springs and picturesque small towns to national parks, there are plenty of opportunities for travel.
Some popular destinations within 2 hours of driving are:
Lake Lure, NC- the famous Lake setting for the classic film Dirty Dancing. Enjoy paddle boarding, canoeing and kayaking in the foothills of the Blue Ridge Mountains.

Also in the Blue Mountains you will find Boone, NC. A sweet mountain town home to Appalachian State University. Here, you'll find bouldering, zip lines, tubing opportunities, hiking, kayaking, mountain bike trails and so much more.

Greenville, SC- The town is famous for the park in the town's center, Falls Park on the Reedy, which features spectacular riverfront gardens and waterfall views. Take a bike ride on the Swamp Rabbit Trail, which attracts more than 1,000 visitors each day to traverse the 22 miles to nearby Travelers Rest by bike.

Charleston, SC- Showcasing colorful historic homes, ornate balconies, charming churches and horse-drawn carriages to take in the views, it feels like you've stepped into the past! Perched on the coast of the Atlantic ocean, the city offers an abundance of fresh seafood and stunning beaches for soaking in the sunshine.
Festivals in Charlotte
Tuck Fest
Tuck Fest can be described as a huge outdoor party. It usually takes place at the end of April and is a four-day festival at the U.S. National White Water Center featuring live music, 30+ athletic events and competitions and 100 beer taps. The best part is- it's free! Just pay for $5 parking. The White Water also has plenty of trails for running, walking or biking all day and into the evening. And they offers ziplining, yoga, rock-climbing, canopy tours and of course white-water rafting.
Yiasou Greek Festival 
The Yiasou Greek Festival began in 1978 and is now one of the largest cultural events in Charlotte. Yiasou is the Greek word for Hello, Goodbye and Cheers and each year invites the community to experience cultural exhibits, live music and dancing, authentic Greek cuisine, wine tastings, art, shopping and delicious homemade pastries.  This is a 4 day festival that usually takes place in early September. This year, mark your calendars for September 5th-8th!
'Tawba Walk Arts & Music Festival
In the heart of Old Town Cornelius, Tawba Walk showcases the best of the community through a multidimensional, eclectic art crawl featuring dozens of local vendors, live street performances, shopping, food trucks, craft beer and more. It takes place once in April and once in September. This year, check it out on Saturday, September 28, 2-8 p.m. It's free and open to the public!
Charlotte Oktoberfest
Each year, pretzel-necklace-wearing beer lovers from all over come together for unique samplings of beer and cider from 75+ North Carolina, Southeastern and larger national craft breweries. Discover the world of craft beer without even having to leave Charlotte!
Carolina Renaissance Festival
History comes alive at this medieval amusement park in Huntersville, NC. Highly anticipated every year, this 13-stage theater, 25-acre village marketplace, interactive circus, craft fair,  jousting tournament and feast is all rolled into one non-stop, day-long family adventure. The Village pathways are always overflowing with over 500 costumed villagers that interact with you and your family.
Charlotte is rooted in history
Charlotte routinely welcomes transplants from across the globe, but it is still a southern city deeply rooted in history. In fact, Charlotte is older than America, which is how it got its name…and its nickname. The city was chartered in 1768 when King George III still ruled from across the pond. "Charlotte" is a nod to the King's wife, while "Mecklenburg" is in honor of her German birthplace. That's why Charlotte is known as the Queen City, and why you'll see the crown symbol on many city fixtures.
Charlotte's founders may have meant the name as a gesture of goodwill toward the king, but that goodwill didn't last long. During the American Revolution, Charlotte earned a second nickname when British General Cornwallis and his troops were assaulted by sharpshooters in the Battle of Charlotte.
Cornwallis later called Charlotte a "hornet's nest of rebellion," and the nickname stuck. It's why we call our NBA team the Charlotte Hornets, our local Girl Scout council the Hornet's Nest, and why Charlotte-Mecklenburg Police Department officers wear badges shaped like hornet's nests.
If you're looking for more Charlotte history, look no further than Tryon Street. The major city thoroughfare follows a path carved by a Native American trading route that stretched 800 miles from the Cherokee Nation in the south to the Iroquois in the north. The path follows a diagonal ridgeline that slopes uphill toward the city center, which is why Charlotteans call their downtown "Uptown."
Moving to Charlotte, NC without a job
Moving to a new city without a job lined up is sometimes unavoidable. The first step in making this kind of move is ensuring you have enough money saved to hold you over while you look for a job. The last thing you want to happen is to run out of funds in a brand new city. Plan to have at least a few months of rent saved and take into consideration the costs of moving. If you're planning on buying a home for the first time, it's a good idea to consider the many first time home buyer programs in NC, first!
The banks, airport, world-class healthcare facilities, and all the colleges and universities present plenty of opportunities in finance, healthcare, education, air travel and technology. And the Queen City also offers plenty of networking opportunities for finding these jobs. Check out all the local career fairs hosted every month throughout the Charlotte area. Bring your resume and even participate in open interviews.
Final advice on moving to Charlotte
As you can see, life in Charlotte is far from mundane. We promise to fill your days with craft beer, live music, beautiful art, and outdoor adventures. Our roots run deep here in the Queen City and the people who live here are proud to call Charlotte, NC their home.
Ready to take the next step toward relocating to Charlotte? We'd love to help you find NC Charlotte homes!  You can also give us a call at 800.210.0321 to let us know how we can help.
Related living in Charlotte articles:
The best weekend trips from Charlotte
Visited 448 times, 1 visit(s) today