Last Updated on June 7, 2023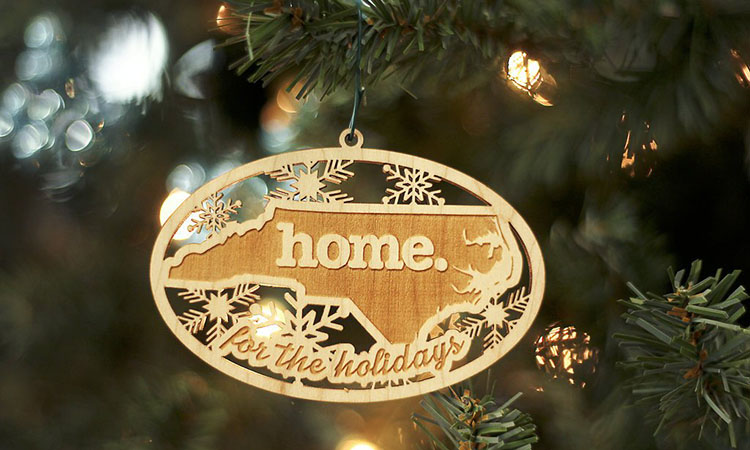 In addition to its peaks and valleys, Yancey County is known for its extraordinarily rich artistic output. The county boasts more than 400 full-time and 200 part-time working artists, including basket makers, glassblowers, metal smiths, painters, paper makers, potters, quilters, sculptors, and weavers. Neighboring Mitchell County is also a renowned destination for art lovers, in part because it's home to the Penland School of Crafts.

If you're looking for incredible local art and craftwork to gift this holiday season, there are few places more varied and of better quality than Yancey and Mitchell Counties. Here's our guide to the best holiday shopping in and around Burnsville, NC for lovers of local art.

Penland School of Crafts
The renowned Penland School of Crafts is an international center for craft education dedicated to helping people live creative lives. At its location on the border of Yancey and Mitchell Counties, innovative artists—both emerging and established—come from all parts of the country and represent the creative mission of the school. For artists, the school offers one-, two-, and eight-week workshops in a variety of mediums, as well as artists' residencies and local programs. For art lovers, there is a gallery that hosts an ongoing series of invitational shows and walking tours of the campus. An online shop is also open 24/7, so you can complete your holiday shopping from the comforts of home!

P.O. Box 37, Penland | (828) 765-2359 | penland.org

Toe River Arts Burnsville Gallery
Since 1976, the Toe River Arts Council has worked to connect the arts and the community. They make certain this area is top on the to-do list of the intrepid traveler, the seeker and lover of art, and the visitor respectful of nature and the beauty of the land. For you, that means collecting some of the finest crafts for sale in the Toe River Valley. The Arts Council offices are located on the second floor of a 100-year-old building on Main Street in Burnsville. Visitors can find the Burnsville Gallery on the first floor. The gallery rotates exhibits monthly and has a gift shop featuring artists who live in the Mitchell, Yancey, and Avery County region.

102 West Main Street, Burnsville | (828) 682-7215 | toeriverarts.com

The Market on Oak
The Market on Oak is a vibrant destination where WNC craftspeople, farmers, musicians, and authors sell and share their work. The shop is organized as a nonprofit by the Mitchell County Development Foundation to showcase the talents and passions of the gifted people of the region. It began as "The Home of the Perfect Christmas Tree" shop and mail-order website. But it has since grown into an outlet showcasing more than 120 craftspeople and artists. Come into the store, shop, smile, laugh, and learn about the local culture. Then, take a piece of the local "way of life" home with you. While many works are available online, there are lots of products only available in the store.

262 Oak Avenue, Spruce Pine | (828) 765-0571 | themarketonoakshop.com

Mica
Mica is a cooperative gallery located in downtown Bakersville. The location showcases the work of more than a dozen local artists whose creative lives have been nurtured by the energy of the surrounding Blue Ridge Mountains. Mica's members are part of a strong and vibrant arts community, making it a destination for art lovers and collectors. On display and available for sale is a stunning variety of functional and sculptural ceramics, fiber, glass, jewelry, paper, prints, and paintings. Visit any day and you are likely to meet one or two artists in the gallery.

37 N Mitchell Avenue, Bakersville | (828) 688-6422 | micagallerync.com

OOAK Gallery
Walk through the front door of the vintage 1922 Micaville Country Store and enter One of a Kind (OOAK) Art Gallery. There, you'll find 2,300 square feet of "fine, folk, and funky local art" from more than 170 local and regional artists in dozens of mediums. In addition to helping promote the local art community, OOAK gives back to the community at large by offering sales space for several nonprofits. The gallery is also home to the best music jam in the area every Saturday morning in the Gallery Loft. OOAK has become a place people plan on meeting up with friends because there is always something happening and always something beautiful to look at. If you can't visit in person, check out their extensive online shop.

573 Micaville Loop, Burnsville | (828) 675-0690 | ooakartgallery.com

Trillium Gallery
Just a short drive from Burnsville, the Trillium Gallery features a collection of handmade arts and crafts from local and nationally known artists. Since 1985, art collectors have trekked to Little Switzerland for their stunning collection of handmade jewelry, pottery, glassware, and more. Among the gallery's own favorites is the work of Rodney Shaw. They consider his relief and freestanding sculptures to be the pride and joy of this gallery. But really, all the wonderful and talented artists showcased are "must sees." If you're hoping for holiday gifts, get there soon! Their seasonal operation closes from mid-November through mid-April.

101 High Ridge Rd, Marion | (828) 765-0024 | facebook.com/trilliumgallerylsnc 

Yummy Mud Puddle
There are many unique artist studios dotting the ranges of Yancey and Mitchell Counties. Perhaps one of the most interesting is Yummy Mud Puddle. Nestled onto ten acres of majestic forest, printmaker Claudia Dunaway and mixed media artist John D. Richards create their work. The gallery also features handmade textile wearables by Kathryn Lynch. If you're visiting the gallery, why not stay for the weekend? The property also features a charming vacation rental that will accommodate six guests in comfort. The house is equipped with fiber optic high speed internet, cable, and a free landline telephone. Come sit on the dock, feed the fish in the pond, and absorb the serenity awaiting you at the Yummy Mud Puddle.

264 Clear View Lane, Burnsville | (828) 682-6567 | yummymudpuddle.com

Find great local art in Burnsville throughout the year!
Twice a year, the Toe River Arts Council sponsors the Toe River Studio Tours. The event is one of the largest and longest running studio tours in the country. More than 100 local artists in Yancey and Mitchell Counties open their studios for a free, up-close look inside the creative process. Meet the artists, see where they create, and experience where they live. Enjoy mountain vistas and valley enclaves as you travel from artist to artist, many in out-of-the-way studios.

And each August, Downtown Burnsville comes alive with local art at the Mt. Mitchell Crafts Fair. The fair has been celebrated for more than 50 years and features dozens of craft vendors, demonstrations, singing, and dancing in Burnsville's picturesque town center.

Find your peak lifestyle in Burnsville, NC!
Burnsville is located among some of the highest mountains to be found in the eastern U.S. The town offers living situations, outdoor experiences, and artistic output that go above and beyond the norm. What results are many opportunities to Live Abundantly in WNC. In addition, Yancey County is home to more than 400 full-time and 200 part-time working artists, including basket makers, glassblowers, metalsmiths, and more.

Does that sound like the perfect lifestyle for you? Find homes in Burnsville now!

Visited 11 times, 1 visit(s) today