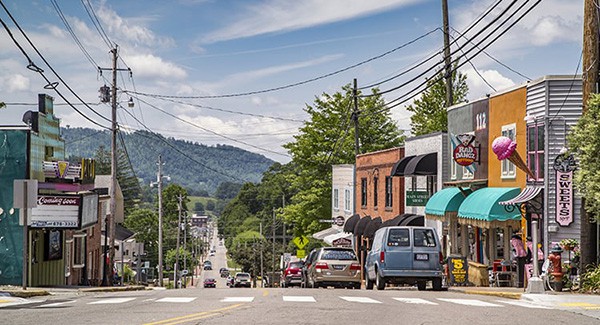 Last Updated on April 10, 2023
Whoever said that small-town life was a small life never lived in Burnsville, NC. The town offers living situations and outdoor experiences that go above and beyond the norm, presenting you with many opportunities to Live Abundantly in WNC. In turn, these experiences are attracting a growing community of people to the area.
"Burnsville is a cool place to be," said Jamie McMahan, Yancey County Planner. "Our outdoor recreation has always been some of the best you'll find on the east coast. The local art is some of the best in the nation. Downtown here, you can walk through the square, do a '360,' look around—it's Norman Rockwell. I mean, you can't beat it."
See more about what a Burnsville local has to say about the town in the Beverly-Hanks community video below. Or keep reading for information about Burnsville, NC, including:
---
---
Finding your center at Burnsville's Town Square
Burnsville (population 1,900) is the largest of the 11 mountain townships in Yancey County, as well as the county seat. Located in the center of the county, Burnsville is 35 miles northeast of Asheville, 50 miles southwest of Boone, NC, and 50 miles west of Johnson City, Tennessee.
"You're close to Asheville if you want the hustle and bustle, and if you don't want the hustle and bustle, you're just 35 minutes away," said McMahan. "It's the reason we have a lot of folks who live here, [who] both enjoy Asheville and Boone, but they want to be where life is a little slower. You can get to know your neighbors, and that's what I think about when I think of Yancey County and Burnsville."
Burnsville's picturesque town square, lined with shops and municipal buildings, has been a community gathering place since 1833. "You can see anything from people painting watercolors to folks reading books [and] kids throwing Frisbees" in the well utilized public space. "It's a village common, if you will," said McMahon.
Radiating out from the square in each cardinal direction are the many local shops, restaurants, art galleries, and services of Main Street, Burnsville. "The retail merchants that you'll find on Main Street are 100% independent retailers," said McMahon. "All do a very thriving business, making it a sort of a very pedestrian friendly, very walkable, very energetic place downtown."
Traditional arts and crafts abound in Burnsville
Much of that energy can be attributed to Burnsville's thriving arts scene. The community supports more than 400 full-time and 200 part-time working artists through nonprofits, festivals, a quilt art trail, and the acclaimed Penland School of Crafts. That's more artists per capita than any other place in the nation! The area's extraordinarily rich artistic output features everything from fine art to traditional arts and crafts, including basket makers, glassblowers, metal smiths, painters, papermakers, potters, quilters, sculptors, and weavers.
The renowned Penland School of Crafts is located just minutes from Burnsville on the border of Yancey and Mitchell Counties. Innovative artists—both emerging and established—come from all parts of the country and represent the creative mission of the school. For artists, the school offers workshops in a variety of mediums, as well as artist residencies and local programs. For art lovers, there is a gallery that hosts an ongoing series of invitational shows and walking tours of the campus.
Performing arts in Burnsville
The performing arts have a strong presence here, as well. Founded in 1947, the Parkway Playhouse in Burnsville is the longest-running community theater in North Carolina. It produces a wide range of performances and distinctive productions that are often crafted by artists who live in the community. They also manage a special dramatic arts education program for children ages 4–18. This commitment makes the theatre experience at the Parkway Playhouse unique.
Burnsville area festivals
Twice a year, the Toe River Arts Council sponsors the Toe River Studio Tours. During these days, scores of local artists from Yancey and neighboring Mitchell County open their studios for a free, up-close look at the creative process. And each August, downtown Burnsville comes alive with local art at the Mt. Mitchell Crafts Fair, which has been celebrated for more than 50 years. Jewelry artists are also featured regularly in the NC Mineral and Gem Festival, which has been an annual event for more than 60 years.
The literary arts are well represented, as well. The Carolina Mountains Literary Festival is held in Burnsville each September. It started as a small gathering of authors and readers in 2005 and has blossomed into a full-fledged literary happening complete with readings, workshops, plays, and seminars. The event is free and draws some of the region's most popular writers of fiction, nonfiction, and poetry.
History and modern technology create the perfect pairing for mountain life
As a historical mountain town, Burnsville is home to landmarks that have tied the community together for centuries. One standout institution is the Nu Wray Inn, built in 1833. The oldest lodging house in the region, it has hosted such notables as Mark Twain, Thomas Wolfe, and Elvis Presley. The inn is known both for its historic charms and its signature Southern breakfasts. The kitchen sources most menu items from local farms.
The John Wesley McElroy House was built around the same time, in 1840. It also plays an active part in saluting Burnsville's heritage. In the early 1900s, it was Burnsville's first post office before being abandoned and falling into disrepair over the decades. In 1987, the home was transformed into the Rush Ray Museum of Yancey County History.
"But most recently, we've actually had sort of a tech surge," said McMahon. "Yancey County is also the only county in North Carolina to have 100% [internet] connectivity by fiber to the home. So no matter wherever you live in our rocky terrain here in Yancey County, because we're pretty mountainous, you can be served with up to a full gig of service by fiber connection."
That connection makes a big difference to residents, visitors, and growing industries alike. Thanks in part to fiber internet, Mayland Community College is leading the charge in planetary science in the region. The Mayland Earth to Sky Park is home to a state-of-the-art planetarium and micro-propagation/aquaponics and hydroponics facility. Sitting at an elevation of 2,736 feet with 360-degree views, the park's Bare Dark Sky Observatory provides hands-on learning to students and the public from the largest publicly owned telescope in the Southeast.
The county also supports additional engineering education and training. The on-spot advanced manufacturing school at MCC teaches mechatronics, robotics, and advanced engineering. The college is committed to the economic development of the three counties it serves. And its growing population of engineering graduates are prepared for a variety of twenty-first century careers.
Outdoor adventures are always just around the bend
Speaking of elevations, Burnsville is located among some of the highest mountains to be found in Western North Carolina—and in the eastern U.S., for that matter. The county is bordered by Tennessee to the north and a stretch of the Appalachian Trail to the south. Its location makes it the perfect spot for nearly any outdoor activity you can imagine, from hiking with your dog to even gem mining. Nearby fly fishing is also some of the best in the region.
"We draw a lot of people who come to Burnsville who plan other outdoor recreation," said McMahon. "[There's] a lot of people looking for fishing, hunting, hiking. We're ideally located centrally to all those sorts of things. Burnsville is sort of the place where you can come hang out, have a coffee, do some shopping—if you're not sweating on the trails somewhere, trying to pull a trout out of a stream nearby."
Just a few miles from Burnsville looms Mount Mitchell, the tallest peak east of the Mississippi (6,684 feet above sea level). The 2,000-acre Mount Mitchell State Park surrounds the peak. The park is full of choice spots for hiking, camping, picnicking, and outdoor education. And it's easy to access via the Blue Ridge Parkway, a sightseer's and cyclist's haven.
Live Abundantly in Burnsville, NC!
Burnsville is located among some of the highest and richest mountains to be found in the eastern U.S. The town offers living situations, outdoor experiences, and artistic output that go above and beyond the norm. What results are many opportunities to Live Abundantly in WNC.
"It's a very wide and diverse group of folks who come here," said McMahon. "We have a lot of native-born folks who grew up here and realize it to be the best place in the world. We have a lot of people who come here as soon as they can, as I like to put it—as soon as they discover Burnsville and Yancey County. So, a lot of folks who come from all over the country have settled here and make it a vibrant community."
Does that sound like the perfect environment for you? Find your dream home in Burnsville now!
Visited 434 times, 1 visit(s) today