Last Updated on April 4, 2023
At Allen Tate/Beverly-Hanks, we like to say, "We're Local. We're Global." That's because we're members of Leading Real Estate Companies of the WorldⓇ, a network of more than 550 independent brokerages in 70 countries around the world. But we're not the only local group with global reach.
You may not know it, but Western North Carolina is a hub for planetary science. Much of it focuses on the climate and geophysics of our own world, but other eyes peer farther into the cosmos.
Celebrate local research centers, visit their facilities and exhibits, and learn more about our world and the sky above! Here are four local scientific research centers that make a world of difference.
National Centers for Environmental Information (NCEI)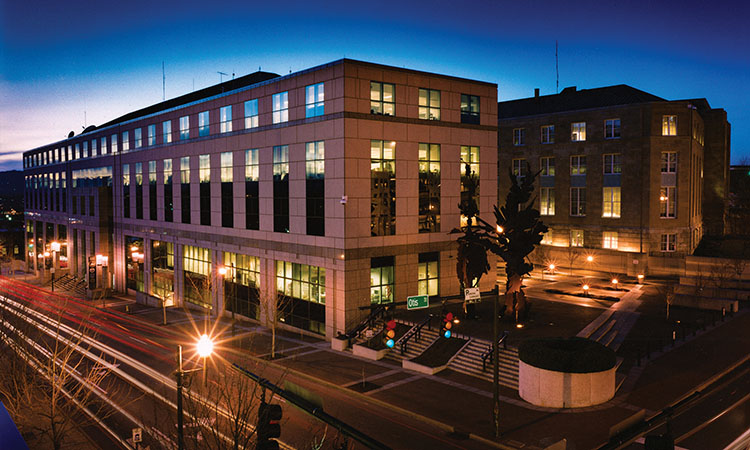 "From the depths of the ocean to the surface of the sun, and from million-year-old ice core records to near-real-time satellite images, NCEI is the nation's leading authority for environmental information."

NCEI
Asheville is the official headquarters for the National Centers for Environmental Information (NCEI). And downtown tourists pass by its building every day without comprehending the impact of what's happening inside. NCEI is the latest incarnation of federal weather record centers in Asheville that date back to 1951, and the reason why Asheville is known as Climate City™.
A branch of the National Oceanic and Atmospheric Administration (NOAA), NCEI houses the largest collection of weather, climate, and environmental data in the world. As such, NCEI is tasked with providing the most comprehensive data "to private industry and businesses, local to international governments, [and] academia, as well as the general public." This data, in turn, helps a variety of businesses and organizations operate more efficiently, safely, environmentally, and economically.
To date, more than 37 petabytes of current and historical atmospheric, coastal, geophysical, and oceanic data are available for use in public awareness, research, and decision making. That's equivalent to 400 million filing cabinets filled with documents! And the NCEI is poised to be a central hub for weather and climate data for generations to come.
151 Patton Ave, Asheville | (828) 271-4800 | ncei.noaa.gov
The Collider
"Innovative climate solutions must be grounded in the best science and speak the language of business."

The Collider
In their own words, The Collider works "to devise and promote market-driven climate solutions." One of Asheville's most innovative facilities, their mission is to encourage collaborations among climate scientists, entrepreneurs, academics, innovators, and the public. Dubbed the Asheville Climate Network, these collaborations in turn create jobs, provide education and training, and advance climate solutions that enable us all to adapt and thrive in a changing world.
As a hub for collaboration and education, the Collider frequently hosts science-themed community events in its 190-person theater in the heart of downtown Asheville. Each Thursday, they host free weekly, educational coffee talks that are centered around climate, sustainability, and community awareness. They also co-host events with AMOS, their downstairs neighbor. Stay tuned for info about an upcoming appearance from a retired astronaut on December 3, 2022.
1 Haywood Street, Suite 401, Asheville | (828) CLIMATE | thecollider.org
Pisgah Astronomical Research Institute (PARI)
"PARI's mission is to promote science and excite the imagination, to become a place where researchers can try unconventional ideas, where pure research combines with practical application, and where people can begin their education and be inspired to continue."

PARI
As an organization, PARI was established in 1998 to provide hands-on educational and research opportunities for a broad cross section of STEM disciplines. Their site, however, traces its history back to 1962, when it was selected to be an East Coast NASA satellite tracking facility. NASA and the Department of Defense invested several hundred million dollars into the secure, 200-acre campus. But when federal operations were relocated in 1995, a philanthropic couple decided to utilize the existing infrastructure for the benefit of educating future scientists.
Today, PARI is a certified Dark Sky Park and protected astronomical site with more than 30 buildings totaling more than 100,000 square feet of floor space. The site also features four radio telescopes of various sizes, a high frequency Jupiter-Io/Solar antenna, 11 optical telescopes, five weather and atmospheric monitoring stations, and various environmental monitoring instruments. PARI's research is utilized by universities in a multi-state area, and the location is home to the Astronomical Photographic Data Archive (APDA). NASA continues to operate an all-sky camera on the PARI campus; the camera is part of the Fireballs Network, which looks for meteorites and tracks their trajectories.
1 PARI Drive, Rosman | (828) 862-5554 | pari.edu
Earth to Sky Park
"The Earth to Sky Park will be a destination point for visitors who are interested in learning about the world we live in, from the earth to the sky."

Mayland Earth to Sky Park
Formerly called the EnergyXchange, the Mayland Earth to Sky Park is home to a state-of-the-art planetarium, aquaponics and hydroponics labs, visitor center, children's discovery center, garden trails, and more. This environmental education park is designed for people of all ages interested in learning about the natural world we live in—from the earth to the sky. Astronomy takes center stage, but other STEM topics are also on full display at the Bob and Wanda Proffitt Viewing Terrace, Becky and Ed Anderson Outdoor Classroom, and Pollinator Meadow.
The centerpiece of the park, the Bare Dark Sky Observatory, provides hands-on learning to Mayland Community College students. It's also open to the public for two-hour blocks by reservation. Its elevation offers 360-degree views of the surrounding mountains and the sky above. Observatory managers assist community members as they experience the wonders of the universe here, at the first International Dark-Sky Association (IDA)-certified Star Park in the Southeast. 
Not bad for a site that was once a community landfill.
66 Energy Exchange Drive, Burnsville | (828) 766-1233 | mayland.edu/about-mayland/earth-to-sky-park
Have you visited any of these world-changing science centers? Tell us about your experience in the comments.
Visited 32 times, 1 visit(s) today